NEWS

**2015**  **2014**  **2013**  **2012-2011**  **2010-2009**  **2008-2007**

2016


Latest News in 2016:
May: Diva now a Danish Club Champion. May: Double Certificate Show - Diva Best Of Breed. May: Smooth Collies at big "Lifestyle Fair" Rosenholm Castle. April: Sadly no puppies this time. March: Diva has been mated with a lovely English male. February: International DKK Show in Fredericia. January: Clingstone's Ace Of Spades was HD and ED x-rayd with top results. January: Ace 1 year old birthday


MAY 2016
NEW DANISH CLUB CHAMPION
DKCH KLBCH TÖRNSKOGENS BVLGARI FEMME "DIVA"
Diva achieved her last Club CAC at the last Danish Collie Club show, and she is now besides being a Danish Champion, also a Danish Club Champion. We are so pleased that she managed to obtain this title, before she is hopefully going to become a mother of a gorgeous Smooth Collie litter later this year - now we can add one more Champion title on their pedigrees ☺ Diva has generally had really great results in the Showring and we are very proud about the fact, that during her "career" she has never been shown without achieving "Excellent" - the highest possible grade in quality, according to the Breed Standard. With the double Show in Høng, Diva has now as junior and adult been shown the total of 13 times with following results: 13 x Excellent - 11 x CC - 3 x CAC - 4 x Club CAC - 6 x "Best Of Breed - 1 x "Best Of Opposite Sex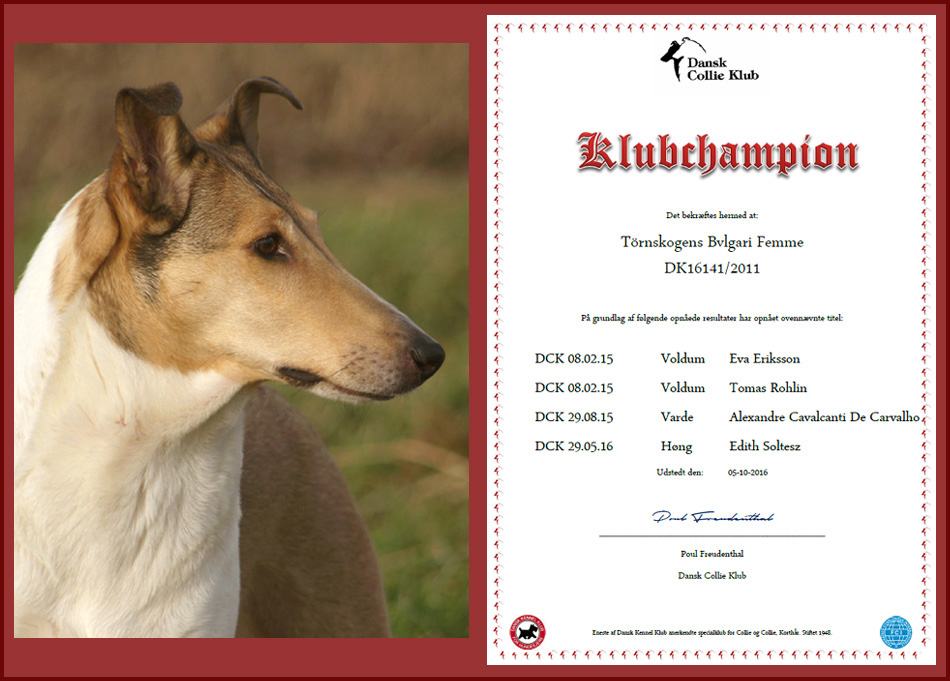 MAY 2016
DANISH COLLIE CLUB - 2 x CERTIFICATE SHOWS
TÖRNSKOGENS BVLGARI FEMME "DIVA" - BEST OF BREED
On the 29. of May Danish Collie Club's had organized a double Show in Høng - which means 2 Shows the same day, with 2 different foreign judges. Diva and Ace was entered in both shows, and Lolly only in the first one (due to her age). All 3 Smoothies achieved very nice results and we had a fantastic day with lovely weather and it was such a joy to spend it with Vibeke and Spock (a lovely blue merle I helped purchase from Norway a while back) - plus we got a nice visit from one of the hopefully future owners of a "Diva puppy" :-) Diva won "Best Of Breed" in 1. Show and in the 2. Show she won "Best Bitch" and "Best Of Opposite Sex". She also got her last Club Certificate and is now "Danish Club Champion"D Lolly once again achieved "Excellent"+ CC, as well as Best Bitch 2 and got a very lovely critique - fantastic result for a 12 year old girl. For Lolly this was her final show - so it was quite emotional to enter the Showring with her. We had chosen this particularly Show to be her final after a long successful "career", as Lolly was going to be honored in the break - both for her title as "Smooth Collie Of The Year 2015" nr. 2, as well as for becoming "Danish Veteran Club Champion" last year. Diva was also honored for becoming "Smooth Collie Of The Year 2015" nr. 3. Ace got very nice results too, and achieved "Excellent" in both Shows - in the 2. he furthermore was awarded CC, Junior Club Certificate and Res. CAC. We were very pleased with Ace's results, as we are still working on getting more muscle in hindquarters and he also need to "stabilize" more in movements when showing (he is still a bit "loose" with really long teenage legs). So all in all a truly wonderful and successful day - however I have rarely been so stressed on a Showground, 2 Shows in a row, almost without a break and I had to enter the Ring with all 3 of them myself ☺. It was also a great day for the handsome Spock  (Perfect Image Batteries Notrequired) he became "Best Of Opposite Sex" in the first Show and in the second he won "Best Of Breed" - now he only needs to achieve 1 more CAC after he turns 2 years of age, then he is "Danish Champion".

1. Show - Judge: Edith Soltesz, Austria
Clingstone's Ace Of Spades - Intermediate Class
Excellent
Törnskogens Bvlgari Femme - Champion Class
Excellent 1, CC, Best Bitch 1, Club CAC, Best Of Breed, BIS2
Pinehillside's Lovely Blues - Veteran Class
Excellent, CC, Best Bitch 2 (no cac as already Vet. Champion)

2. Show - Judge: Ulla Bergh-Persson, Sweden
Clingstone's Ace Of Spades - Intermediate Class
Excellent 1, CC, Best Male 2, Res. CAC, Club CAC
Törnskogens Bvlgari Femme - Champion Class
Excellent 1, CC, Best Bitch 1, Best Opposite Sex
(no club cac as she achieved her last in 1. show)

MAY 2016

DANISH COLLIE CLUB - "LIFESTYLE FAIR" AT ROSENHOLM CASTLE

On the 7. of May "Danish Collie Club" attended at the big "Lifestyle Fair" held on Rosenholm Castle, as there besides the Fair itself, was arranged "Days with Dogs" (competition, different "shows" with dogs, Breed parade etc). It was such a lovely day and we had the most beautiful weather. The Lifestyle Fair included something for everyone, shops with food, flowers, art, cars etc. Danish Collie Club was invited to do a Breed Parade, so visitors could learn more about the Collies as well as meet them in real life - we were there to represent the Smooth Collie with Diva and Ace. Both of them got lots of attention and so many people approach us to ask questions, as they thought that the variant was stunning and never knew collies could be smooth haired too.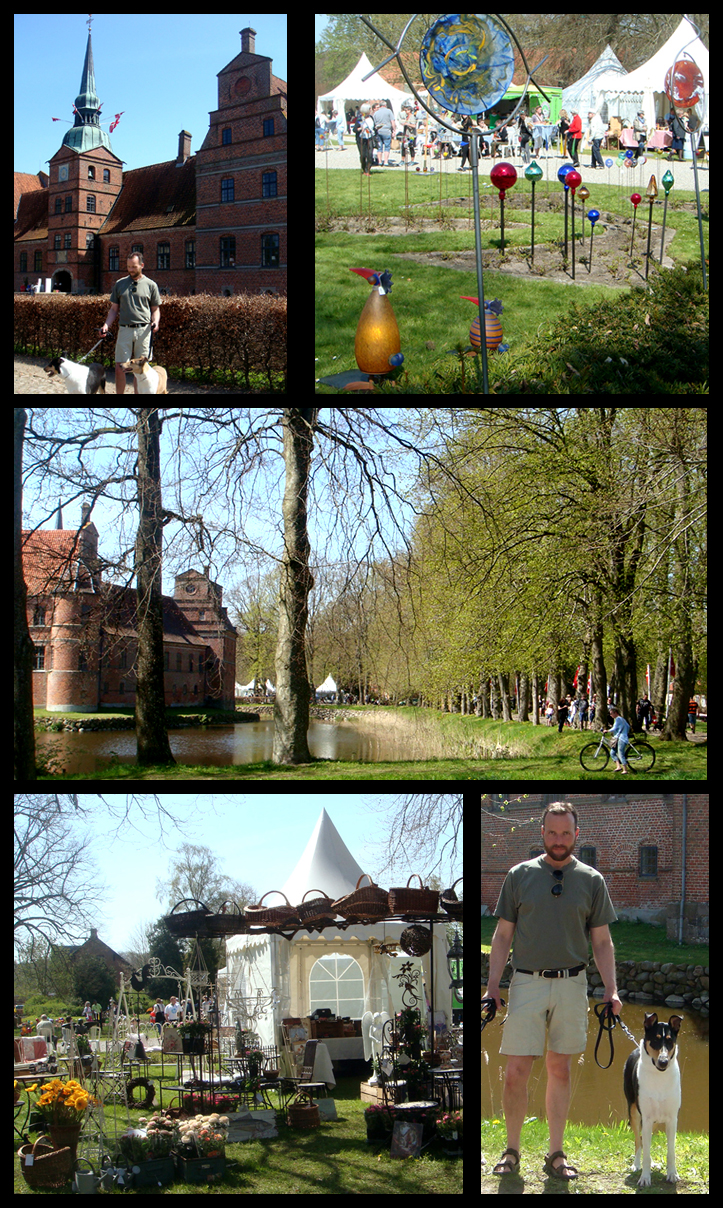 APRIL 2016
SADLY NO PUPPIES THIS TIME - FINGERS CROSSED FOR SUCCESS IN OCTOBER
Diva was just scanned and she is sadly not pregnant - so we are really devastated at the moment, despite of the "less good odds" (mentioned in the earlier update) we actually thought  the mating had been successful and she was expecting. Diva had so many big changes in both "look", appearance and regarding food. Besides from us personally being pretty "down" as we were looking forward to keep a girl from her and Charlie, we are just as sad for all the puppy buyers who "booked" a puppy. Some of them have been waiting for a very long time - so I felt so sorry for each of them too. Now we just have to "put ourselves a bit together" again - the entire process was a bit of a "roller coaster ride", plus we again have a long waiting ahead and not least every "try" cost lots of money (fee, vet bills in 2 countries, shipment etc). But afterwards it's just a matter of getting "back in the saddle again" and begin the "preparations" for Diva's next "heat", which we expect around October.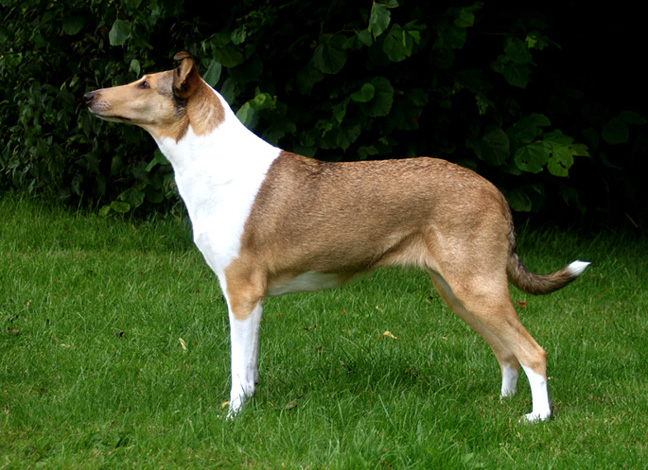 MARCH 2016
TÖRNSKOGENS BVLGARI FEMME HAS BEEN MATED WITH A LOVELY ENGLISH MALE
We cross our fingers for our precious girl DK Champion Törnskogens Bvlgari Femme "Diva" to have gorgeous Smooth Collie puppies approx. 1. of May. The Sire of this hopefully upcoming litter is UK Champion Foxearth Frappuccino "Charlie" - owned by Bev White, England. We are so grateful to Bev, both for allowing us to use Charlie on Diva, but also because she was so sweet to "stand-by" every morning around the time when Diva might be "ready" - making it possible, within a few hours, to "collect" Charlie and ship chilled semen to us, so we could inseminate Diva already next day. Charlie is a handsome masculine male with a lovely  head and "expression". He is very "correct" and well-build with great topline and angulations, as well as superb movements - and just as important is a sweet boy with wonderful temperament. Charlie has all the qualities that I look for in a Sire for our breeding - and is not least out of the bloodlines I so hoped to "combine" with Diva, with the purpose to keep a girl for future breeding - her pedigree will among others fit great with our own young male Ace. More pictures of Charlie can be found on the menu "Puppies".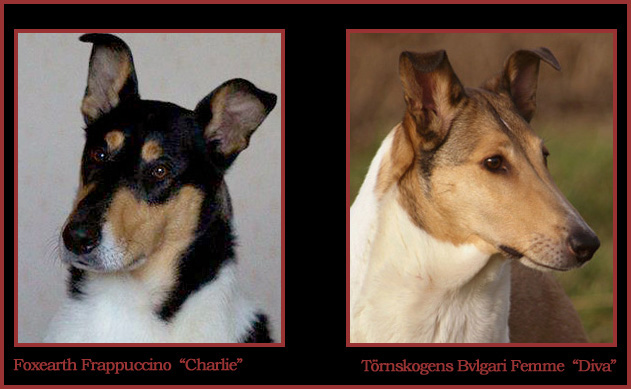 Unfortunately we ran into problems with the shipment of the "container" - major delays occurred in England, which meant that instead of 1 day, it first arrived in Denmark after 2 days - and when we inseminated Diva, we sadly learned that the semen was of rather poor quality. Such a shame when everything else had gone perfectly, and especially since Charlie manage to "deliver" super quality in both motility and "volume". However Diva still had a perfect progesterone level and luckily we always use Kathrine Kirchhoff - one of the best Reproduction Specialists in Denmark, who made sure that Diva was inseminated through video-endoscope directly into the uterus, so we still hope there is a good chance for her to get pregnant - and otherwise we just have to try again in her next "heat" in October 2016.
FEBRUARY 2016
INTERNATIONAL DKK SHOW IN FREDERICIA - CLINGSTONE'S ACE OF SPADES
On the 14. of February we participated in the  International DKK Show in Fredericia. This time we only entered Ace in the Show, as we did not know if Diva might be close to her "season". We had a lovely day, both with the other "Collie people" and with lots of visitors who wished to "talk" to Ace and to learn more about the breed. Ace behaved very well, especially when one have in mind that he is in a true "teenage age" at the moment - he showed nicely in the ring and this time only made one single "Happy Jump" in the last few meters of our "Run"☺
Ace was entered in the Junior Class and our judge this time was: Roger Vanhoenacker, Belgium. A very experienced and for sure also a knowledgeable judge, but also the kind of "type" which I personally think could be a bit more "happy"  and "outgoing", one of those judges who almost don't say hello or "talk" to the dogs while he "examined" them (not a problem for me or our dogs - but if you have a slightly nervous dog, it can be a less good experience). Ace did really well on this show and he achieved the highest quality degree "Excellent" and got a very nice critique from the judge too (good head, well proportioned, good strong body & bones, moves well etc). So we are really happy about the result, especially since Ace still needs to improve a bit more regarding his conformation, muscle and strength - due to the injuries he had as a puppy. Which made his "growing up" very different from our past puppies, only allowing limit and "controlled" exercise, and in a period where he was growing a lot - so we still have a bit more "work" ahead of us with a few "things".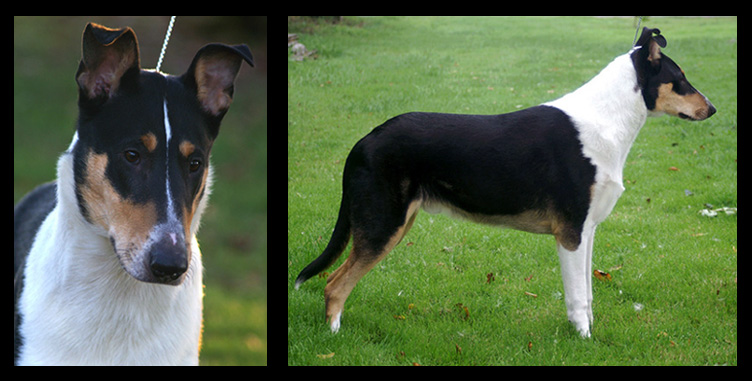 JANUARY 2016

CLINGSTONE'S ACE OF SPADES "ACE" - HD: A/A - ED: 0/0 ☺☺
Just over the moon with Ace's x-ray results. The "official diagnose" from the Danish Kennel Club (DKK) came back with best possible results :-) HD: A/A and ED: 0/0. It might not seem like a big deal, as Smooths generally have good hips & elbows - and Ace's family has excellent results. But as already mentioned earlier, Ace got seriously injured as a puppy with his front leg and shoulders/back. And due to this had to spend lots of time in a puppy pen, months with only limited exercise etc. So I have actually worried a lot about how his "status" would turn out, when it was time for "official" x-ray's - maybe he from time to time used his body in a wrong way and due to this would get not as good results as we expected from his bloodlines and the Breed. Already when we bought him, I planned to let him go through elbow x-ray too, despite that in Denmark this is not included in the "demands" for Stud dogs from our Kennel Club. But was not sure after his injuries and up-growing, if that was still a good idea - not great to get less good results due to injuries on a future Stud dog. And once you have "ordered" the x-ray at the DKK, there is no turning back - results will be official on pedigree (despite Danish Smooths not having to get their elbow checked). Well I decided to go ahead and do as originally planned and so great that I did :-) Now Ace is finished with everything that DKK requires (even more) for a Smooth Collie to be used for breeding. His final health status is: HD: A/A - ED: 0/0 - Eyes: Clear (incl. ecvo attest) and we also DNA tested him: CEA: non-carrier, DM: N/DM - MDR1: -/-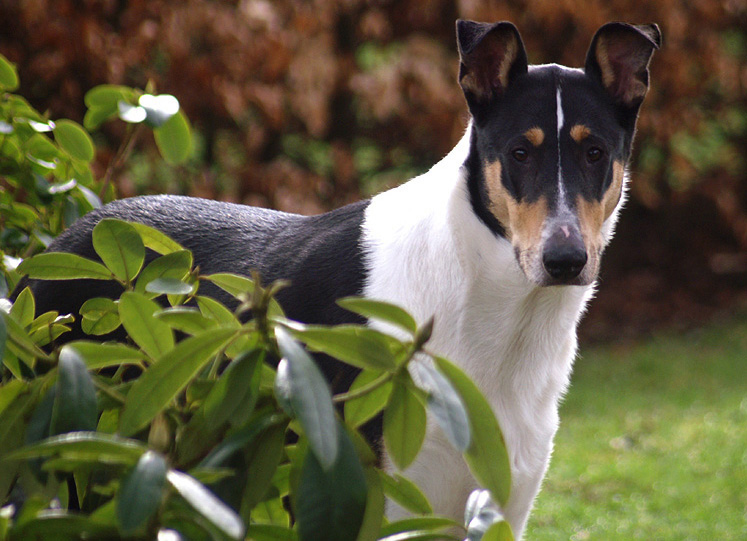 JANUARY 2016

CLINGSTONE'S ACE OF SPADES - 1 YEAR OLD BIRTHDAY ☺
Our sweet Smooth Collie boy Ace celebrated his 1 year old birthday on the 4. of January. I can believe how fast time has gone by - feel like it was only short time ago he arrived from Finland. Ace is still developing nicely and has become a big and very handsome boy. He looks more and more similar to his daddy World Winner Natalain River Dance "Darsy" - a quite muscular collie, with strong bones, excellent conformation and movements. From his mother Multi Champion Clingstone's Forecasted, Ace inherited the sweet expression, which the Clingstone Smooth's often has. It's still a bit unreal that we manage to get a son from Darsy and I am so grateful that Ace has grown into the male we expected (when choosing him in the litter), hoping that he would look a lot like his daddy - "combined" with some of  the superb qualities from his mother too. But I also have to say that Ace's first year has been quite a rollercoaster ride, due to his injury in shoulder and front leg - causing lots of months with "rest" and only limit exercise. A tough time for a small puppy, who had no chance to let all his "energy" loose, and it also meant that Ace could not participate in puppy- & junior obedience class etc. - as well as not being able to play so much with the other dogs. Luckily Ace was already as a tiny baby, very outgoing with a "strong" character - and as we also constantly made sure he had small trips to different places and "attractions" with lots of people, dogs etc. So he still became a lovely, happy and "stabile" teenage boy . His injury of course also meant that we ran into slight problems with keeping muscle on him, and also had a bit of a challenge with making sure to develop his "balance" and strength, especially as he grew so fast with long teenage legs. But I trained and rehabilitated him every single day with lots of small walks, different kinds of exercise and "activity" (so it did not get too boring) and in the "final stage" we had great help from Christian Hembo from Magtor - one of the best Dog Health Centers in Denmark, who made sure that Ace used his legs, shoulders, back etc. in a "correct" way and also treated him to prevent any tensions etc. Now we look very much forward to see what his next year will bring and are so pleased that for the last many months Ace was once again able to live a normal life - with lots of playtime, long walks, we have participated in "Ring-Training" lessons etc. And I look very much forward to take him to several Dog Shows this year.