NEWS 2010 - 2009
2010
December 2010
The 16. of December became the most sad day in our life with the animals up until now, as we suddenly had to put our beloved Queenie to sleep at the age of 13. We love all our animals very much, but especially our two old collie girls Queenie and Sille means the world to us and are the two best dogs we ever had - so we can't even explain how difficult it was for us to say the final goodbye to Queenie and what a huge loss it is. For us it's like loosing one of the closest family members and so painful to know that we are not ever going to see her again. Queenie and Sille has been "once in a lifetime" dogs, so perfect in their character - always sweet with people and other animals, always happy girls and extremely attached to us. Queenie had the funniest personality and anyone who came here through the years know how much she could "talk" and got her famous "hugs". We know that she had a good long life and are very grateful, but it still does not make loosing her any easier - the house is so empty now after spending almost every single minute with her for the last 13 years. Queenie was also the first dog we "Showed" and she achieved the Danish Champion title almost in record-time. She is now buried in the garden under our beautiful beech wood just outside our windows, so she would still be close to us.

November 2010
On the 8.of November we had to decide that it was time to say a final goodbye to our lovely Aswan daughter Galaktika, at the age of 26 - something that just never gets easier with the years. The stable felt very empty without Gala there and we were of course extremely sad - but also Stini (ML Pristinia) who had a box next to Gala and who since she was weaned always had been together with her, was so devastated that for many days we thought she was sick, until we realized that she missed her friend. Gala was a very special mare for us in more than one way. She had so much personality and even in her old age she was still acting like a young filly. But Gala was also a very unique broodmare for our breeding program and she fulfilled our huge dream about owning an Aswan daughter - a dream we have never in our wildest imagination thought would be possible (as there was so few left in the world) and to get one with a pedigree based on the best dam-line from Tersk was more than we ever had hoped for. Galaktika was bred by State Stud Tersk in Russia, later she became a broodmare at Gesüt Dieplinger for 15 years and she won in both Shows as well as in Racing. For our Stud Gala produced ML Kazakhstan - a lovely well-build stallion with tremendous movements, who was sold as a future endurance horse and breeding stallion (so we still could use him as a Sire). And in 2008 Gala gave us the most precious gift of all when she foaled ML Galia - a filly with exceptional type and almost a true "copy" of Gala - she will replace her dam in our breeding. We are deeply grateful for the years we had Gala and for the wonderful offspring who can now continue her fantastic bloodlines.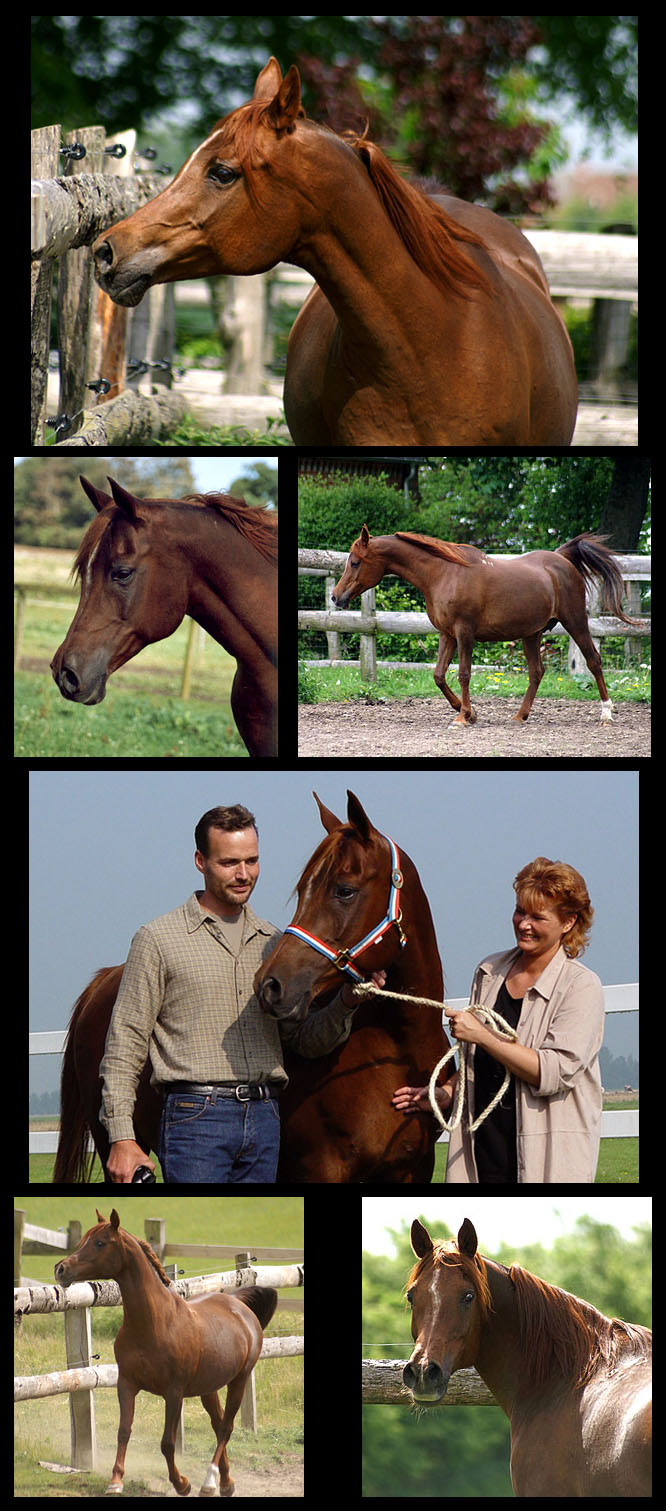 October 2010
I finally had new pictures of our gorgeous filly ML Piramida, who is now 3½ month old. I added some on the sales page, but still needs to include them on her own page (on the "Mares" menu), because I hope to take more within the next couple of weeks. It takes time to "change" all the photos on the page, so I wants to wait until everything can be updated at the same time. Piramida is just such a lovely girl with the most charming personality. She has a wonderful type with a body that's already now very muscular for her age- and the movements are just as spectacular as her full-siblings. Piramida is mare we expect a lot from in future and that's why she will only be sold when we find the "right" buyer, who will use her seriously in breeding and can offer a five-star home.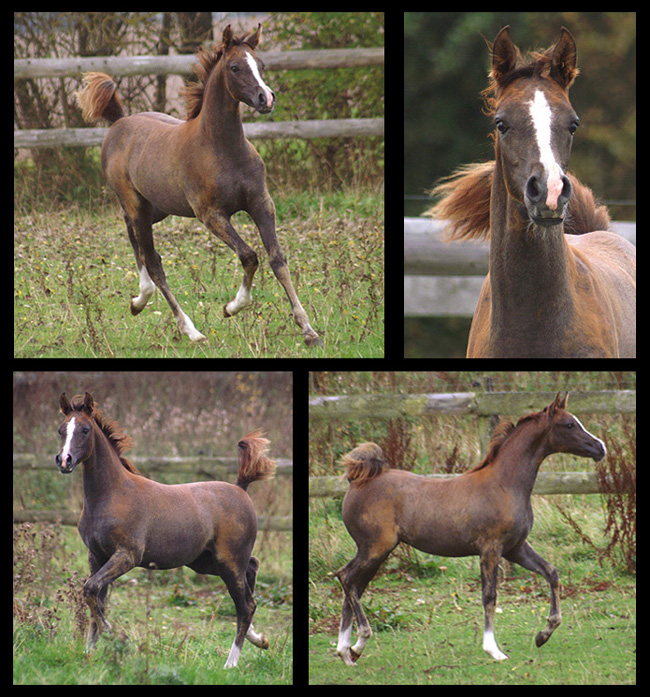 October 2010
On the 2. of October we could celebrate yet another birthday for our beloved old collie girl Queenie - who this time turned 13. We feel that time has gone so fast and it's only a short time ago she was a "youngster", I think it also has something to do with the fact that it's a breed who never truly gets to be an "adult" - they are playful and acts like puppy their whole life. But lately we however are beginning to see signs of her aging, Queenie is sometime a bit confused and there also times where she is a bit more "stiff" after sleeping. But as long as Queenie is happy girl, who still likes to play and don't have any pain, eat well etc., we don't think it's time to say goodbye just yet - then we just takes extra good care of her and make sure that she is comfortable.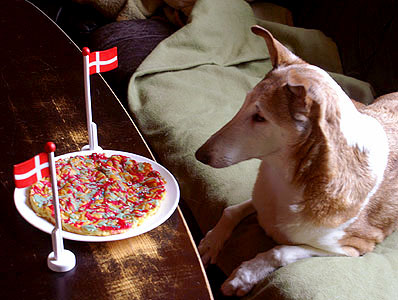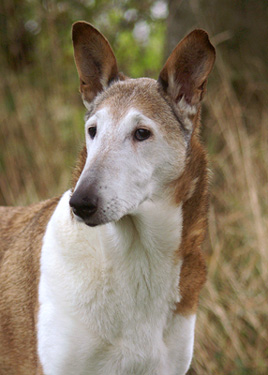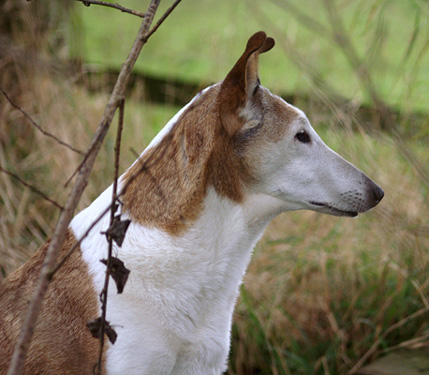 September 2010
In august we found a hedgehog-family in our stable, a mummy plus her newborn babies, and to help the little ones survive they were transferred to a rescue center. Today they were finally ready to go back "home", and Lars picked them up at the center, so they have time to settle down before winter. He returned with quite a large group, besides "mummy-hedgehog", all 7 babies had survived and as we have such good surroundings for hedgehogs, the center also asked if we could take an adult male who had been injured. Lars have made new "houses" for them, so now we hope they will make it through the winter. The babies was so big and healthy - Dorte who runs the center has really done an excellent job with taking care of them. She told us that "mummy-hedgehog" was rather old and bigger than even the males she normally have, so she must have had a good long life at our place. We love having hedgehogs on our property, they are such cute animals and we also think it's important to help "wild-animals" - so it was really nice to get them back home again.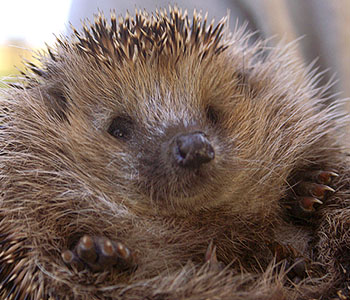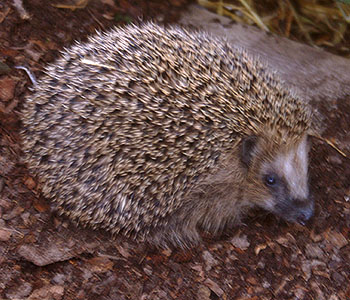 August 2010
Congratulation to Anja Brøchner Christensen
with the buy of our wonderful yearling filly ML Pashinka (ML Pashmir x Primonia x Monitor)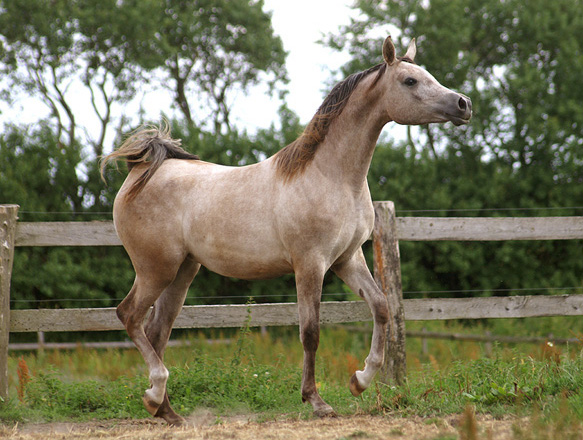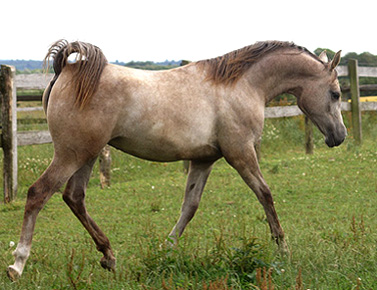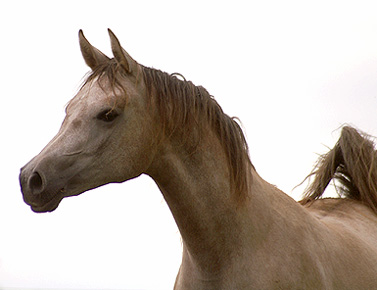 July 2010
This year when Majbritt's two sisters Kamilla and Karina came to spend a small "farm holiday" (like they do every year), a new little family member arrived with them, as Kamilla just bought Coco - a gorgeous wire-haired dachshund. Coco has the most fantastic character and took everything so "cool", when she was introduced to all our dogs, cats, horses etc. Our German Shepherd Timba loved her from the first minute he saw her and despite the huge size difference they played all day long. Timba was so sweet and gentle with little Coco, even when she got naughty and were biting him with the sharp puppy-teeth. I took some lovely photos of them and thought a few should be added on our website.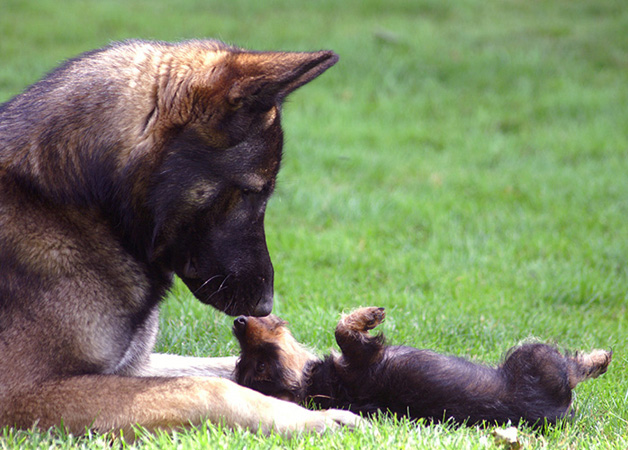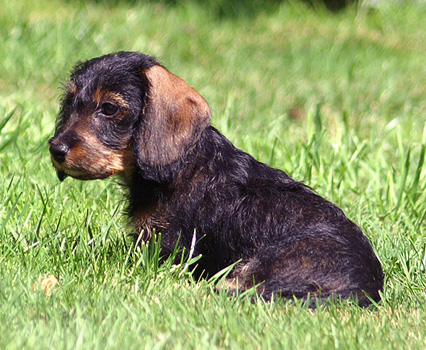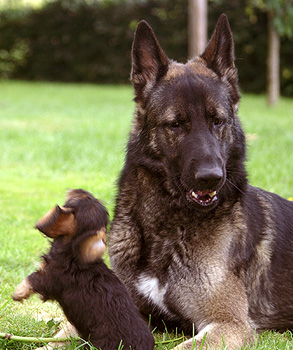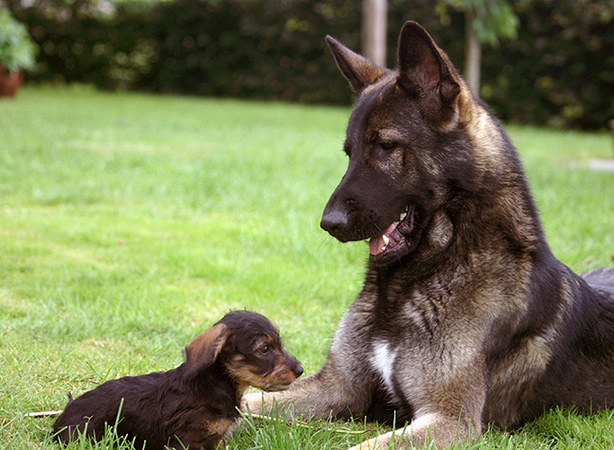 July 2010
Our small bantam chickens was finally allowed to be out "free" in the whole garden. The first couple of month they have only been in their "house" and their fenced area until they were familiar with the surroundings and us. I can not describe how much joy they give us every day. We can spend hours looking at the small "family" and their individual personalities. It's such a lovely sight to look at them (in their beautiful different colours) walking around all over the garden, and our dogs have been so well-behaved with them - we have had lots of evenings on the terrace with "begging" chickens and dogs in one funny mixed group while we were eating dinner.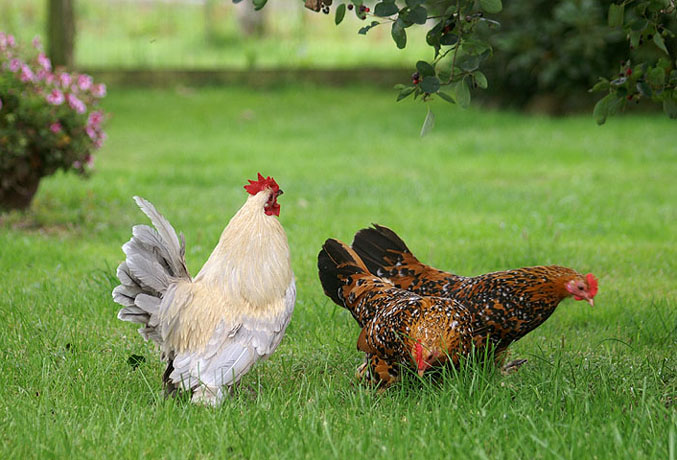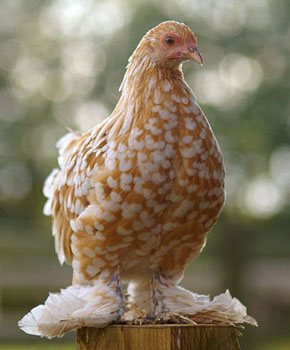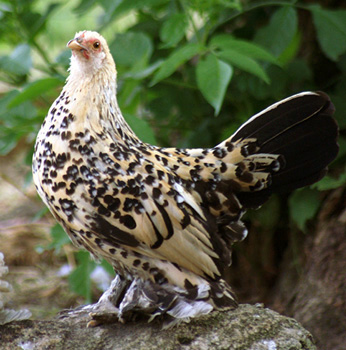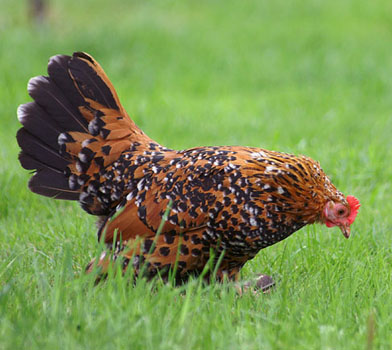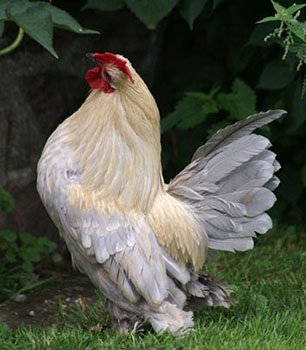 July 2010
Our new little filly ML Piramida now has her own page on the menu "mares". As she is still just a small baby and has an age where they change so much all the time very quickly, we are going to add new photos relative often here in the beginning. Everything is going so well with her and she is still developing superb - as her breeder we are very proud of her movements and "look". Piramida is a very sweet filly who always come running and wants to "talk" when you enter the paddock, so she already charmed herself into our hearts.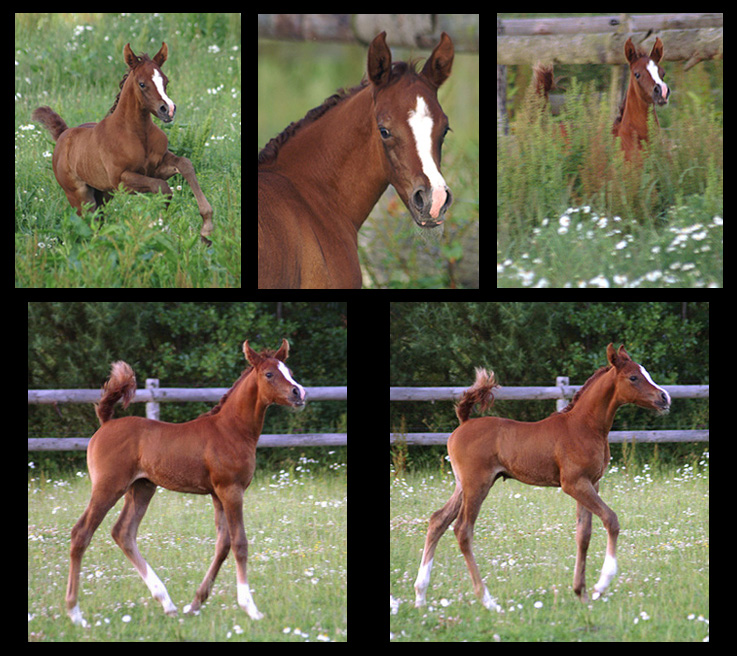 July 2010
We are very happy to announce that we finally finished the new "version" of our website. I have worked many hours every day these last couple of month, as it was a huge homepage to "move", most of the photos from the old site could not be used on the new one (so I had to find several hundred photos again), it also took time to make all the pages look nice etc. Of course we had lots of "things" we wanted to update, but the main reason for the new version was that we were not able to make the website ourselves before - now it has been done in a "system" where we can do everything - and it will be much easier to keep it total "up to date". A big thank you to Nikoline for making the "frames" on the site etc. And also thank you to Kate for her work on the old homepage the last couple of years. Lars and I hope that "visitors" on the website will like this new version - we are very satisfied with the results, and it's such a joy that we can manage everything ourselves in future. Kind Regards from Majbritt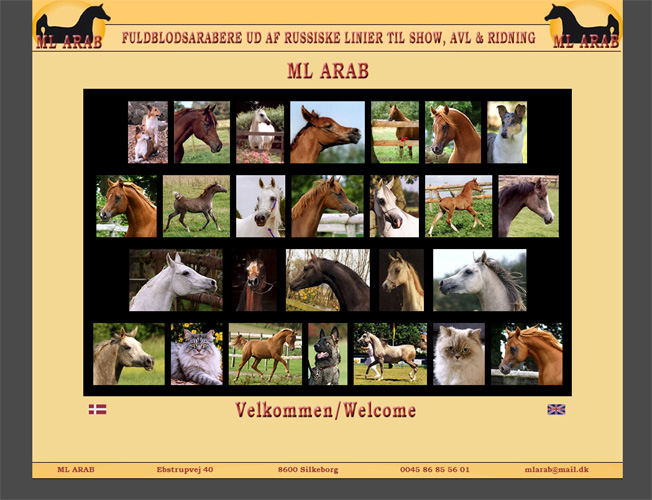 Regarding some of the new things on our website we can tell that ML Galia, ML Pashkin, ML Pristinia and ML Pashinka now have their own pages. This News page is of course totally up to date now (among others with foal-news), and a few of the other horses have also had a few new photos included - but unfortunately a lot of them could really need some new pictures, perhaps we can manage to take some later this year.
July 2010
We finally went to pick up our new chickens in the colours: lemon-porcelain and buff mottled-porcelain (yellow-white). This was the two last colours we wanted in our small "family" and after a larger detective work, we manage to find them with one of the oldest breeders in Denmark. But as they were only a few weeks old when we found them, we had to wait a while until we could bring them home. Now the "babies" are here and has already settled down together with the "old" ones, without to much drama - despite that the "oldies" now have to share their home with a bunch of "teenagers". The chickens is all between 2½ and 3 month old on the pictures so they don't have their "final" colours yet.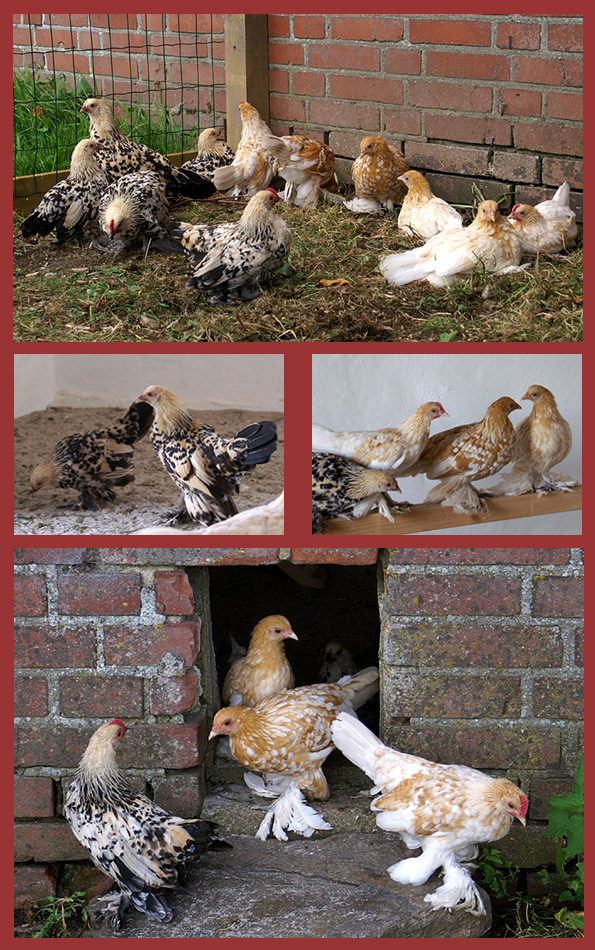 June 2010
ML Pashmir and Primonia did it again !! - gave us a superb offspring, when Primonia foaled with a wonderful grey Russian related filly on the 23. of June, who we named ML Piramida. The "combination" with ML Pashmir and Primonia has given us some of the best offspring we have bred so far, the two of them just "fit" so great together - and until now we have had 3 fillies and 1 colt. Piramida looks like she is going to be just as gorgeous as her siblings, she has an excellent type with lovely "dish", beautiful eyes and will for sure also get big cheeks and wide forehead, like the rest of the "family". Piramida was only a few days old when she started to trot around with elastic movements, and we can already now tell that she will be a very "strong" muscular filly, like all our other horses. She is only a few days old on the pictures.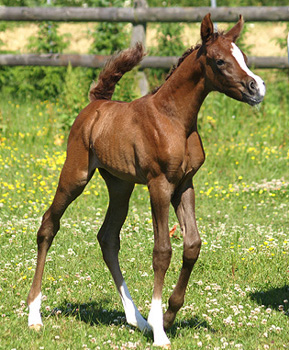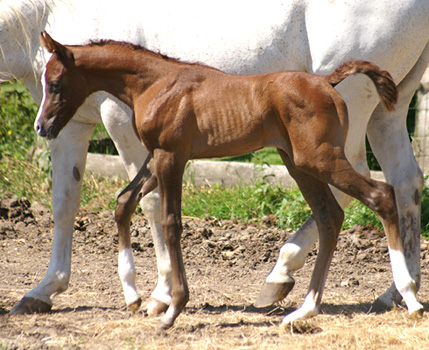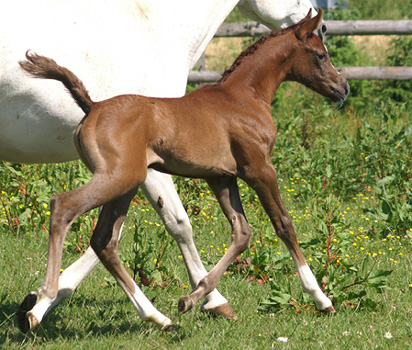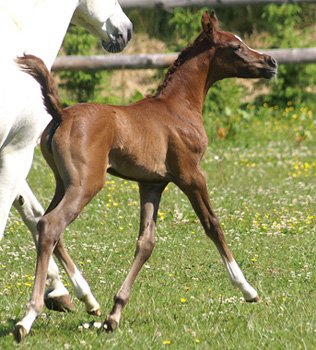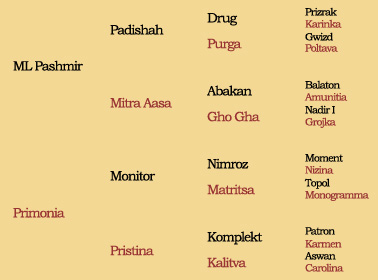 May 2010
After being without them for 12-13 years we finally got chickens again, so of course they also had to be included on the news page. Like before we chose the bantam breed Sabelpoot (also known earlier on as mille-fleur - a name they got because of their porcelain colour). It's an incredible beautiful and charming breed which can be found in many different colours and they can be traced back to around 1600'. Here to begin with we had 3 gold porcelain and 3 in isabel-porcelain colours which have moved in. We are still looking for a few chickens in lemon-porcelain and yellow-white porcelain. We only have them for fun and of course for their eggs, but also wanted something beautiful to look at (like people with birds), that's why we looked for specific colours.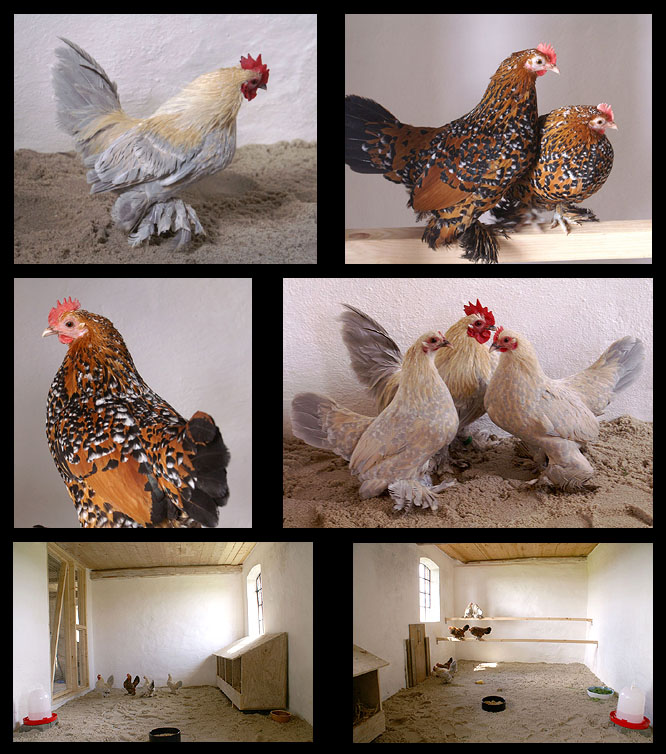 April 2010
ML Pashinka (ML Pashmir x Primonia x Monitor) is still developing extremely well. During this first year she has always been very correct in her body (almost like a fully-grown horse, just in mini-size) and at the moment it looks like she is going to be a rather big mare. Like the siblings and parents, Pashinka will be a "strong", muscular horse - she is really a true "Russian" in overall appearance. She is one of the best horses we ever bred regarding movements, so it's such a great joy for us to see the sight when she goes into "action" (unfortunately one never has a camera near by when it happens). As mention earlier Pashinka is available for purchase, as we are not yet to keep a replacement for Primonia, but will not be sold before we find the perfect home and a serious buyer who will fully use her big potential.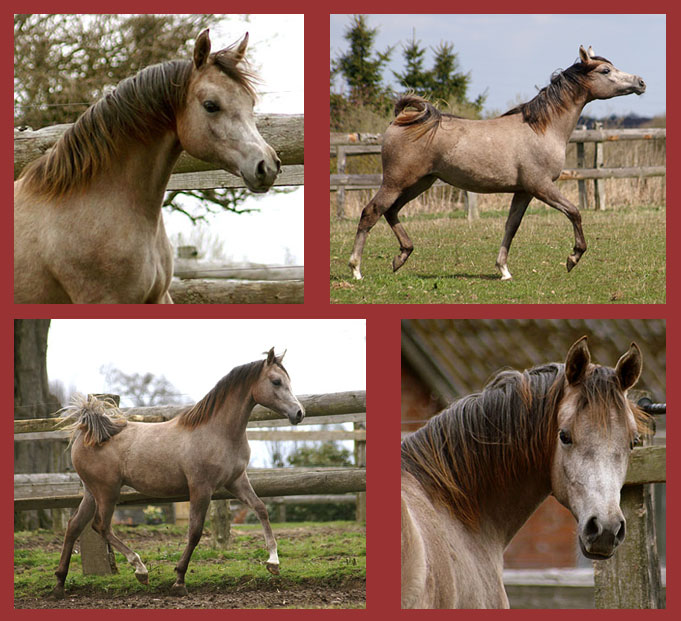 ML Pashinka - 10 month old (all "naturel" in the paddock and still with a bit of "winter-coat")
March 2010
On the 5. of march our little charming Sille celebrated her 11 years birthday. We almost can't believe that our two "old girls" suddenly has turned 11 and 12 years. In one way we are extremely grateful that we had them for so many years, but on the other side it's also sad that we suddenly have a small group of old animals here (our maine-coon Peppe just turned 10 and Galaktika will soon turn 26), so we are most likely soon going to have to say a sad farewell to some of them. Sille unfortunately suddenly got sick with the Horner's syndrome the day before her birthday, but as for now she is still doing fine, her sight has improved etc - and as you can tell from her birthday pictures, she is still a happy little girl who likes to play.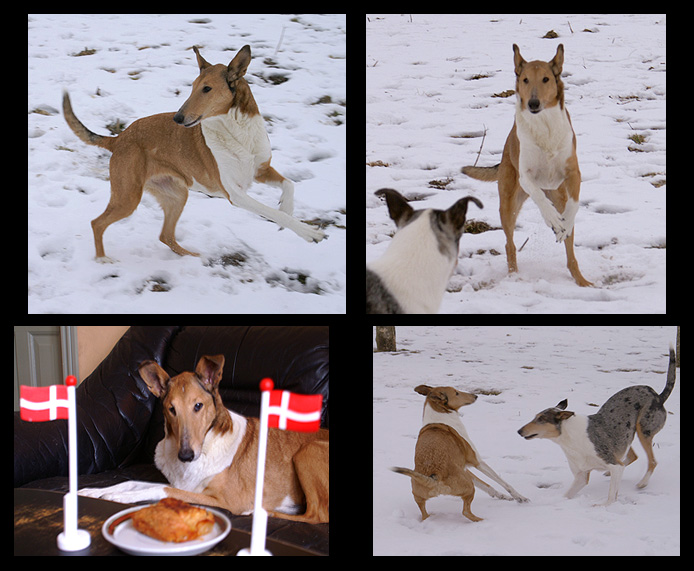 March 2010
Timba turned 1 year on the 8. of March. He looks more and more like an adult now and we can tell that he will be among the larger German Shepherds in size, with good strong body too. As we hoped for he is truly a wonderful dog, so sweet and gentle with the other animals, nice around people and guests, but at the same time he started to "guard" the property etc. when something does not feel "normal" - the ideal temperament for us and just like we wanted him to be. Lars and Timba has finished the first training very well, and we hope to continue with the next "level" later this season.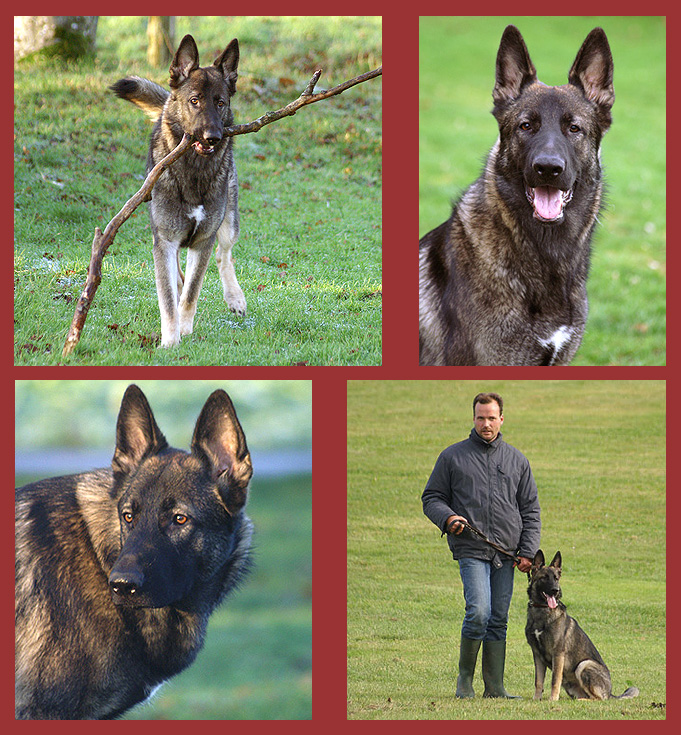 January 2010
ML ARAB wishes everyone a happy New Year and best of luck with the 2010 season
Like the other years 2009 became an eventful year, which brought both happy and sad episodes. Our gorgeous Aswan daughter Galaktika turned 25 in excellent shape and condition. Primonia gave us a splendid filly in May and in June we welcomed a new little family member named Timba (a grey German shepherd puppy) - he has already grown a lot and is a big boy now. As usual we used the summer on different projects, the whole stable was painted, and Lars also made a lovely "covered" terrace. Unfortunately as we told earlier on this page, we also lost our fantastic young stallion ML Pashkin, as he only 3 weeks after arriving in his new home, broke his leg out in the paddock. It was a very tough time afterwards, both for us - but especially also for Anja and Lars.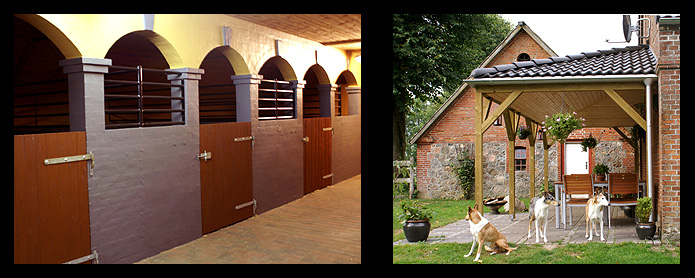 2009
November 2009
Our maine-coon cat Peppe celebrated his 10 years birthday on the 21. of November. He is "still going strong", and a very happy old boy - who still spends time outside "hunting" and he also liked playing with the kittens when they were growing up. Of course we sometime "feel" his age and in winter-season he sleeps more inside on the sofa than before. But he really has been a great cat all these years, almost never got sick and very playful all of his life. Plus not least he has done a superb job keeping mouse and rats away from our property.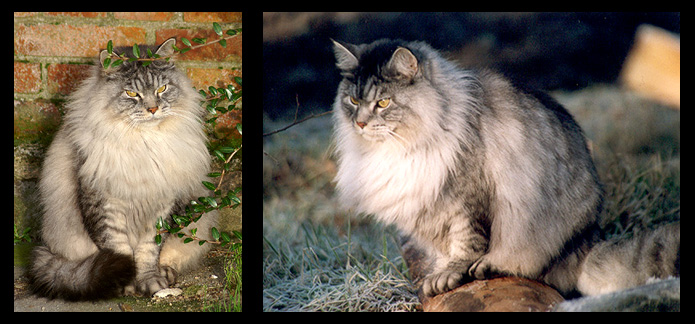 October 2009
The 3. of October we had the first litter of Persian kittens for 8 years and they are just gorgeous. We have had Persians for 20 years and almost all of them have been the "old classic" type (with a bit longer nose etc). We love the Persian cats temperament, but are personally not to happy about how the breed has changed in "look" and health. The small kittens are so adorable with the sweetest character. Minnie only had two in the litter (probably because it was her first) and we are going to keep the little girl. The boy was "reserved" only a few hours after we advertised him and we ended up with a long "waiting-list" of people who wanted to buy him if he for some reason was not sold after all. This has really showed us that a lot of people prefer the "older type" of Persian cats - just like us.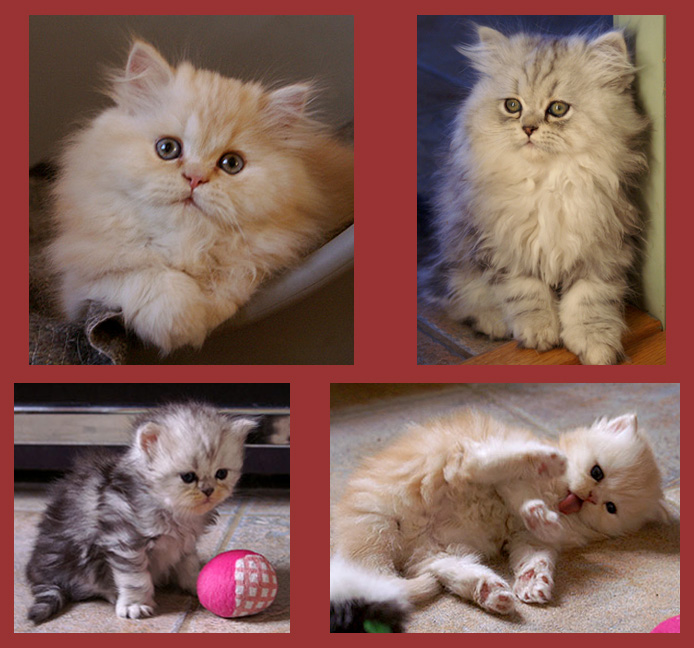 October 2009
On the 2. of October our lovely smooth collie Queenie added one more birthday to her "collection" as she turned 12. She has been such a wonderful dog all these years, besides suffering from a bit of night-blindness and a few days where she is bit "slow" when she just woke up, she still runs around with 200 km speed. We hope, despite of her relative old age, that we can keep her around for several more years as she means the world to us and we can't imagine being without her.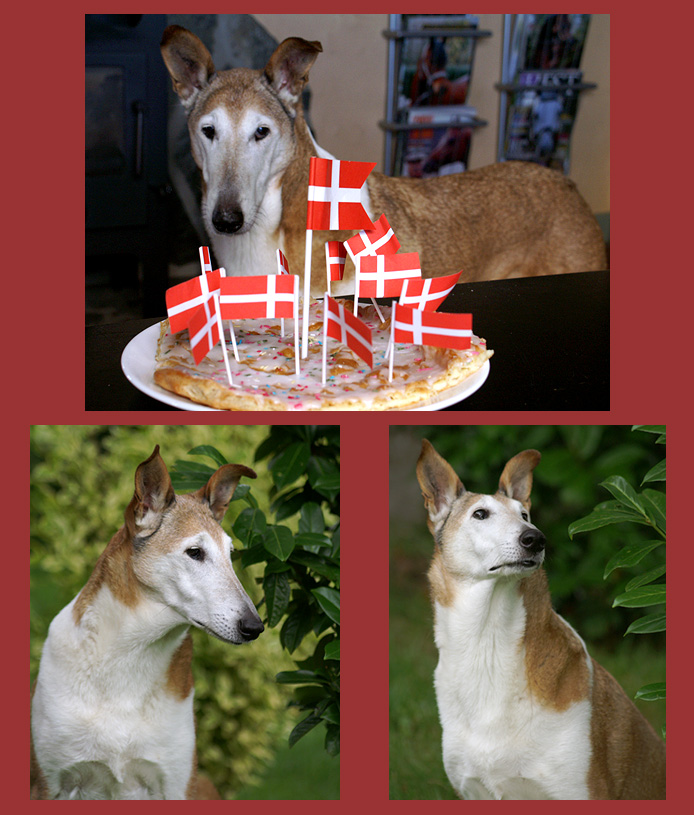 July 2009
Our beautiful blue-merle collie Lolly (Pinehillside's Lovely Blues) turned 5 years old on the 12. of July. A funny story is that when we chose to buy one more collie, it was because Queenie had some "attacks" which we in the beginning assumed was because of brain-tumor and we were afraid that Sille would suddenly be alone. At that time we could not find any smooth collies in Denmark so we had to import Lolly from Finland - and now when Lolly celebrated her 5 year old birthday, Queenie is still going strong and will soon turn 12 !.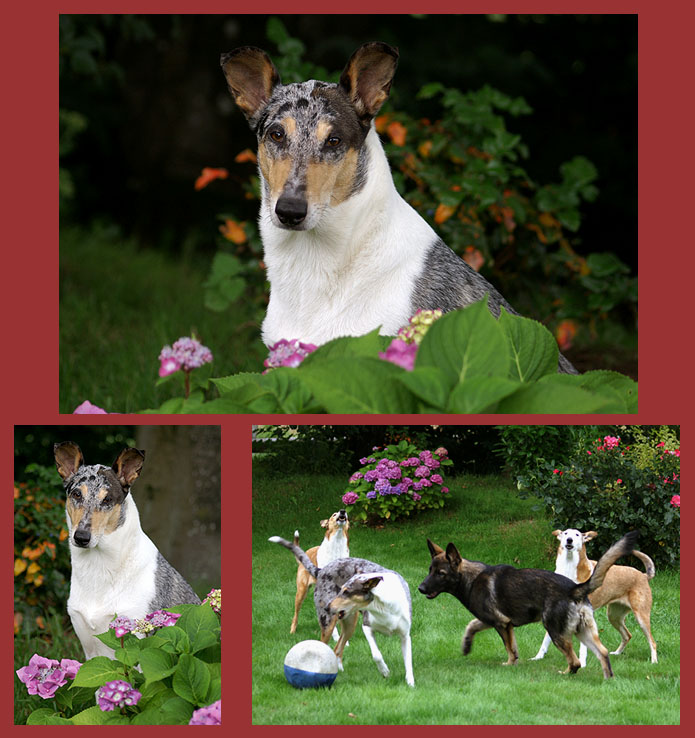 Regarding news from the horses and our breeding, Primonia was bred to ML Pashmir - we chose this combination again, as it has given us some of the best offspring we have produced. We tried to inseminate Mitra Aasa with Padishah one single time, but once again all the odds was against us. That particularly heat ended up being very un-stabile and the whole period (progress) on the hospital was not great at all.
June 2009
On the 28. of June we got the most tragic news we had in our years with the horses. ML Pashkin, our spectacular 2 year old stallion, had broken a front leg out in the paddock, only 3 weeks after the arrival to his new home. The accident was so bad (it was in two pieces, only hanging in the skin), that there were not even time to wait for a vet. to arrive, he instead ordered a hunter living nearby, to come and shoot him immediately in the paddock. It's such a huge loss for us and I can't even explain how tough it has been (especially as we also lost our beloved Shakira 7 month earlier. We had such high expectation for Pashkin and looked so much forward for him to start in endurance, as well as to see him as a producer and as a Show horse. But the hardest has been the loss of a magnificent stallion with the most wonderful character. Pashkin always "blew" guests away with his "look" and exceptional movements. We still can't believe that our gorgeous boy is gone for good and one are never to see him again.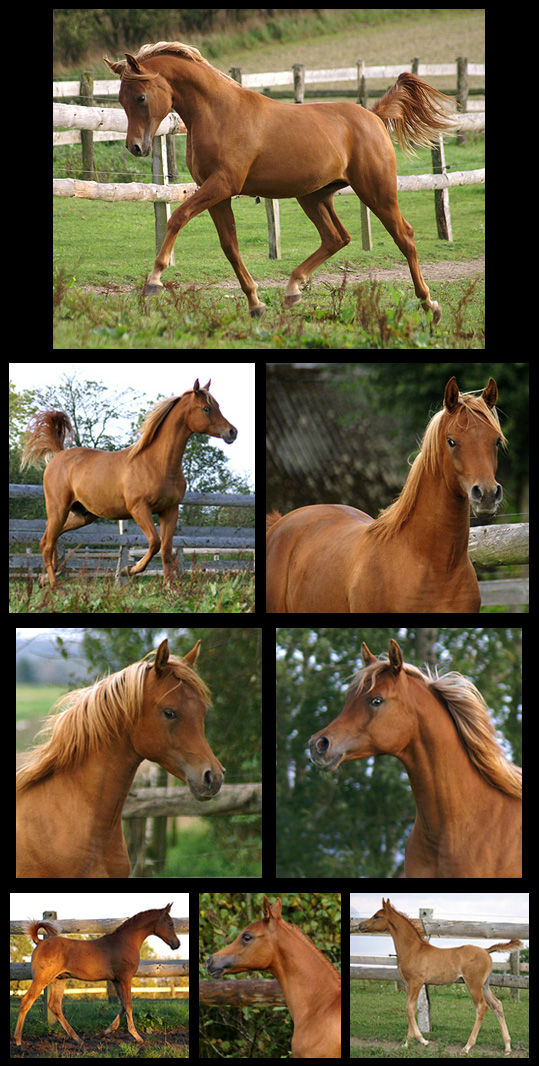 June 2009
A new family member has arrived on the 27 of June. We bought a 4 month old grey German Shepherd puppy, whom we named Timba. He already settled down perfectly, acts like he always lived here and loves to be around our collie-girls. We almost don't feel like there is a puppy in the house, Timba is totally unimpressed by new things and has the most sweet character you can imagine. He is such a calm puppy, it's almost like Timba was born as an adult. It's now 8 years since we lost our longhaired German Shepherd Rokko, a dog we loved dearly and was deeply missed. Unfortunately the following years we never saw any other German Shepherds that we liked, many of them are (in our opinion) too "low" in the hindquarters, with too many health problems and often has a different temper than we prefer. With Timba we got exactly the type of German Shepherd we like and he comes from a very healthy family too. Lars are going to train him in a club where the police dogs are also trained, and we hope Timba will be as good as his family. His mother was very promising during her training in Serbia and his paternal grandfather participated in World Championship (IPO) in Slovenia (he is out of two world champions). Timba's father is a wonderful longhaired German Shepherd with great temper and reminds us a lot about Rokko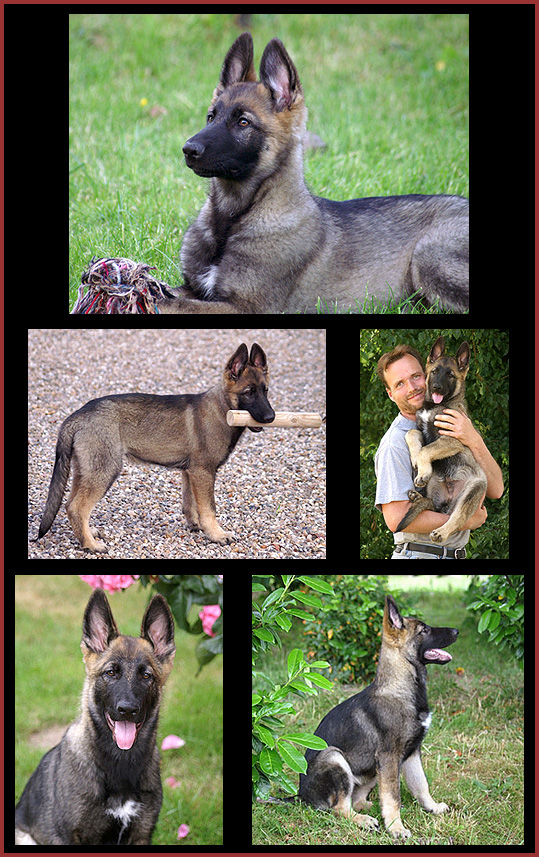 June 2009
ML Pashkin (ML Pashmir x Primonia x Monitor) left us on the 9. of June, he is sold to Anja B. Christensen, he is sold as a future endurance horse and breeding stallion, but the idea is also (after some years as a performance horse) to send him in show training. Pashkin is a magnificent Stallion out of excellent bloodlines, which we had a lot of enquires on, from both Denmark and other countries as well - but ended up choosing a new home in Denmark so we would be able to follow him closely. We have high expectation for him in endurance and as a future Sire, plus not least look forward to see him in the Showring later on. Pashkin still develops fantastic and despite the young age, already has a very muscular body with good size (expected to be around 156-157 as an adult). Pashkin is related to all of our own mares and it's because of this he was available for purchase.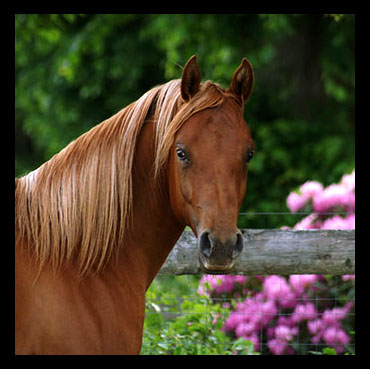 ML Pashkin - pictured just before he left (2 years old)
May 2009
On the 24. of May we had a lovely filly ML Pashinka by ML Pashmir (Padishah x Mitra Aasa x Abakan/Balaton) out of Primonia (Monitor x Pristina x Komplekt), she is a full sister to ML Pristinia and ML Pashkin, plus ¾ sister to ML Parisa and DSA Panash. Her bloodlines are mainly Russian (93.75%) with a touch of Polish. At the moment it looks like Pashinka will be one of the best fillies we have bred, regarding conformation and movements. She has an incredible body, long well set neck, great legs and strong hindquarters. Her movements are exceptional with a huge and elastic trot. Pashinka's "look" and "type" is a true copy of her mother, with the wide forehead, big jaws and nice eyes, she even has the same "power" and "showy" attitude as Primonia. Based on both her quality and pedigree (that contains lots of Champions), she will be a superb future broodmare, but Pashinka is also an outstanding performance prospect. Primonia already has 3 offspring doing endurance, as well as dressage in France - and just looking at the first 4 generation on Pashinka's pedigree, 18 horses has been tested on the racetrack. We hope to sell her to a serious rider, who later on also will use her for breeding. Earlier this year we decided not to sell ML Pashmir after all (couldn't get used to the idea), and we hope to cover Primonia again this year. We chose the same combination again, as they every single time have managed to produce excellent offspring, whom we have been extremely satisfied with. Primonia also had two splendid foals with Pashmir's Sire Padishah, so this is lines we know "fit" very well together and hopefully the next offspring will be of the same superb quality as the siblings.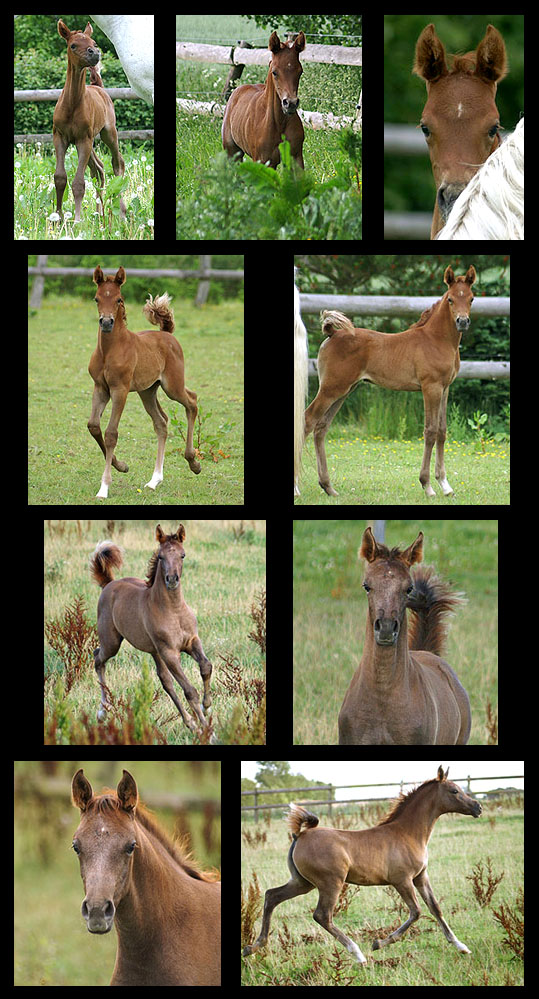 ML Pashinka - 2 days old to 2½ month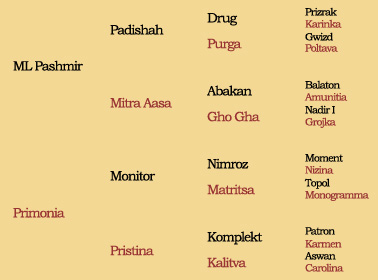 May 2009
A happy Birthday to our precious Galaktika, who turned 25 years old on the 20. of May. Being one of the last Aswan daughters, she is of course a treasure, but most important to us, Gala is such a lovely girl with lots of personality, who we love dearly and our stable will be so empty when she is no longer around. Galaktika is treated like a queen here, gets everything she wants - we are just the humble servants who does what she ask for, but she deserves to be spoiled. Gala is still a beautiful and very happy mare, often acts like a young filly - the age does not prevent her rearing in the box either, when it's time to go out - and she think it's taking way too long. Last year Galaktika gave us the most precious gift of all - a gorgeous filly ML Galia, who will be her replacement in our breeding. And in 2006 she had ML Kazakhstan, a straight russian colt, who has been sold as a future sire and endurance horse. We kept some breedings and hope to use him in the future. Galaktika was of course celebrated with birthday cake, gifts etc. The photos below is from Gala's birthday, and we think she looks fantastic, having her age in mind and the fact that she is the mother of 16 foals.


Galaktika - all pictures is from her birthday
March 2009
Our little precious collie Sille turned 10 on the 5. of March and of course she was celebrated in big style. Sille has begun to suffer with weakness in her hindlegs, but apart from this she's still a very happy and playful girl, so hopefully she will be around for many more years. The dogs are our children. so they will be deeply missed when they are no longer around.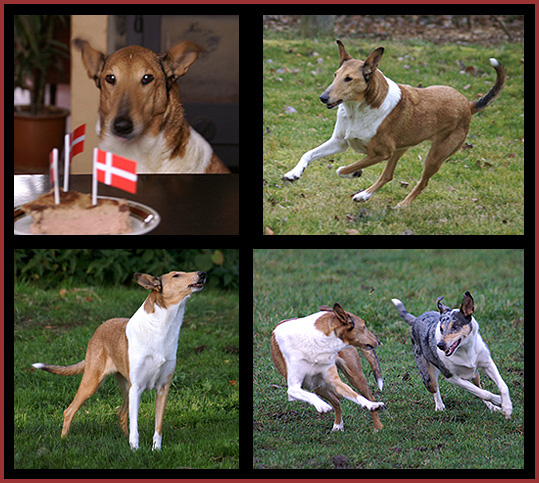 © Photos may not be used without permission