KENNEL UNIQUE QUESI
SMOOTH COLLIES SINCE 1997


We have had Smooth Collies since 1997, and are among the ones in Denmark, who has had this fantastic breed for the longest time. Our dogs means the world to us and they are the "children" in this house. We have all 3 colours - sable, tricolour and blue merle. Our Smooths are first of all beloved "family members", but their quality, temperament and health status is also extremely important to us. Just like with our Arabian horses we have always selected the dogs very carefully, studying lots of pedigrees, using a lot of time finding the "right" ones, out of the bloodlines we prefer etc. We are truly dedicated to the breed and are trying our very best to have Smooth Collies which are as correct - and as close to the standard as possible. Our dogs are also Shown regularly every year and have gained excellent results (Danish Champions, Danish Club Champion, Danish Veteran Club Champion, Best of Breed, Danish Winner etc). At the moment we have Lolly - a blue merle girl imported from Finland in 2004, Diva - a sable girl imported from Sweden (out of Finish bloodlines) in 2011, Ace - a tricolor boy imported from Finland i 2015 and Yogi - a sable puppy boy bred by us. The dogs have been part of Majbritt's life for over 45 years and Lars have had dogs for more than 27 years. We have both gone through and passed the Danish Kennel Club's "Breeders Education", and the name "Kennel Unique Quesi" got approved by FCI and DKK.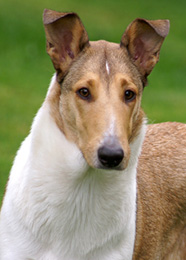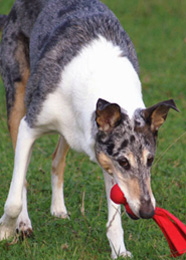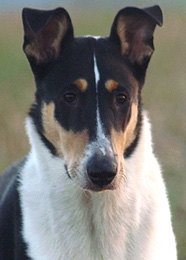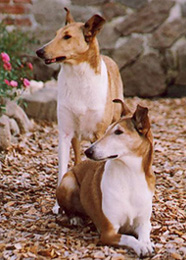 The Smooth Collie is in our opinion the most perfect breed. They have such a sweet and kind character, love all animal and people - ours have always been great with other dogs and they are so gentle with both the cats, the small chickens etc. It's a breed that are extremely easy to train, they so much want to please their owners and it's a true "velcro-dog", which means that they are very attached to their family and stay close to the home. Smooth Collie has a nice size (bitches: 51-56 cm and males: 56-61 cm) and the grooming is very easy. It's a very happy and "active" breed who are always ready to play or "work" - all in all they simply just want to be involved in whatever the family does and is a great "all-round" dog no matter if you want them as "pet-dogs" or wish to compete in obedience competition, agility etc. Inside the house the Smooth Collie is very calm and a "couch-potato" who loves relaxing for hours on the couch (or in the bed !).
Our dogs live closely together with us inside the house and are allowed in the entire house (including the sofa and bed ☺). However it's possible to divide the house into several separate rooms if needed (when there are puppies, girls in season etc). We also have a special "Baby Room" which are only used for kittens or puppies - mainly in beginning when they are still very young and need some peace with their mom or when we are not home (so they are separated from the other dogs etc.). But it's actually very rare that our dogs are alone, as Majbritt is a "work at home mum" taking care of all the animals. In general our entire house is "furnished" for our dogs and cats, everything made easy to clean, tiles on all the floors etc. and right now Lars is in the middle of installing a Dog Bath tub too. Outside the dogs have a lovely 500 m2 garden and another 250m2 area on the other side of our house where they are able to run free and play, everything safely closed with fences and gates - last but not least we also have 66.000 m2 to our property, which the dogs can enjoy on walks etc. Puppies will of course also be inside the house under their entire "growing up" with us - and be part of our daily life. Our dogs are fed with quality food from Royal Canin, Acana etc. and we are very dedicated about their wellbeing and health, they go through every health check that is relevant for the breed and they are always closely "followed" by our 2 Vets. Dorte and Estrid (who we have used for more than 17 years). We also have a Reproduction Specialist as well as an Eye Specialist taking care of our dogs.

We are members of DKK (Danish Kennel Club-FCI) and DCK (Danish Collie Club)
We follow the rules and ethical recommendations from DKK and DCK regarding breeding

Our dogs (and puppies) live inside the house as a part of the family and closely together
with us, the other dogs and the cats. We don't sell puppies to people who keep their dogs as
"Kennel-dogs" - with this we mean where the dogs are kept in other buildings, boxes, cages etc
PLANNED LITTERS

Unfortunately we don't have any puppies planned at the moment. But have
several breeders we can recommend - among others from Sweden, Norway,
Finland and Germany. Kennels who wish to breed the same "type" of smooths
and with the same "goal" as us. Some planned litters are related to our dogs☺


 
UNIQUE QUESI I'M YOUR MAN  "YOGI"
Smooth Collie - Sable/White - Male - Born 09.10.2017 - Breeder: Unique Quesi, Denmark
(Perfect Image Batteries Notrequired x Törnskogens Bvlgari Femme/Clingstone's Guiness Draught)
Eyes: Cea clear - DNA tests: 100% Sable/White, DM: N/N (through parents), MDR1:-/- (through parents)
Siblings: sadly we lost 1 blue merle male and 1 sable/white female during c-section
Yogi will start showing spring/summer 2018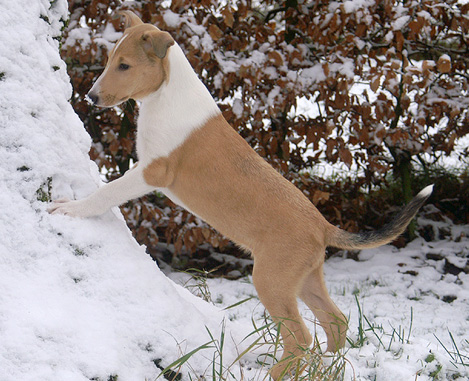 CLINGSTONE'S ACE OF SPADES  "ACE"
Smooth Collie - Tricolour - Male - Born 04.01.2015 - Breeder: Kennel Clingstone's, Finland
(Natalain River Dance x Clingstone's Forecasted/Clingstone's No Doubt)
Very Promising Puppy (Excellent), Best Of Breed Puppy & Best in Show Puppy,
4 x Excellent, 2 x Very Good, 1 x CC, 1 x Res. CAC, 1 x DCK Junior Club CAC
Eyes: Clear (as puppy - ecvo attest) - DNA tests: CEA: Clear (non-carrier) DM: N/DM - MDR1: -/-
HD (hips): Free (A/A) - ED (elbows): Free (0/0) - Height: 63 cm - Weight: 30 kg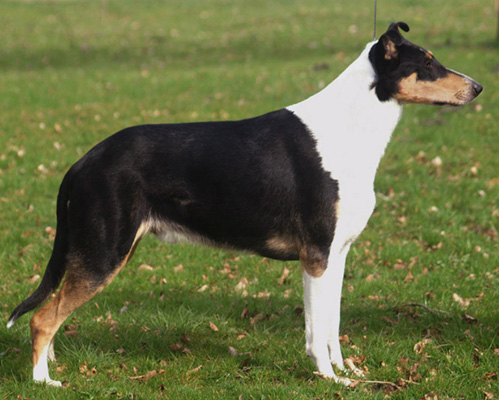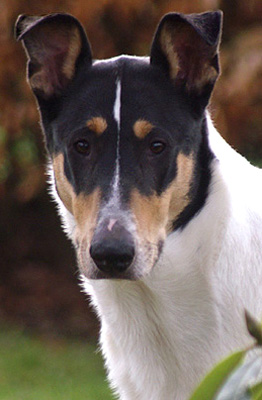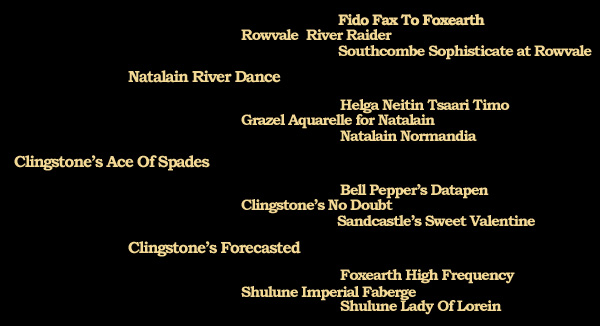 DKCH KLBCH TÖRNSKOGENS BVLGARI FEMME  "DIVA"
Smooth Collie - Sable/White - Female - Born 2011 - Breeder: Kennel Törnskogen, Sweden
(Clingstone's Guiness Draught x Dandinas Quite A Girl/Dandinas Top Trick)
DANISH CHAMPION - DANISH CLUB CHAMPION
Best Of Breed, Best Opposite Sex, BIS 2, Best Bitch, Very Promissing Puppy etc.
Danish Collie Club "Best Smooth Collie Of The Year 2016" nr. 2
Danish Collie Club "Best Smooth Collie Of The Year 2015" nr.3
Shown 14 times as Junior & Adult =  14 x Excellent, 12 x CC
7 x Best Of Breed, 1 x Best Of Opposite Sex, 3 x CAC, 4 x Club CAC
56 cm - 23 kg - HD (hips): Free (A/A) - Eyes: Clear (eyetest as puppy).
DNA Tests: CEA & PRA-rcd2: Clear (non-carrier) - DM: N/N - MDR1: -/-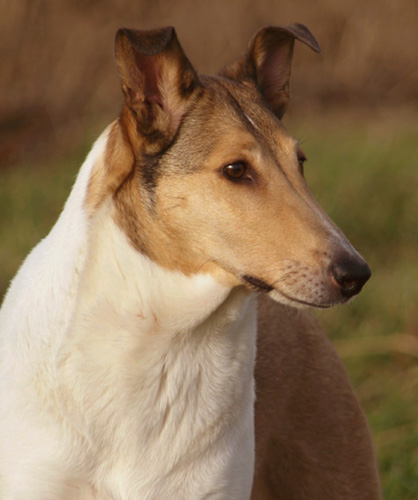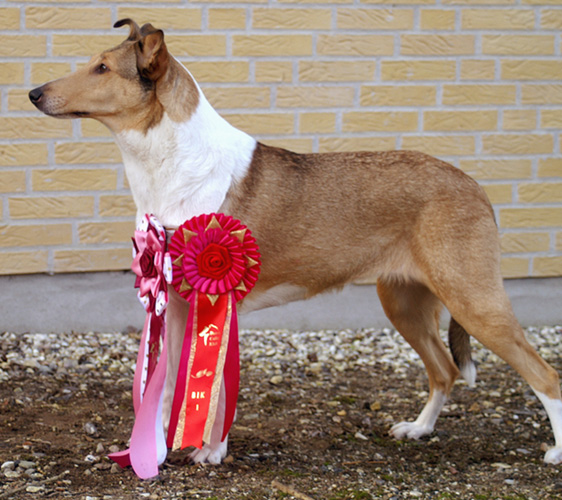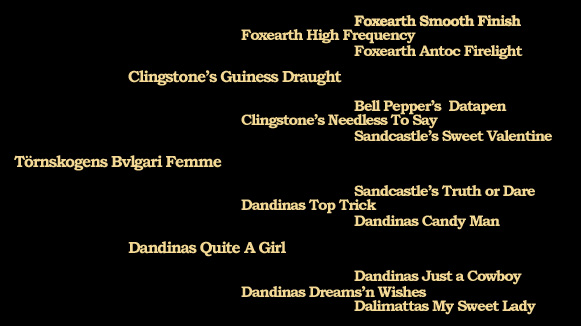 DKCH KLBVCH PINEHILLSIDE'S LOVELY BLUES  "LOLLY"
Smooth Collie - Blue Merle - Female - Born 2004 - Breeder: Kennel Pinehillside, Finland
(Innkeeper's All Blues x Pinehillside's Black'N Beauty/Honey Melon Hartley Henry)
DANISH CHAMPION - DANISH VETERAN CLUB CHAMPION
Best of Breed (BOB), Best Opposite Sex (BOS), BIS 2, Best Bitch, Best Veteran,
Danish Winner 2013, Danish Veteran Winner 2013
Danish Kennel Club "Breed of the Year Winner 2013" nr.2
Danish Collie Club "Best Smooth Collie Of The Year 2015" nr.2
Shown 11 times = 11 x Excellent, 10 x CC, 3 x CAC, 3 x Club CAC, 1 res. CAC, 1 CACIB.
57 cm - 23 kg - HD: Free (A/A), Eyes: Clear (eyetest as puppy)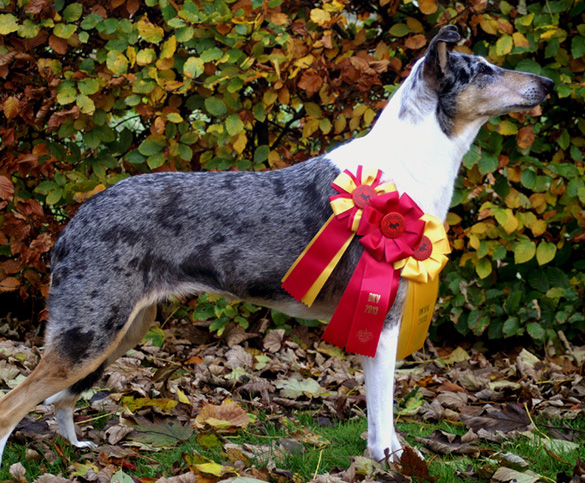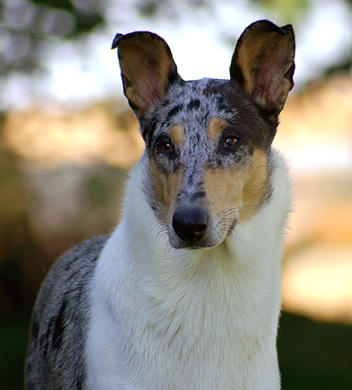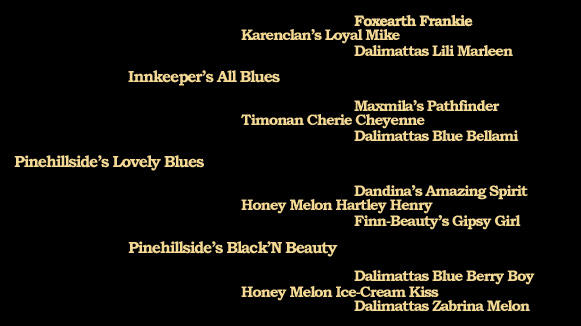 DKCH POULSGAARDS QUICKWITTED QUEEN  "QUEENIE"
1997 - 2010
Smooth Collie - Sable/White - Female - Born 1997 - Breeder: Kennel Poulsgaard, Denmark
(Dalfair Golden Loverboy x Poulsgaards Quinquina/Cepu-Jesse's Argos)
Danish Champion, Excellent/1.Quality, CC, CAC, Best Bitch Junior & Open Classes. HD: Free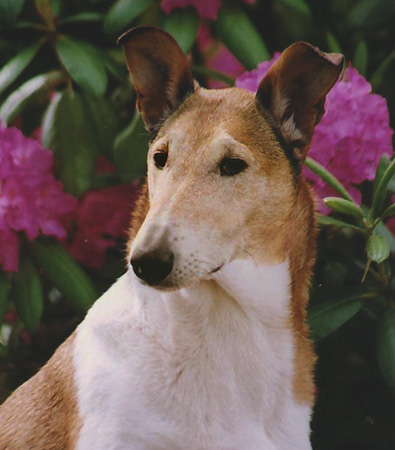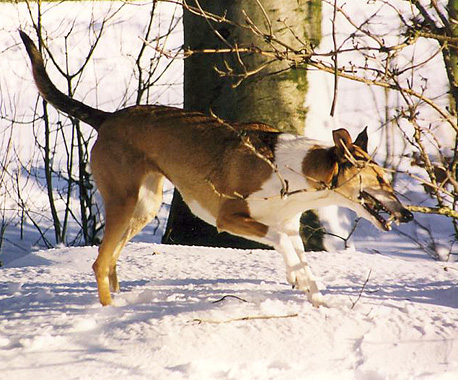 SI-SI'S GLORY OPERATION  "SILLE
Smooth Collie - Sable/White - Female - Born 1999 - Breeder: Kennel Si-Si, Denmark
(Sunsweet Smooth Operation x Si-Si's The Stripper/Fairlines Saturday Gold)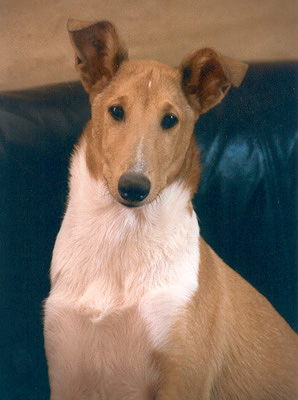 PHOTO GALLERY OF OUR SWEET DOGS
A "mixed" picture collection of the lovely dogs we have now or earlier had in our lives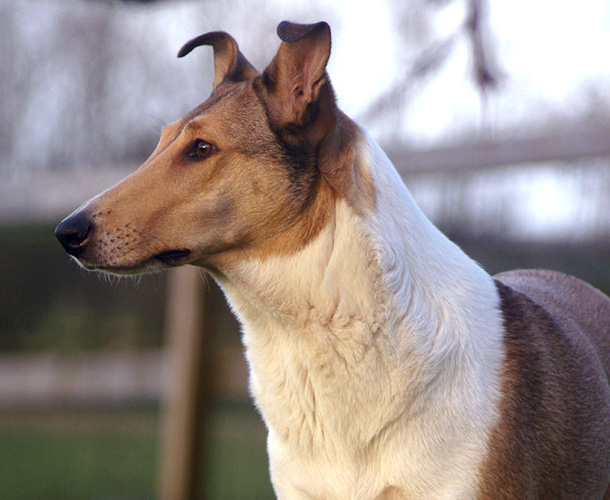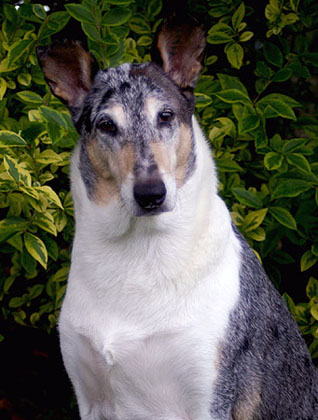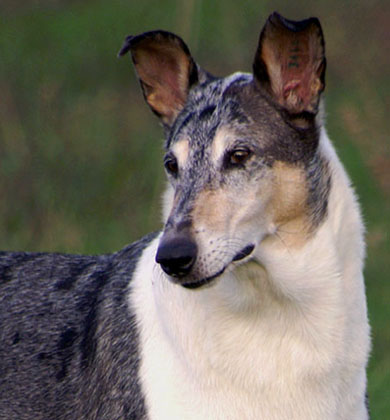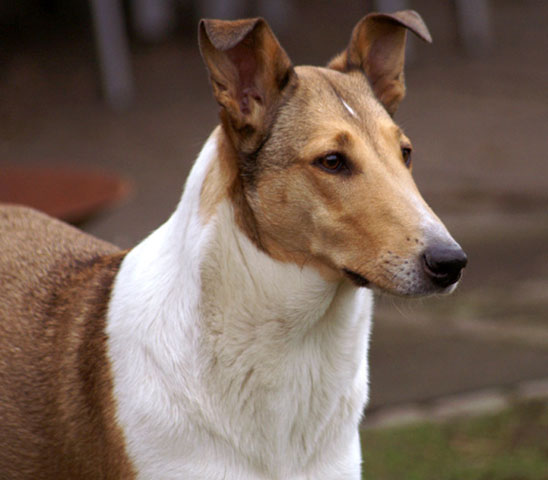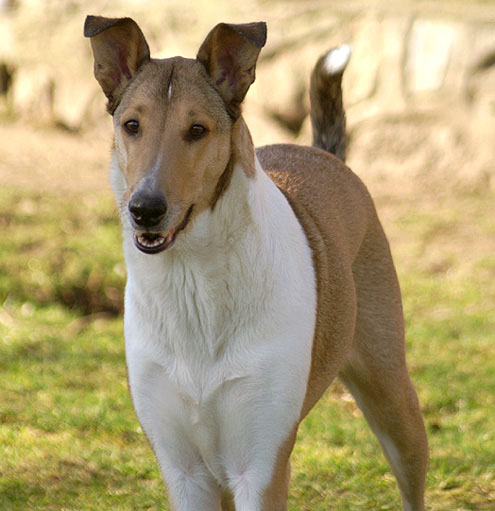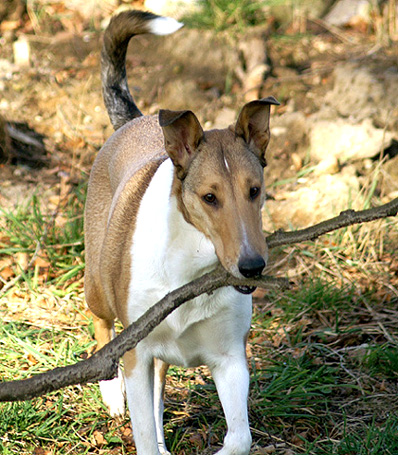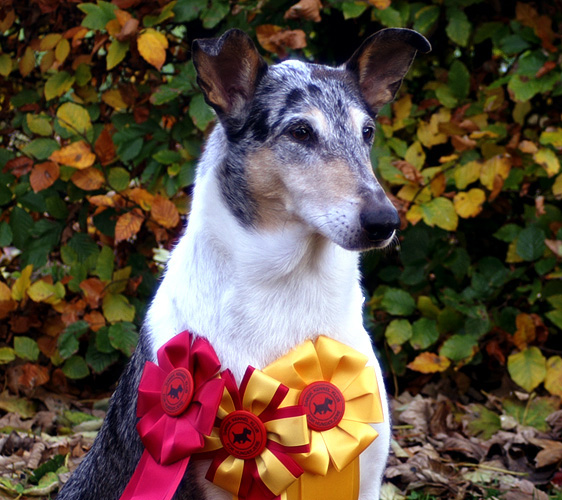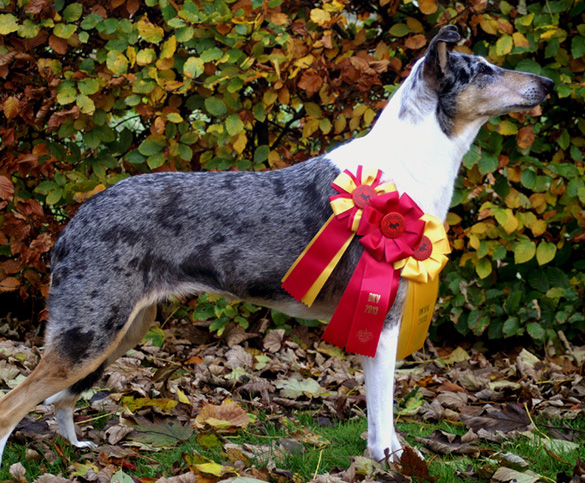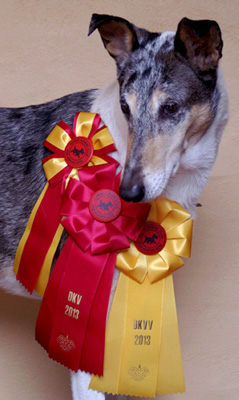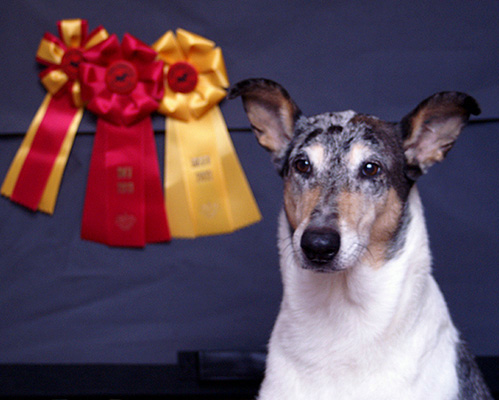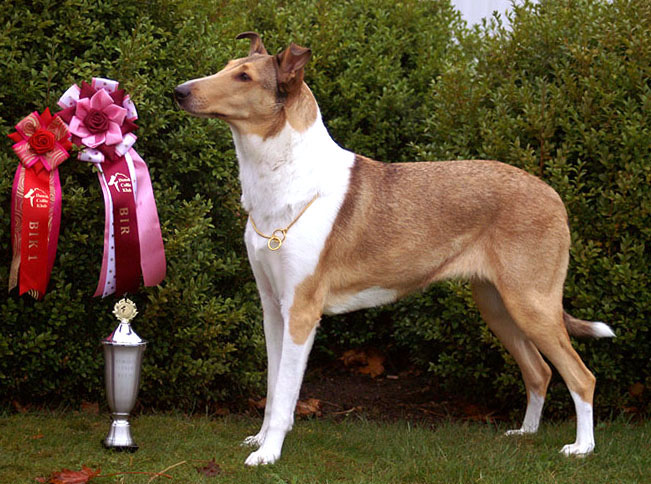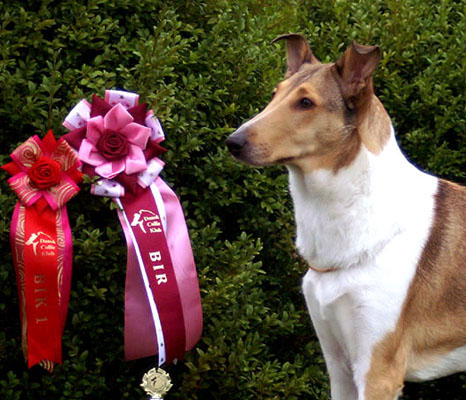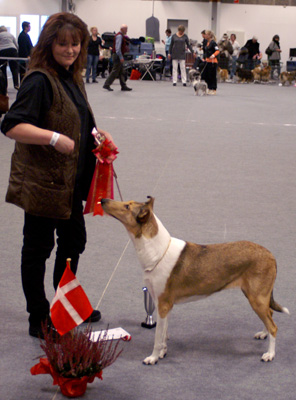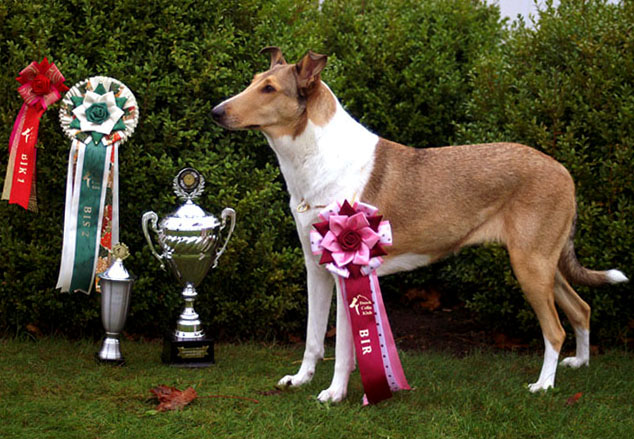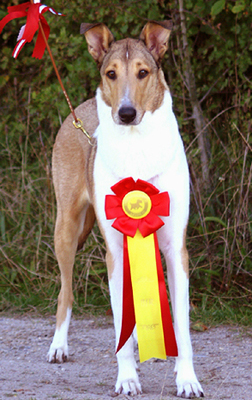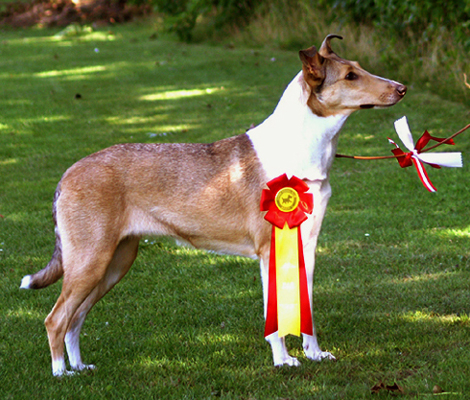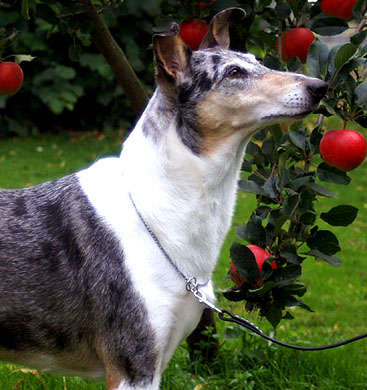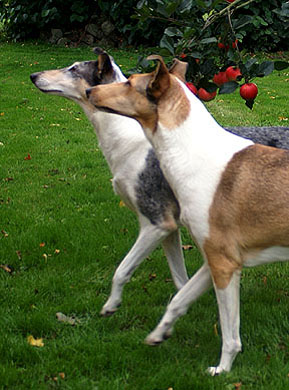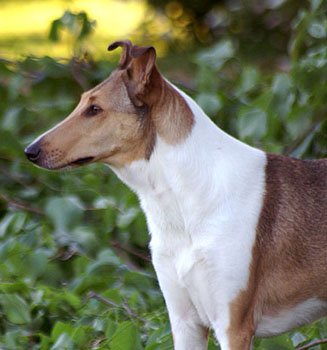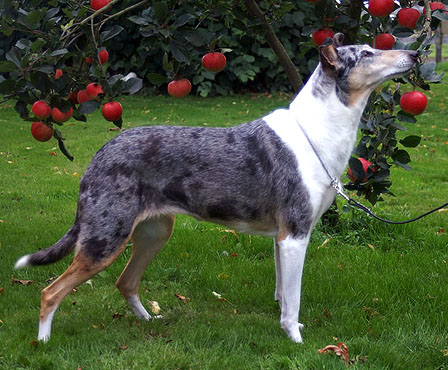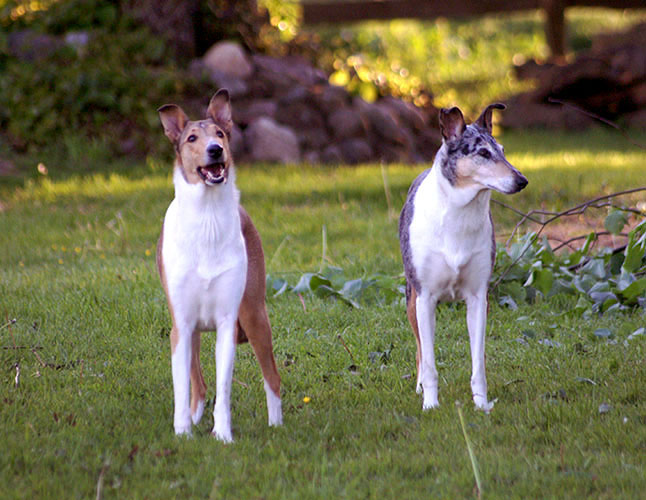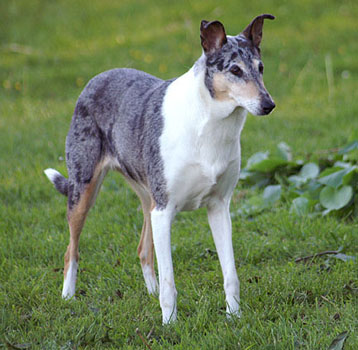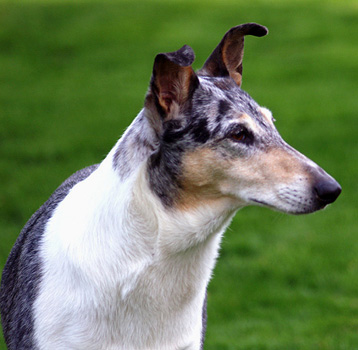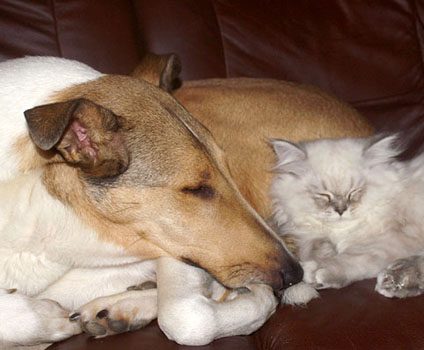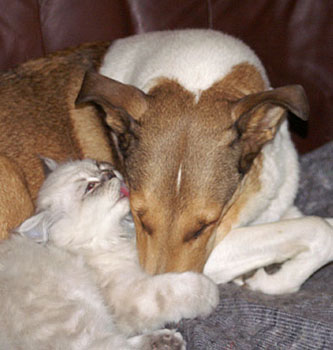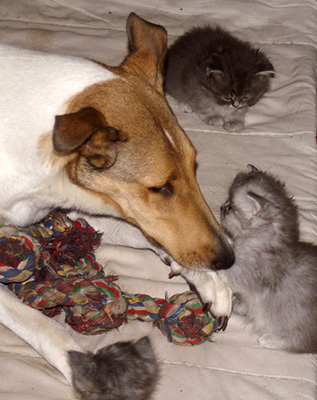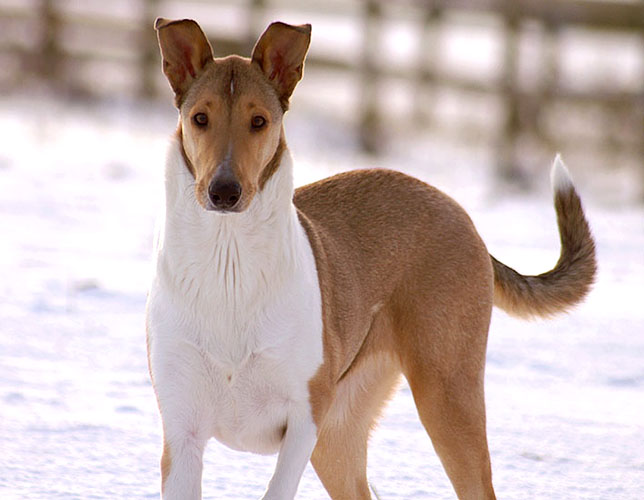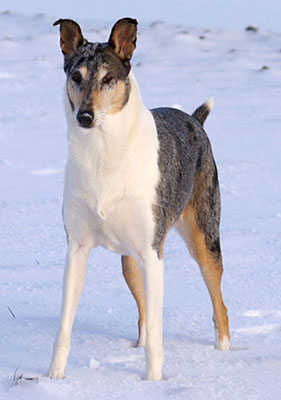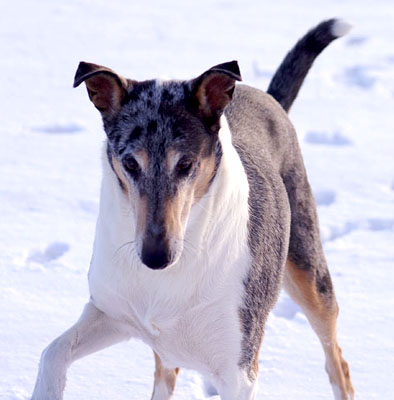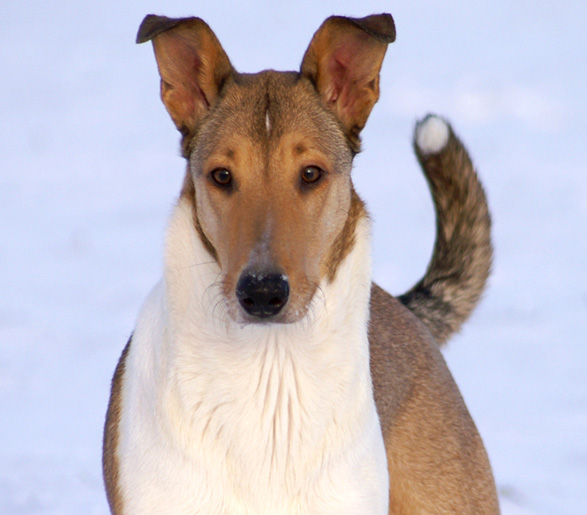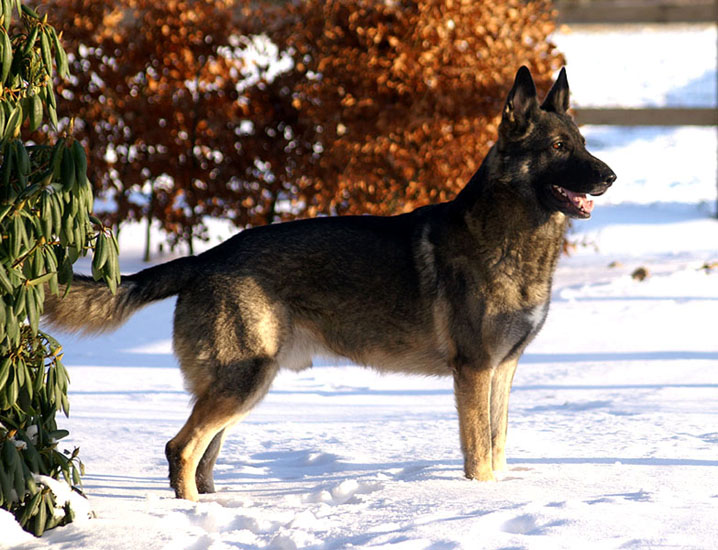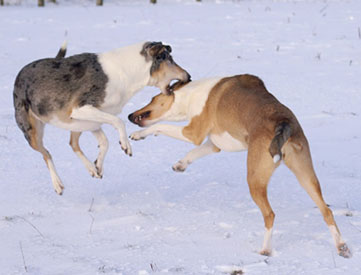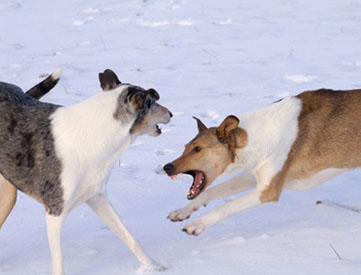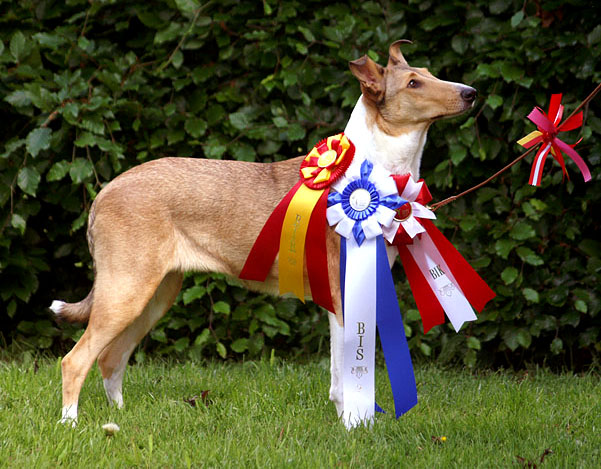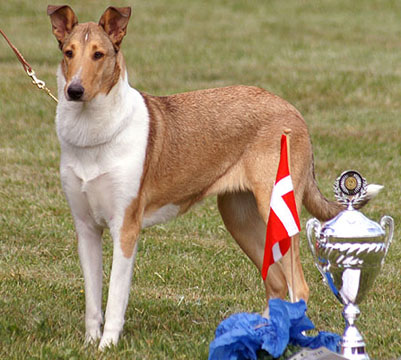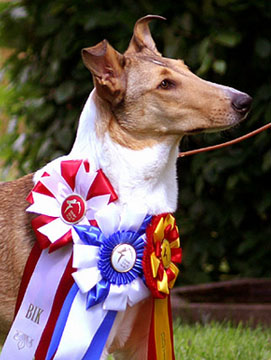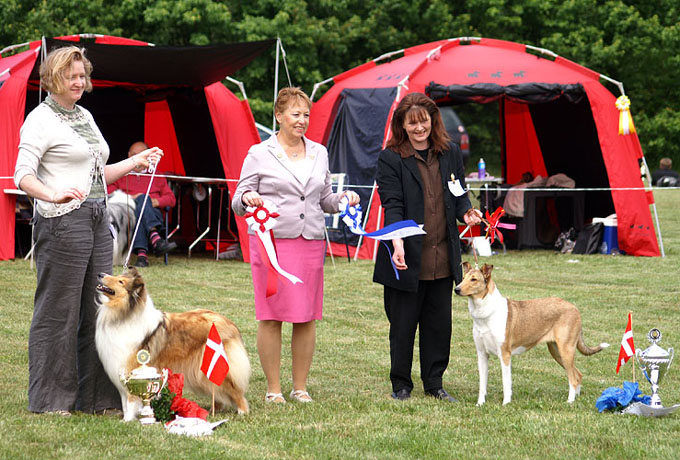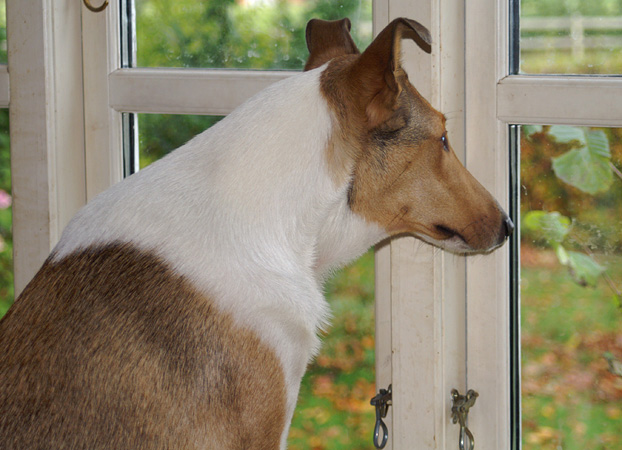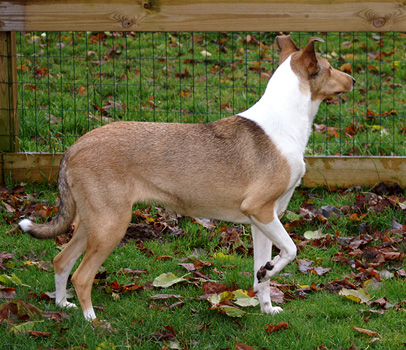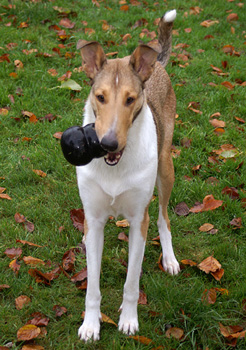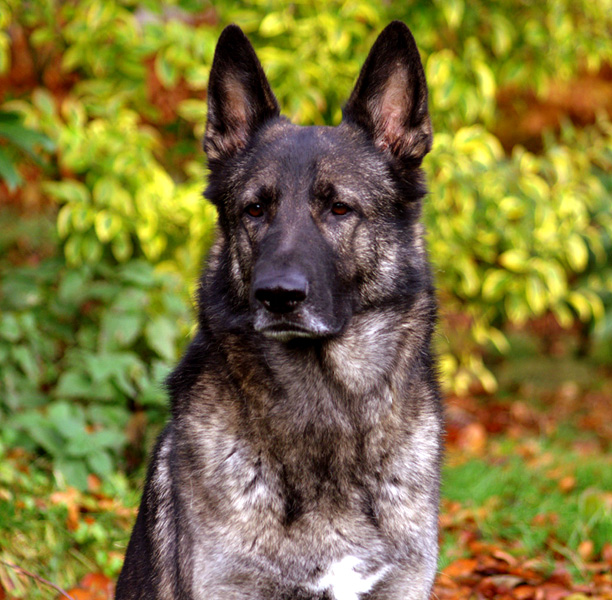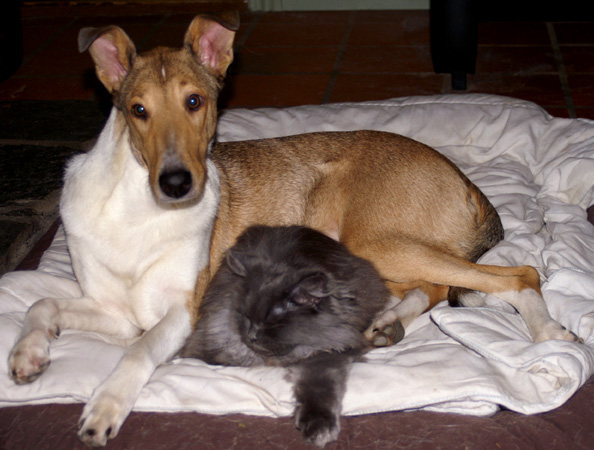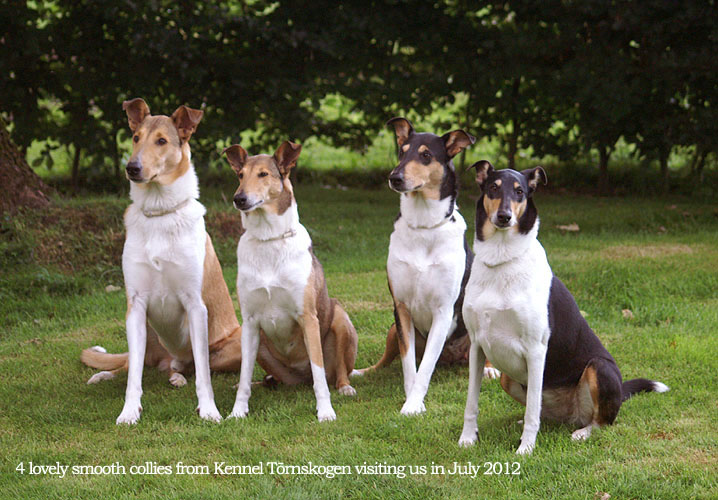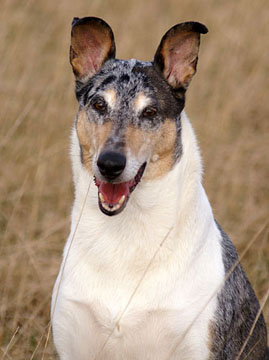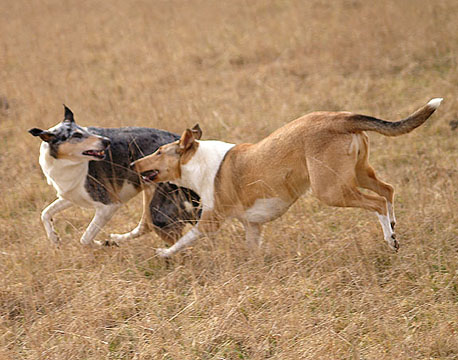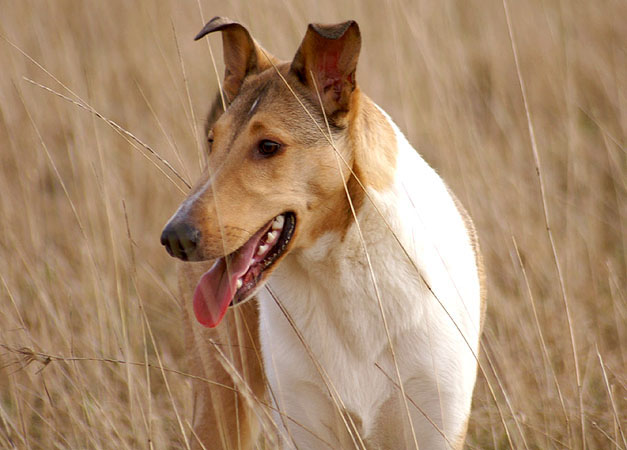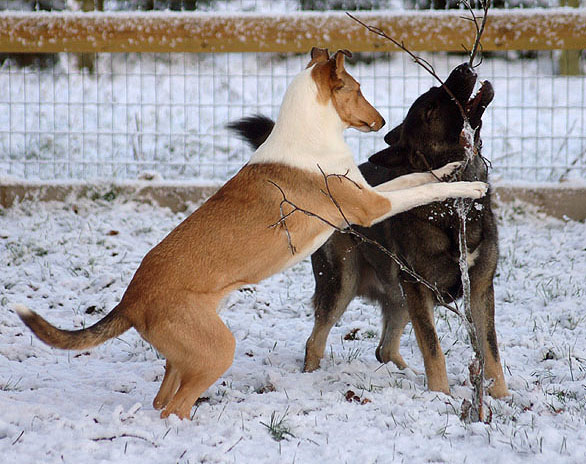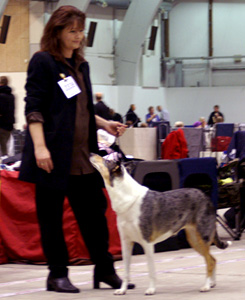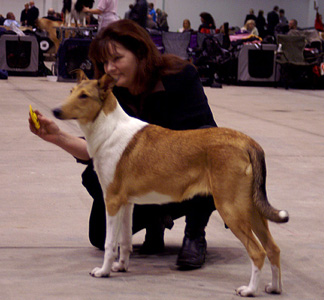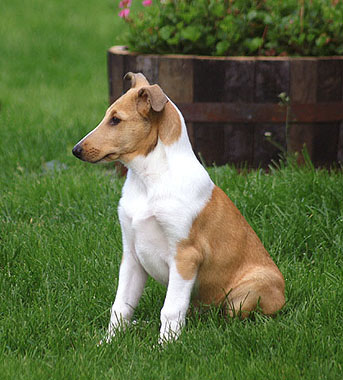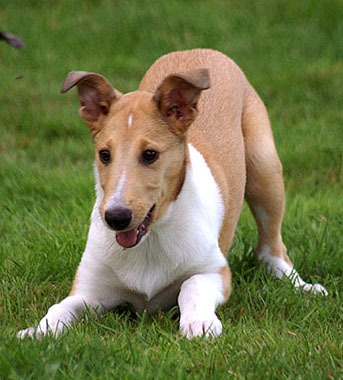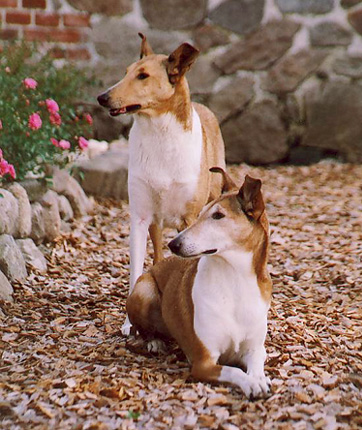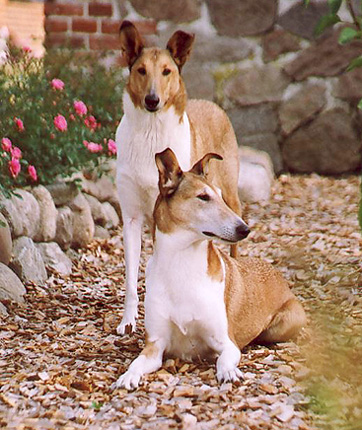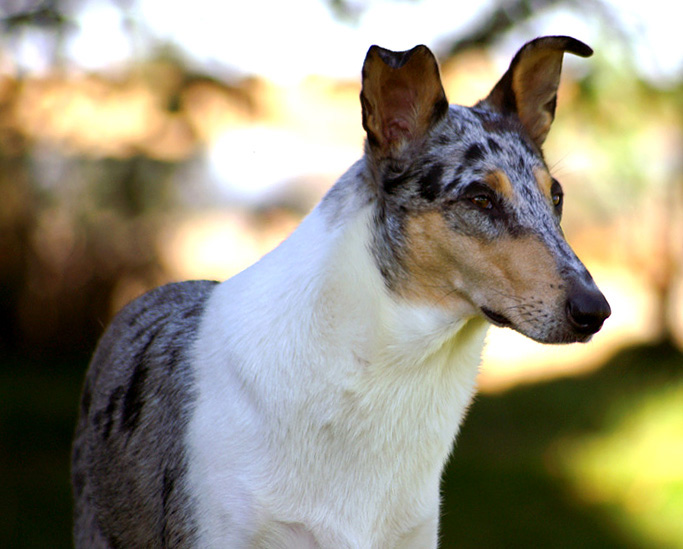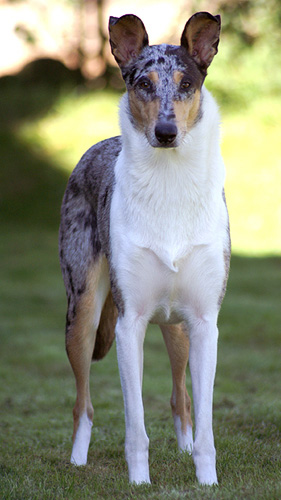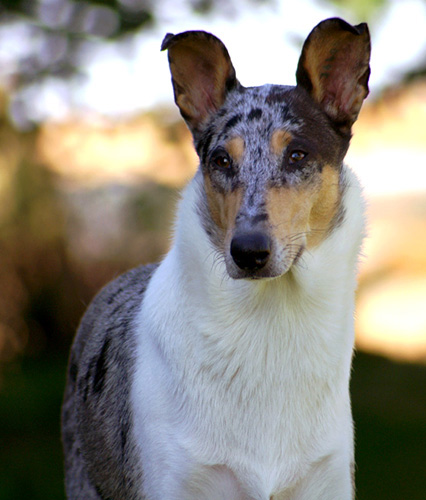 "Click" here to Enter PHOTO ALBUM 1
© Photos may not be used without permission