NEWS 2008 - 2007
2008
December 2008
We will think back on 2008 with lots of "mixed" feelings, but that's of course how life often is. Great was the joy, when the foal we decided would be the last of our Aswan daughter Galaktika, turned out to be a little girl - and then even of exceptional quality. We also spend some nice days with the horses, and in company of good friends ("new" as well as "old" ones). But unfortunately the year also brought a bit of illness in our family, which we thankfully are over now, but it meant that the time and energy was not for big projects. Therefore we chose to take a "quiet" year with the horses and breedings. We also decided not to do a lot regarding saleshorses with advertisement etc. Despite of this there were still many enquires on our horses, but for various reasons, we decided to turn most of them down. However we did find a new home for ML Kazakhstan and have also "reserved" ML Pashkin until spring - to a client we would love to sell him to. The saddest incident in 2008 was however the loss of our beloved 4-year-old mare ML Shams Shakira, and we still miss her deeply. Now we cross our fingers for a better 2009 season, in June we are expecting a foal by ML Pashmir out of Primonia, and we plan to start covering Mitra Aasa again. We are also hope to use more time on saleshorses etc. but are not going to do much regarding breeding "outside mares", as we have some larger projects on our property, paddocks etc. and it takes a lot of time plus not least space to have mares in for breeding.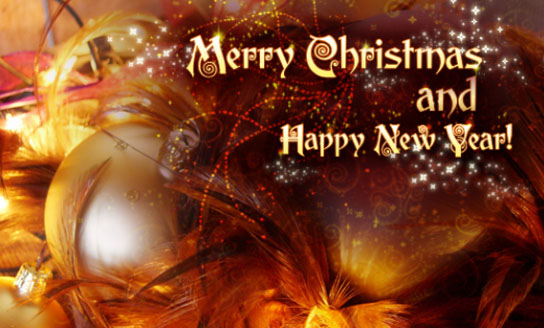 November 2008
It's with great sadness that we on the 7. of November said a last goodbye to our gorgeous ML Shams Shakira. Words can't describe how tough the decision has been and how much we still miss her. We struggled for 3 month with symptoms very similar to laminitis and abscesses alternately on both front hoofs. Many days the pain medication hardly had any effect, and Shakira was in so much pain these days that she could only "jump" around on her hindlegs. When we after 3 long month with numerous visits from farriers, Vets., x-rays etc. still had no sign of improvement, and nobody was able to give any guarantee when/or if she would be well again, we decided to give her peace, as we could not bear to see her suffer any more.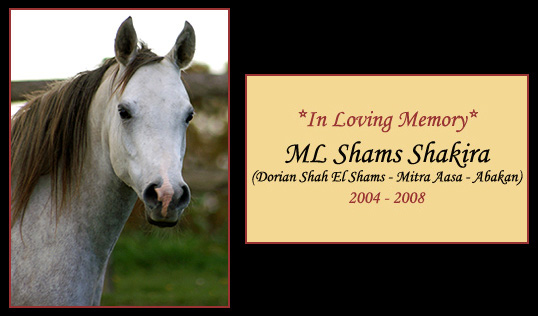 The loss of Shakira is tremendous for us in more than one sense. First of all she was a horse that personally meant so much to us. She had the most amazing and loving temperament, was always the last horse I said goodnight to - she simply refused to eat her hay before I gave her a final goodnight kiss. But Shakira was also a mare we looked forward to use in our breeding. She is still the only daughter from Mitra Aasa, and most important the only offspring we had decided to keep by our old multi champion stallion Dorian Shah El Shams. Shakira was born the month after his death, and it was one of the happiest days in our breeding, when we a few minutes after the birth learned that we got a little girl.
October 2008
Our old charming Smooth Collie girl Queenie "Poulsgaard's Quickwitted Queen" turned 11 on the 2. of October. We can't believe that the years have passed so quickly, still remember when we saw Queenie for the first time, only 5 weeks old. Even now in this relative old age, Queenie is still just as "crazy" and playful, as when she was a puppy. Queenie is running around in the house all day long with toys, which is also why we never think about her as an old dog. We hope to have Queenie for many more years, and that she will be in high spirit to the end.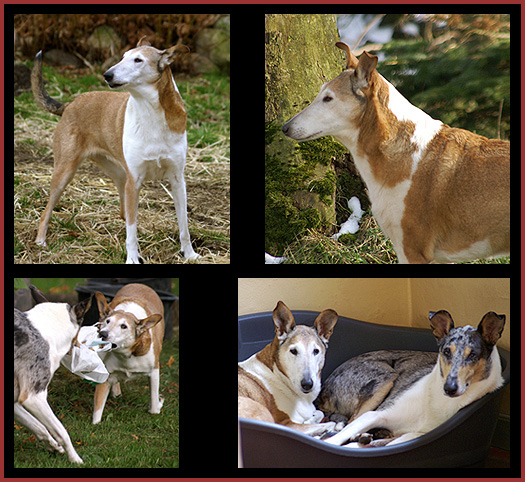 July 2008
Our gorgeous broodmare Primonia (Monitor x Pristina x Komplekt) has been scanned in foal to ML Pashmir. This combination has already given us two excellent offspring, ML Pristinia in 2006 and ML Pashkin in 2007. Both has superb type with lots of "look at me" attitude, good strong bodies and they have the famous big elastic "Russian" movements. We hope this offspring will be just as nice as the two others. Both parents pedigrees contain numerous of Show Champions and top performance horses, more information can be found on their own pages, through the menu "Mares" and "Stallions". This foal will be available to the right buyer, as we are not keeping a "replacement" for Primonia yet.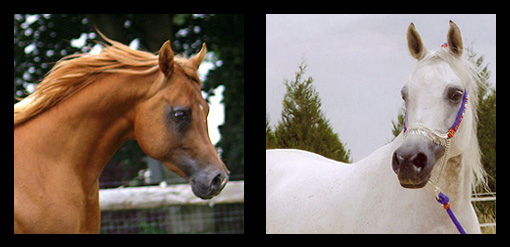 ML Pashmir & Primonia
July 2008
Our beautiful Lolly "Pinehillside's Lovely Blues" celebrated her 4-year-old birthday on the 12. of July. I think that the time has gone so fast, and we were just in the airport picking her up from Finland, only 3 month old. Like expected Lolly has really grown into a stunning girl. Although she is very feminine, Lolly is still a very "strong" dog in her conformation, exactly how we like the collies to look.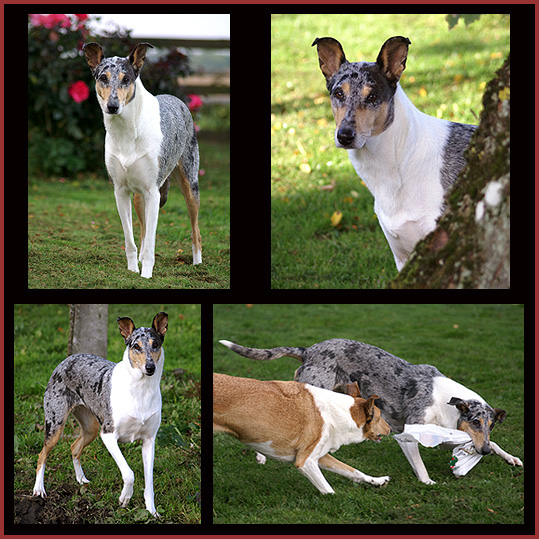 June 2008
Our very promising 2 year old Russian stallion ML Kazakhstan by DSA Bali (Piligrim x Brigantina x Menes) out of Galaktika (Aswan x Kamchatka x Mak) has been sold to Alice & Elena Flygenring. He is besides as a breeding stallion, purchased to be used in performance. Primarily for endurance, but Alice also ride her horses in dressage, and several of them has been raced as well. We also bred one of their other horses ML Malchik, and have followed him with great pride. First at the racetrack, then they got excellent results in endurance and now Alice is using him for dressage. We hope Kazakhstan will be just as successful in performance and also look very much forward to when he later goes into breeding as well. We wish you all the best in the future. There are more information and pictures on ML Kazakhstan's own page, through the menu "Stallions".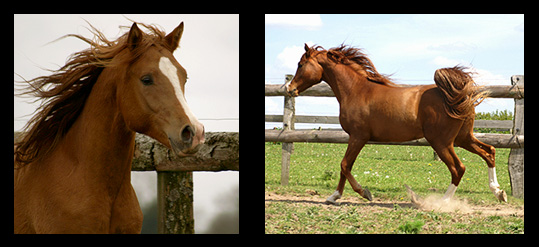 ML Kazakhstan - "natural" and not groomed in march & may 2008
May 2008
Hip Hip Hurrah - our gorgeous Aswan daughter Galaktika turned 24 years on the 20. of May. Besides that she of course with her pedigree and quality has been an unique broodmare in our breeding program, Gala also means a lot to us personally. She is a wonderful old lady, who still has lots of "look at me" attitude, and who despite the age, shows off in the paddock trotting around with huge elastic movements. We hope to have her for many more years, so she can enjoy her "retirement" and be spoiled - she really deserves it.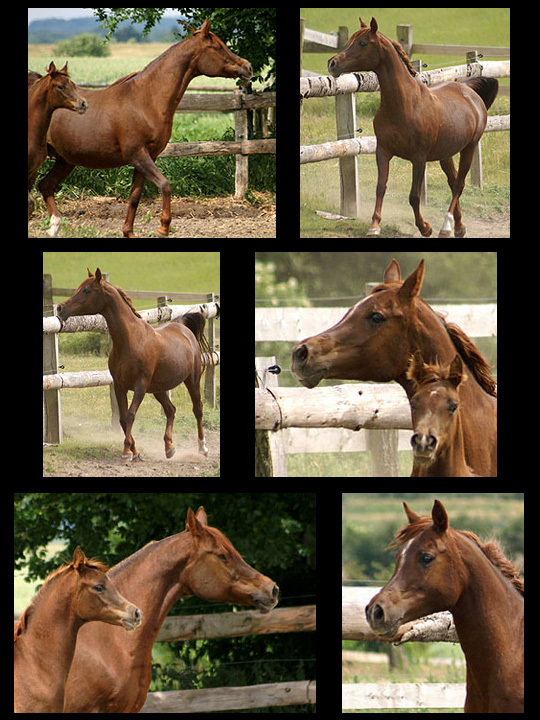 Galaktika - as 24 year old at ML ARAB
Galaktika's little filly ML Galia is still developing superb. We can't believe that we were so lucky, in her final year as a broodmare, to get a filly that can continue Galaktika's lines. We almost can't wait to see how Galia produces, and not least we look forward to show her, as well as see how she is under the saddle - based on her pedigree and quality, Galia should do excellent in all 3 categories.


ML Galia
March 2008
It's with such a great joy we can tell that our gorgeous Galaktika (Aswan x Kamchatka x Mak) the 17. of March gave birth to a liver chestnut filly - ML Galia by ML Pashmir (Padishah x Mitra Aasa x Abakan). Words can't describe how happy and grateful we are that Galaktika's last offspring was a little girl, who now can continue her lines in our future breeding - what a final present to get. ML Galia has a superb type with short head, very beautiful "dish", wide forehead, big jaws and the most fantastic eyes. She turned out exactly as we hoped and Pashmir really manage to pass on the "things" we expected. Galia has excellent conformation and the strong muscular body which the Russian are known for. She is a real "Show-girl" and are already now "dancing" around with big elastic trot. Galia's pedigree is based on some of the last decade's most successful Russian lines. It contains numerous of European, World & International Show Champion, plus not least lots of top performance horses - just looking at the first 4 generation, 17 horses has been tested at the racetrack.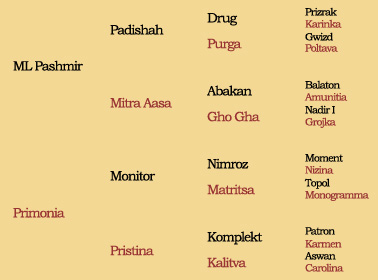 March 2008
Our sweet smooth collie girl Sille "Si-Si's Glory Operation" turned 9 on the 5. of March. Despite that her age left its "marks" with a few things, she is luckily still as happy and playful as when she was as a young puppy. Sille is a very special girl with the most cute and funny character, she means the world to us and we really hope to have her for many more years.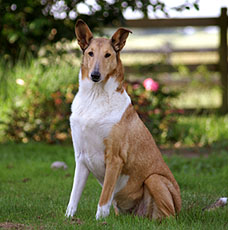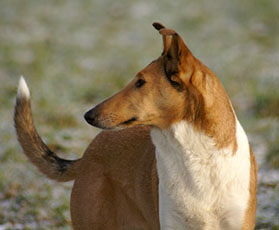 February 2008
The "News" page has finally been updated with several months that were not included earlier. 2007 is now totally "up to date" - the new month added is from July to December, among others with our summer activities, working projects, visit in France, which mares has been covered in 2007 etc. We also in autumn included a few new pictures on the horses own "personal" pages, and "Sales List" was updated with new horses (incl. our young stallion ML Kazakhstan), and more pictures of ML Pashkin etc.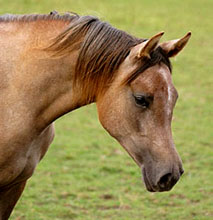 ML Pristinia & ML Pashkin
February 2008
In February we bought a new family member - a sweet little 1 year old Himalayan (persian) girl named Minnie. We lost our 12 year old Gøj in 2006 and wanted another Himalayan again, if we could find the right one and one of the old-fashioned type. We completely fell in love with Minnie when she was advertised, and when we found out she is related to Tiffa that we lost in 2001(Minnie's granddam and Tiffa are full sisters), we knew she had to live with us. We are already so fond of her, she has a fantastic loving character and reminds us a lot of Tiffa and Gøj. Minnie quickly settled down perfectly in her new home and are fine with the dogs, plus not least Peppe (our 9 year old maine coon) loves that he has a new friend. It's also so great and funny that we now have our old "lines" again (it's such a small world sometime) and we hope in near future, like we did with Tiffa, to get a few litters from Minnie.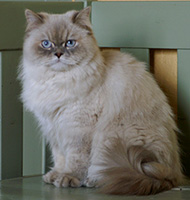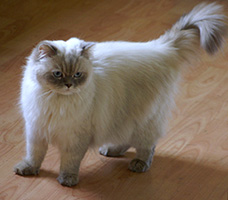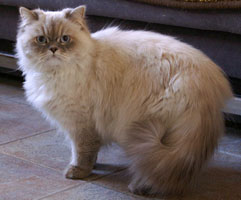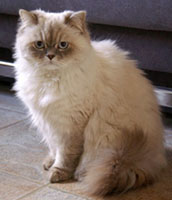 2007
December 2007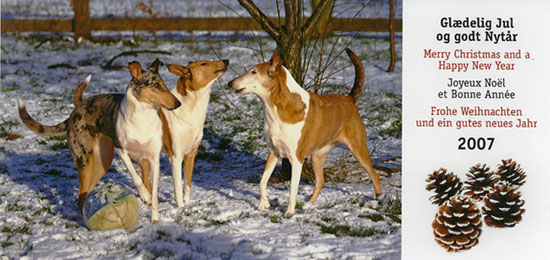 November 2007
On the 3. of november our Finish imported Smooth Collie Lolly "Pinehillside's Lovely Blues" was shown for the very first time, at the International DKK dog show in Herning. She did really great and gained almost all the best titles one can achieve at a single show. Was classified/nominated as 1. quality (Excellent) in Open Class with splendid remark from the Italian judge, got the CAC (her first certificate for the Danish champion title), 1. placed in Best Bitches, CACIB (certificate for the international Champion title) and BOS.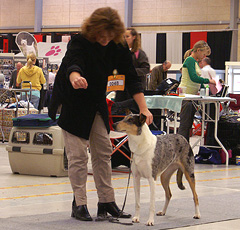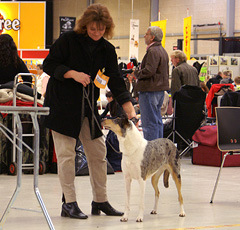 October 2008
Our beloved Queenie "Poulsgaards Quickwitted Queen" turned 10 on the 2. of October. The birthday was celebrated with paté in the morning, cake in the afternoon and she got a "dog bed" as a present. Queenie is such a fantastic dog, and is still as playful as when she was a puppy - we hope to have her for many more years. In her younger days she did great in Show, being placed 1. with Excellent many times and gained the Danish Champion title almost in "record" time.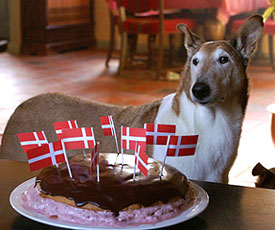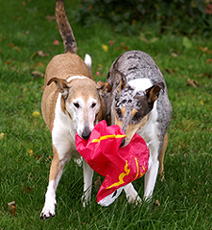 August 2008
We have been very busy this summer and autumn, with new roof on our house etc., and especially Lars has worked very hard, using all his vacation on the project. Because of all the work we are doing on the house, paddocks etc. we decided these seasons not to take any "outside mares" in for breeding, but would like to thank people for their interest in ML Pashmir., it's always such a pleasure to hear that other people, beside our self, love our horses too.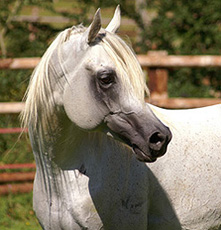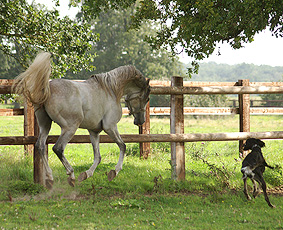 Padishah (left photo) and Vertigo playing with Emir (right photo)
In August there were time to a short visit to our friends the Akel Family (Cedar Oak Arabians) in France, as always it was a pleasure to spend some days with them. It's just sometimes a bit sad that we live so far apart, as we always have such nice time together, both when we have been in Paris and on our trips to the THS auctions. Like the other times the stable was full of first-class horses, no matter if you prefer show arabians or top performance horses. Besides the Russian horses which have relation to our lines, there were some fantastic racing prospects out of Russian/French bloodlines as well, among them magnificent foals and young stock. It was so great to see Padishah again too, he is "one of a kind" and looks more beautiful than ever - it has been such a joy to follow both him and his offspring for many years now. It was also so nice to meet many of the old legends again; Bali's dam Brigantina, Amplituda, Taman, Angelika, Kaluga, Magnitka etc. Nanuk who always had a very special place in our hearts unfortunately died shortly after, but I am happy that I got to say a final goodbye to this very unique lady.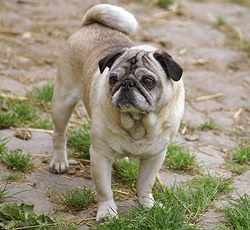 The two saluki boys Faycal & Emir (left photo) and Gizmo - the "boss" of Cedar oak (right photo)
July 2007
We are happy to announce that Galaktika (Aswan x Kamchatka x Mak) is scanned in foal with ML Pashmir (Padishah x Mitra Aasa x Abakan), despite she earlier this year aborted 4 month before she was due. She got in foal with one single covering, well done for a 23-year-old lady. Gala is due early April and it's a combination we expect a lot of, plus a very unique offspring for us to have, as she is one of the last Aswan daughters in the world, which are still "active in breeding - we cross our fingers for a filly, which can be one of our future broodmares. Primonia did not get in foal the single time we tried, and as her foalings has become a bit late in season we decided to give her a well-deserved rest (she already produced 5 fantastic offspring in France and 3 at our place). Due to being busy with all our work-projects, we decided not to inseminate Mitra Aasa this year, and are going to wait until 2008. She is still a rather young mare, so we are not too stressed about her being "empty" for some seasons.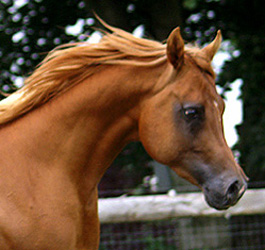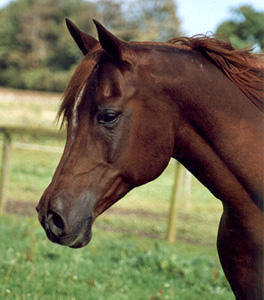 ML Pashmir & Galaktika
June 2007
On the 24/6 we got a really smashing chestnut colt ML Pashkin by ML Pashmir out of Primonia. His pedigree is mainly Russian (93.75%) with a touch of Polish. It contain some of the last decades most successful Arabians, within these bloodlines (see complete pedigree beneath the photos). We looked so much forward to see if Primonia and Pashmir again would produce the same great quality as ML Pristinia. We did not get disappointed - this combination seems to be a perfect "mix". Pashkin has a gorgeous type, with lovely "dish", wide forehead and beautiful eyes. He was already from beginning very muscular and well build. Pashkin has really impressed us by "dancin"g around with big elastic trot, only a few days old. He is a splenid performance prospect - but we also expect him to become a horse, which can do very well in the Showring too. Pashkin is also an interesting prospect for breeding, both due to his good quality and not least to his unique pedigree. It contains numerous European, World & International Champions, plus top performance horses - just looking at the first 4 generation, 18 horses has been tested at the racetrack. ML Pashkin will be for sale, as we can't use him on our mares (they are all related). Visitors are always welcome - but regarding ML Pashkin we please ask the enquires to be from buyers who will use his potential, plus has interest for breeding and show (besides perhaps performance). Pashkin's fullsister ML Pristinia, his ¾ sister ML Parisa and both his parents can be found on the website through "Mares" and "Stallions". ML Pashmir's Sire and Dam is also on these pages.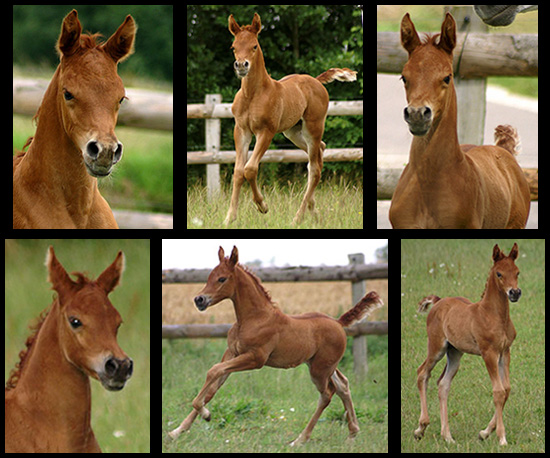 ML Pashkin - 1 week and 3 weeks old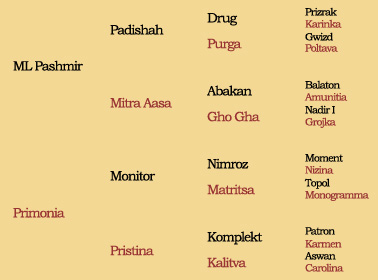 June 2007
On the 19. of June I visit Birthe to see ML Parisa, and not least Birthe & Esben's new sweet little daughter Ronja. It's was a real pleasure to see Parisa again, she is now 2 years old and is a very stunning young filly, who with the muscular body now almost looks fully-grown, and with the big famous "Russian" movements, like a true "Tersk" mare. Parisa did not get less typey since I last saw her, the head is short with a beautiful dish and incredible big jaws. She has all the splendid qualities, which we know from the other offspring Primonia has produced, but at the same time also has developed into an almost true copy (just in a feminine "version") of her magnificent father - European res. Champion Padishah. We are so happy that Parisa is doing so well at Birthe's place and that we are able to follow her closely.

ML Parisa - 2 years old (pictures from my visit)
April 2007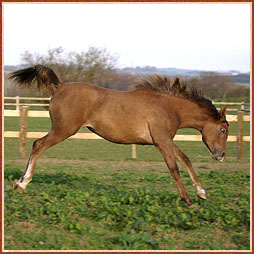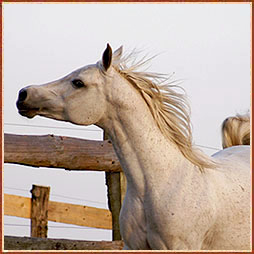 Hurray - It's finally Spring !! (ML Pristinia & Primonia)
As both we here at ML ARAB have our hands full these month, and Kate (who helps us with the website) due to personal circumstances, does not have much time/energy either at the moment, people have to cope with our homepage not being updated as much this spring/summer as we could have wished for. Which means that "News" and "Sales List" is perhaps not always so much "up to date" as normally, and several of our horses has new photos which is not yet on their pages. Also the menu "Exp.Foals" is still from the 2006 season and "Offspring" is temporarily "taken down" (we have a new version which will replace the old one). ML Kazakhstan will also in near future get his own page on the menu "Stallions". But you are always welcome to mail me if you want to ask about sales horses or have questions of any kind.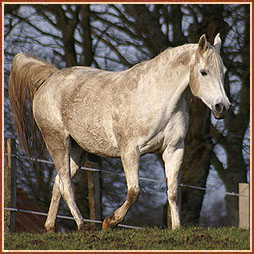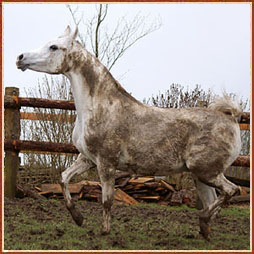 Primonia & Mitra Aasa enjoyed the snow was gone and they could play in the mud again
In March we unfortunately lost one of the two foals we expected in 2007. Our Aswan daughter Galaktika aborted 4 month before she was due with a little colt by ML Pashmir. We are quite sad about this lost - it was a "combination" we looked so much forward to see. And also a shame that Pashmir will now only get one offspring this year - we have said no to all "outside mares these seasons, and only covered a few of our own. His daughter ML Pristinia is still developing superb - she is our big pride and one of the best offspring we have bred, so at the moment we are very unsure if we will sell her, despite that was the original plan (as her dam is still "active" as a broodmare).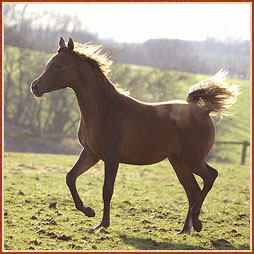 "Everyday" pictures of ML Pashmir and his daughter ML Pristinia
In the spring (as mention earlier) we will inseminate Mitra Aasa one last time. After having given up on her getting in foal to Monogramm, we have decided to try one time with Padishah, who has much better quality with frozen semen. It's a combination we for a long time have wished to make again. If it does not succeed, we might only cover Mitra natural for some years. Among others we hope (perhaps already next year) to use ML Kazakhstan on her. We have for many years looked forward to "cross" their lines (with Piligrim, Gips, Menes, Aswan together with Abakan, Nadir I etc) and can hardly wait to use Kazakhstan on both Mitra and her daughter ML Shams Shakira.
© Photos - may not be used without permission