NEWS 2012 - 2011
2012
December 2012
ML ARAB wishes everyone a Merry Christmas and a happy New Year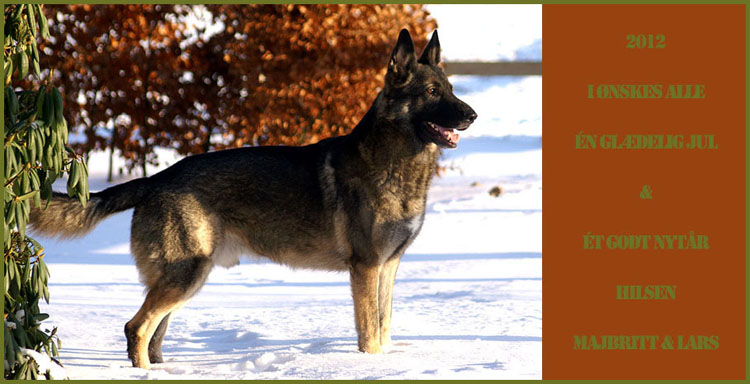 November 2012
on the 3. of November Diva (Törnskogens Bvlgari Femme) once again had nice results in the showring, when she was entered in the big International Show which DKK (Danish Kennel Club) held in Herning. This time the judge was Rodi Hübenthal from Sweden and most of the smooth collies came from Finland, Sweden and Norway. Diva was again awarded the highest grade in quality as she achieved "Excellent" with CK ((which stands for champion quality) and a reserve certificate. Diva got a very good critique from the judge (feminine and well build bitch, very nice head, good neck and topline, correct conformations etc). We are very happy about the last show of the year also was with excellent results, now we are going to take a small break but have already chosen some shows in the next season, on a few of them we are going to Show Lolly as well, despite she is turning 9 years of age - but she is still in great condition and loves to go with us at the dog shows. Unfortunately our camera did not do well taking photos inside, so all the pictures were more or less damaged.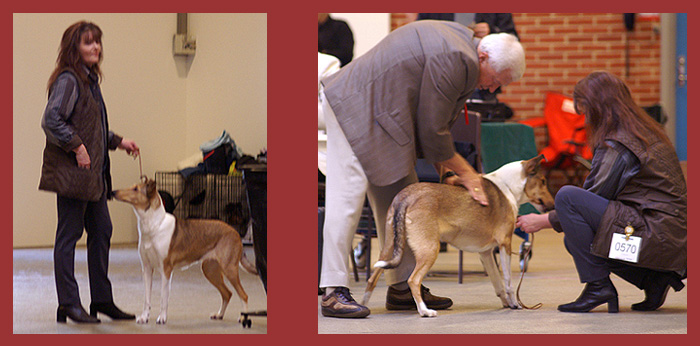 September 2012
Our beautiful Persian/Birman Kittens has now left for their new homes and I have to admit that it was hard to let them go, as it's one of the sweetest litters we have had, plus the house feels very empty right now after having 5 cute fluffy babies running around these last couple of month. But like the other times we had kittens there were luckely lots of respons on our advertisement and I could carefully choose the families I felt was best for each kitten, so all babies now have great homes and has settled down perfectly. The two black smoke girls even went to the same home, something that made us very happy. Our little Gollum who was so tiny and looked so different compared to the others, suddenly became the heaviest in the litter and turned in to the most beautiful blue kitten with green eyes. But despite the fact that he turned out to be a perfect "normal" kitten, we were already very attached to him so he is going to stay here with us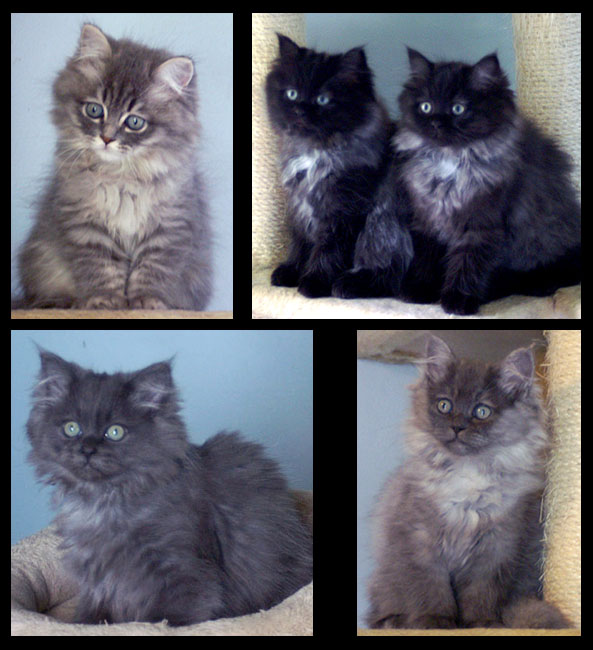 August 2012
On the 29. of august we took Diva (Törnskogens Bvlgari Femme) to the vet. hospital to have her x-rayed for Hip dysplasia. When the results came back from the Danish Kennel Club (they have their own group of vets who diagnose the x-ray) she got the best results they can achieve - a "HD - A", which means that she is 100% free off HD ( just like all our other Smooth Collies). Diva is now finished with the different health check one has to do before Smooth Collies is allowed to start breeding, as she was checked "clear" on her eyes too, before we bought her in Sweden. It's just wonderful that Diva is superb both when it comes to her health as well as getting such nice results in the Showring, and last but defiantly not least she just has the best temperament you can wish for.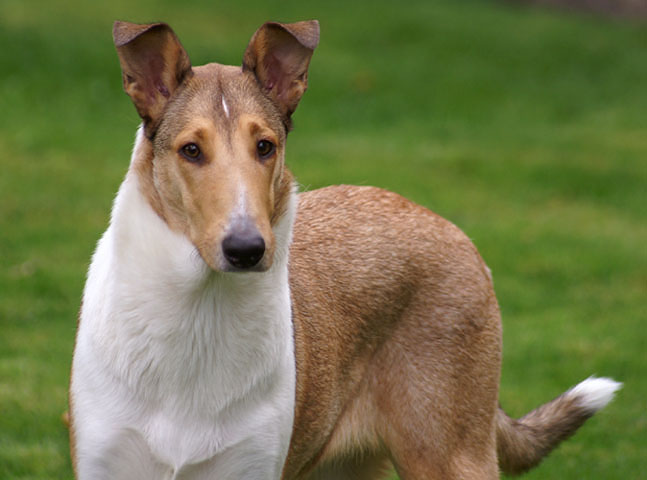 July 2012
The 10. of July we had the most lovely people and not least gorgeous dogs visiting us. It was Diva's breeders Evama and Jan Thörnvall (Kennel Thörnskogen - Sweden) who took a small trip to Denmark so they could visit Diva and us, as well as Diva's brother Tye (from the same litter) and not least to drive a bit around in Denmark. It was such a nice visit and the time went much too fast - a shame that we don't live in the same country, then Evama and Jan for sure would be someone who we would be together with more often. They came directly from a Dog Show in Sweden (where their kennel once again gained excellent results) and therefore had 4 lovely dogs with them in the camper. On the photos from left to right is: Törnskogens Boss in Motion (Bosse), Dandinas Quite A Girl (Jezzie), Mabinogion Lúthien Tinúviel (Freyja) og Törnskogens Coco Chanel (Nelly). Last girl mention is actually planned to have a litter of tricolour and blue merle puppies in spring, if anyone is thinking about having a smooth pup (smile).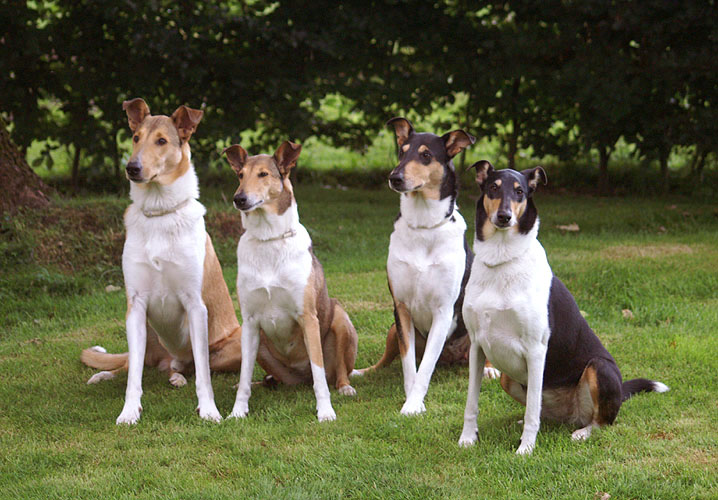 Bosse is the fullbrother (same litter) to Diva and they are incredible alike in "look", of course he is much bigger and has that typical "male-look" you wish for the standard, but they are extremely similar in their faces, has the same colour etc. He is such a handsome and "correct" boy, not only my opinion because he just gets one superb result in the Showring after another. Jezzie is the mother of Diva and I got a big lump in the throat (almost trying to fight tears in my eyes) when she first entered our garden, she looks exactly like our beloved Queenie who we still miss so much, and even sounds/behave the exact same way, I almost felt like Queenie was once again back running around amongst us. Nelly is a ½ sister to Diva and Freya has the same lines further back on her pedigree as Sille, so it was almost one big family to the dogs we have or the ones we sadly lost who came on visit (and they are so adorable that we could have kept all of them here if possible - smile).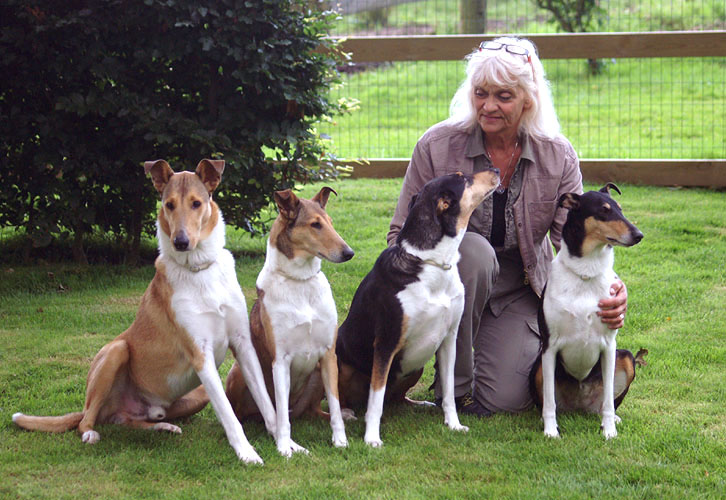 June 2012
YES - we finally have tiny cute kittens in the house again. Our Sacred Birman Bella gave birth to 5 babies (2 boys and 3 girls) on the 13. of June - the proud daddy is our Silver Shaded Persian Momo. They are still so young that it's a bit difficult to say precise what colour they are going to have, but at this point it looks like 2 blue who might turn out to be blue smoke (1 boy and 1 girl), 1 blue boy and 2 black girls. There will of course be added pictures on the menu "Cats" within the next couple of weeks. The kittens are ready to get new homes in early september and at this time they have been health checked by a vet., had their first vaccination, been treated for worms several times etc.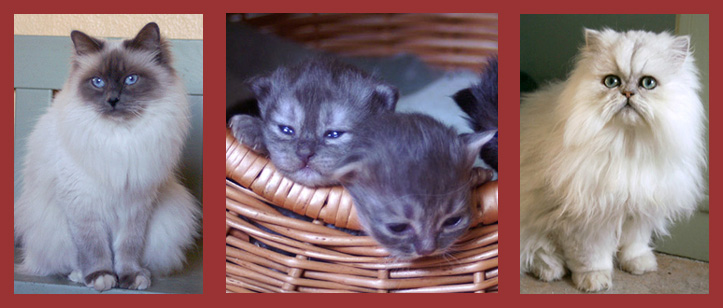 June 2012
The 2. of June we showed Diva (Törnskogens Bvlgari Femme) and Lolly (Pinehillside's Lovely Blues) on Danish Collie Club's "Collie Festival", this time we had Janice Cook from Australia as a judge. Once again both our girls was awarded the highest grade in quality as possible, so we are extremely satisfied with the results they have gained so far in Showring. Diva was entering the Junior Class for the first time and achieved: "Excellent", with "CK" (which stands for certificate quality/champion quality) and got her first CAC (certificate for the Danish Champion title), she then was named "Best Bitch", "Best of Breed" (BOB) but in "Best in Show" (BIS) she was beaten by the Rough Collie. Lolly was shown in the Open Class and achieved: "Excellent" with "CK", but was beaten by Diva in the "Best Bitch" class. Unfortunately there were only 3 smooth collies shown this day, so winning the Best of Breed title etc. did not mean so much to us, as if there had been more competition, the most important thing for us was if our girls were good enough to be awarded "Excellent" - the highest quality grade possible, and they were !!. We are just so happy about Diva getting the highest grade on her first two shows and Lolly has now been shown 3 times - achieving 3 times "Excellent" with CK.
May 2012
I apologize for not updating the website more often these last many month. But there were not so much "activity" with the animals in the winter period and a lot of the reason is also due to the circumstances written below.  However this "update of the month" will be rather large as we are beginning a new chapter in our life, which I would like to explain.

This winter we sadly due to health reason have taken the tough decision not to continue as a stud, which means that the numbers of horses in our stable will slowly be reduced to around 2-3, and regarding foals we will only produce one foal every second or third year. It's a very difficult decision for us (as we are so attach to our horses), so everything will happen gradually. ML Piramida will, as it was always our plan, be sold when we find the right buyer. As for the rest of the horses we are right now considering to lease some of them out - maybe with the possibility that we will be willing to sell them later on. But most of them are only available for homes in Denmark. However Mitra and Primonia will for sure stay here,  we have had them for many years and there are not ever going to live in new homes. This year it's actually 20 years since we bought our first Arabian and it feels very strange that we are now closing our stud, but in the middle of all our sadness we are also trying to be happy about the fact that several of our offspring has been sold to people who will promote them either in competition or use them for breeding. We are especially grateful to Anja Bröchner Christensen who for sure will continue the breeding program we have put so much energy and time in. Anja has either bought or leased mares from us in such a way that she has both Primonia's, Mitra's and Galaktika's "blood" in her stable, plus not least she also has a mare out of Mamma-Gazel (one of our first broodmares). This means that most of the dam lines which during the years were purchased to our breeding program will continue through her future stud. (Pictures below: ML Pristinia, ML Pashmir, ML Piramida).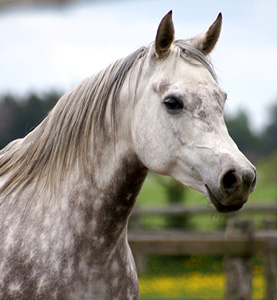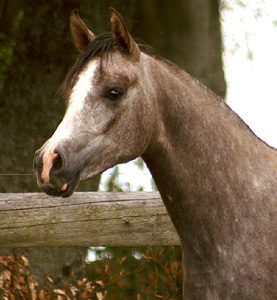 As we still want something to be involved in and not least as we have a lovely property with lots of space, we instead have taken the first step to fulfill an old dream about having a small kennel with Smooth Collies. The dogs we have had during the years were first of all part of the family and the "children" in this house, but the last 15 years we always made sure to purchase collies of such high quality that if the opportunity was there, they would be excellent for breeding as well. Now we feel that it's the perfect time to live out our dream as it's not such hard physical work like with the horses, plus not least the dogs are already part of our life so that's not change so much in our everyday life. We already begin to show them again like we did several years ago, next step is to get a Kennel name through Danish Kennel Club (FCI) and within hopefully a short time we will make a website just for the Collies. We also among others will have better time to make more kittens from our lovely cats, when there will be less horses to take care of. Our homepage will continue as always, which means that we are still going to tell what happens here with all the animals-  in addition this page will from now on also include news about some of the horses we sold, their results, if they get in foal etc. (Picture below: our Swedish import - Diva, 10 month old)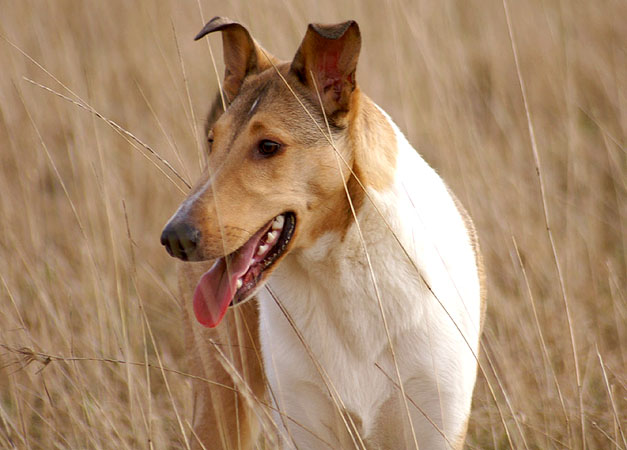 January 2012
ML ARAB wishes everyone a happy New Year and best of luck with the 2012 season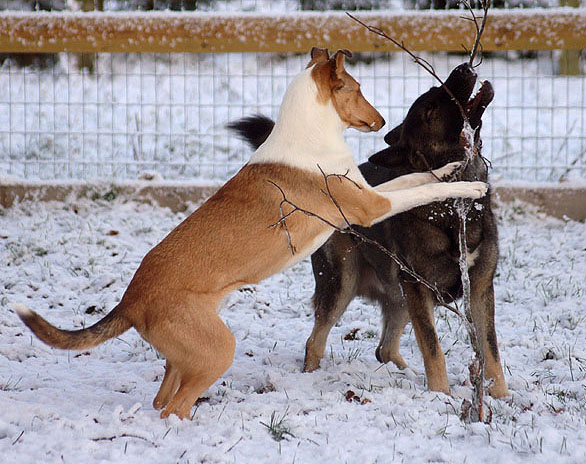 2011
November 2011
The 6. of November we showed our two smooth collies Diva and Lolly on DKK's (Danish Kennel Club) International Dog show in Herning and both of them was awarded the highest grade in quality as possible, so we were very happy and satisfied on our way home. It was a splendid debut for Törnskogens Bvlgari Femme (Diva) who in the puppy class achieved "Very Promising" with a great critique from the judge, and Pinehillside's Lovely Blues (Lolly) who has only been shown one time achieved "Excellent" and also got a "CK" which stands for certificate quality/champion quality - like with Diva the judge also wrote a very nice critique for Lolly. We are not going to show them this winter, but we have several Show planned for the 2012 season.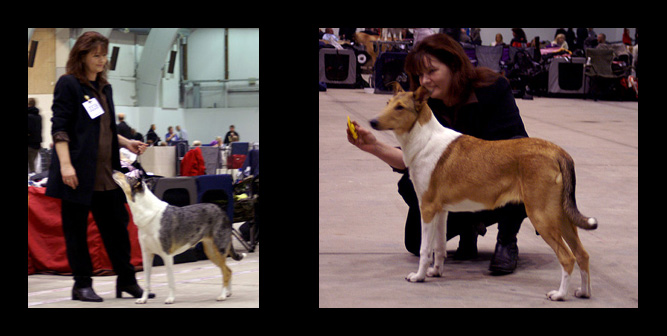 July 2011
On the 16. of July Lars started on a longer journey to Sweden, to take home our new family member Diva - a gorgeous 10 week old Smooth Collie girl (her "kennel name" is Törnskogens Bvlgari Femme). In the middle of our huge grief after loosing Queenie and Sille we suddenly found out that Kennel Törnskogen had a litter from two beautiful and successful dogs, out of our favorite lines - and the pedigree even contained some of the same ancestors as our two old girls. When we then entered their website we saw a picture of a little girl who reminded us so much of them that we literally got tears in our eyes. We are deeply grateful to Evama and her family for letting us buy the "girl" they had plan to keep for future breeding. After a long talk on the phone Evama could hear that for us it was "love at first sight" and the dogs means everything to us - plus not least she of all people could understand our huge loss - and therefore we were allowed to buy Diva despite of their original plan for her. Diva settled down perfectly from day one  and it has been such a joy to get a puppy from Kennel Törnskogen - it's simply one of the best kennels we have ever bought from and we highly recommend others who are looking for a smooth puppy to contact them. Their dogs are of first-class quality, both in their "look" as well as in health and they have superb temperament. The puppies are extremely "strong" mentally and there has been done a lot regarding socialization, getting use to sounds, driving in car etc. Every puppy leaves with so many information (in their own little book), food, blankets, toys and so on, that you can really tell how important it is for the kennel that the "little ones" get the best possible beginning in their new home and that the new owners is as well informed as possible. Once again a huge thanks to Evama and the rest of the family for a truly wonderful girl - we already now know that we found the perfect new little family member, as well as a beautiful dog that we look forward to show the next couple of years.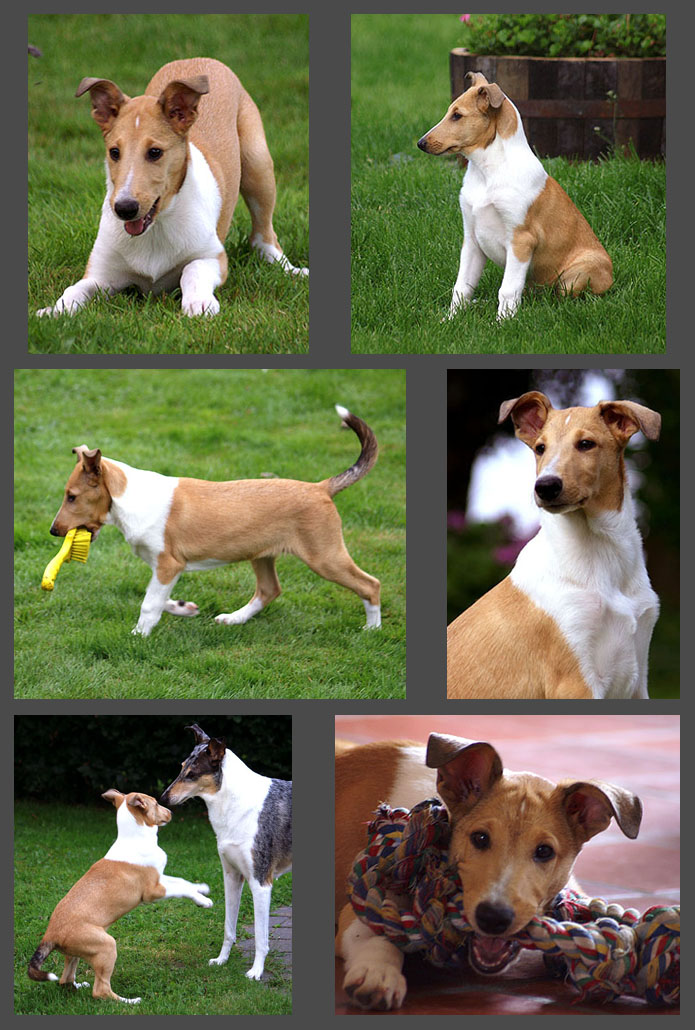 June 2011
The 17. of June we had to make the hard decision to say a final goodbye to our beloved little Sille, exactly 6 month after we lost Queenie. As mention earlier when Queenie died, those two girls were "once in a lifetime" dogs for us - Lars and I have never had anything in our life's that we loved more and been more "attached" to, so I can't even describe how hard it is for us right now and how empty our house feel when you are use to having them around 24 hours a day. Sille was the most lovely and fantastic dog one can imagine, so sweet and gentle with all other animals and people. She had so much personality and so many "crazy" funny thing she did - but she was also often the "favorite" among guests as she could sit very quietly for hours and just be cuddled. Another part of Sille and Queenie's day was used on keeping an eye on the cats and horses, which to be more precise means "telling" us if they were doing things which was not allowed - if they thought a cat was on the "wrong" table or a horse doing something "wrong" in the paddock. Even if it right now feels like a very small consolation, we try to keep in mind that like Queenie, Sille had the most wonderful life a dog can wish for in the 12 years that we were lucky to have her. The last couple of weeks when she was slowly getting more weak, she enjoyed to lie on a blanket out on the terrace and look at all the other animals - she especially had many hours of fun with the new small chickens while they were jumping on her back etc. Sille was put to sleep very quietly while she was enjoying the sun on the terrace and she is now buried right next to Queenie the nicest place in our garden under the beautiful beech tree.
May 2011
In beginning of May we had 7 small cute chickens. However this time it was not Sabelpoot (the ones we mainly have and want to breed in future), but 3 bantam maran's and 4 bantam "mix" of maran x zwerge grünleger (bantam green-egg layers). We "bred" them for the eggs, as we thought it would be fun to have eggs in different colours - the pure maran's produce brown eggs and the mix of maran x grünleger will produce blue or olivegreen eggs. So together with the white ones from our Sabelpoots we can look forward lots of different colours at the dining table. It has been so much fun to have "babies", we can hardly walk anywhere in the garden without almost stepping on them and the bigger they got, the more difficult it was to sit down and eat on the terrace in peace, they are all over the chairs and on the table (stealing food). Plus I can't tell you how relaxing it is to sit down with a cup of coffee while looking at all them.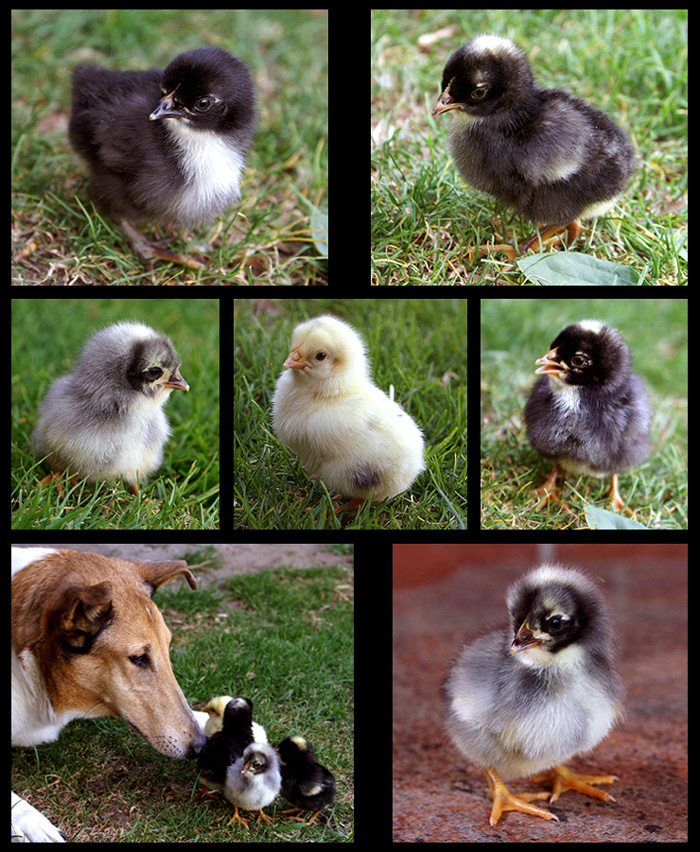 March 2011
This month we have been celebrating lots of birthdays.

ML ARAB's "Primadonna" Mitra Aasa celebrated her 15 years old birthday. "Titi" was only 6 years old when she arrived from France and we can't believe how quickly time has passed. It feels like it was only a few years ago that we, full of joy and excitement, were waiting for the transport to arrive. Despite of running into all kinds of problems when we have tried to get Mitra in foal (most of them did not even had anything to do with her personally) and that we sadly lost her daughter ML Shams Shakira at the age of only 4, Titi still has had a huge impact on our breeding. Up until now we have had 5 offspring by her son ML Pashmir - and it's very much because of Mitra's influence that these offspring are some of the best we have bred so far. We already kept two of them (ML Galia and ML Pristinia), so no matter what will happen in future with Mitra herself as a broodmare, we at least have several horses to continue her lines in our future breeding. And just as important to us, Titi is simply one of the sweetest horses we have ever had, she has so much personality and is so gentle towards the others, so it's always her who takes care of the babies when they are weaned.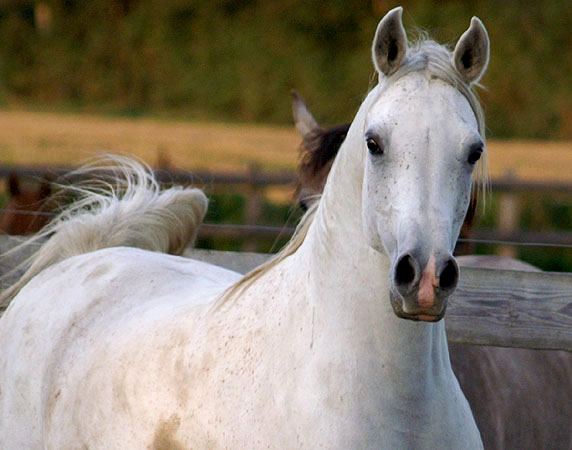 Another birthday which was celebrated was when our beloved little collie-girl Sille turned 12 and it was kind of a bitter-sweet day. Nice because she has reach this relative high age and we have been lucky to have her for so many years, but also a very sad day as we knew for sure it will be her last birthday. Her health is in getting worse now and we have to say a final goodbye to her very soon. Nevertheless Sille was of course celebrated like all the other years with cake, toys and a new soft "dog-bed".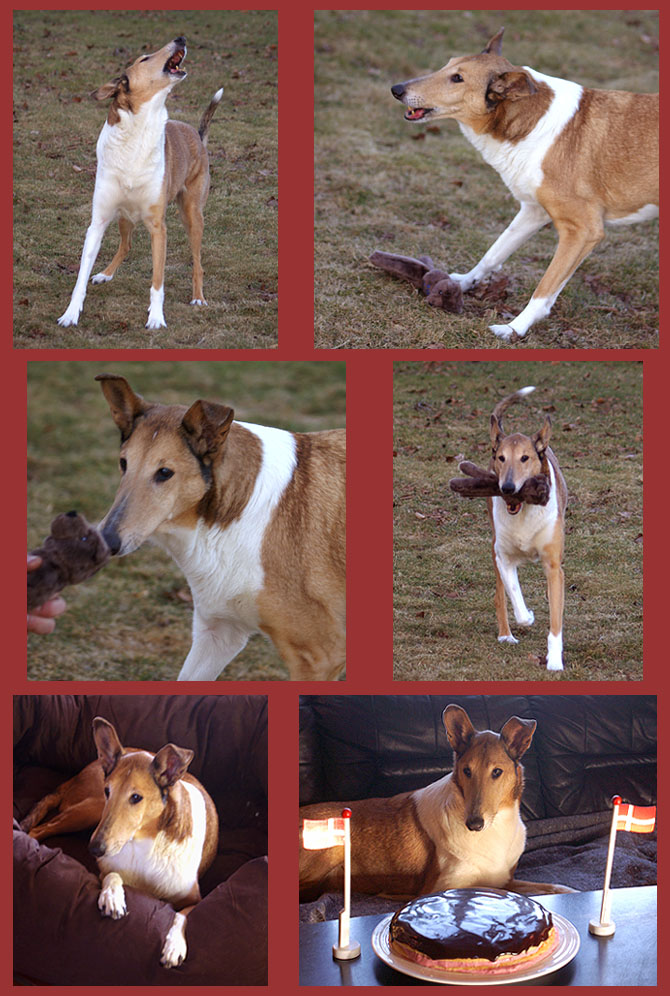 Timba turned 2 years old this month - an age where we feel he is now a fully "grown-up" adult dog. As expected he has developed into a very handsome and relative big German Shepherd. Timba is still an incredible sweet dog towards guests in our house and all the other animals (no matter if it's our cats, kittens, dogs or small chickens). But the last year he also has become more "protecting" in situations which he knows is not "normal" so Timba has for sure fulfilled all our wishes when we bought him - a great guard dog when it's needed and the rest of the time he is the sweetest loving dog one can imagine. We really have been lucky to get a dog very similar to our beloved German Shepherd Rokko, who we had for 10 years.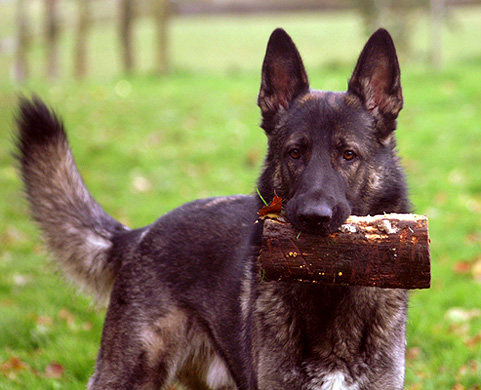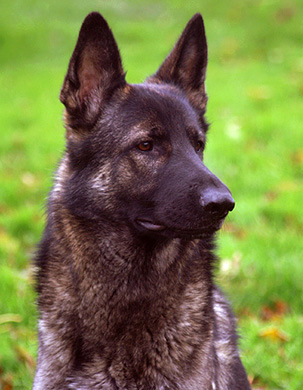 February 2011
We apologize for not updating the News page these last many month, but the year of 2010 ended very sad for us. We love our animals very much and our dogs (especially the 2 old collie-girls) are the "children" in this house, so it was simply too difficult for me to write about November and December, before now. Some might think that this is a bit to extreme relationship to have with your animals, but it's how Lars and I am - for us it was like loosing a very close family member, and still not a day goes by without us thinking about Queenie, plus the stable felt so empty for such a long time after Gala had passed away.
Luckily there is also positive news from our place. We have used the winter to plan some huge projects, which will take up most of our time the next couple of years. We are going to have lots of things done inside our house and several different projects outside too - plus we have some of our paddocks we wish to change. Last but not least we have a small lovely old building that are going to be renovated completely. Because of all these major projects we have decided to put our breeding a bit on standby the next couple of seasons. We have a yearling filly who will be sold when we think that it's the "right" buyer who is asking and are considering maybe to lease out a few of the other horses.

I hope you are all going to have a lovely spring together with the family and animals. Best wishes from Majbritt.
January 2011
ML ARAB wishes everyone a happy New Year and best of luck with the 2011 season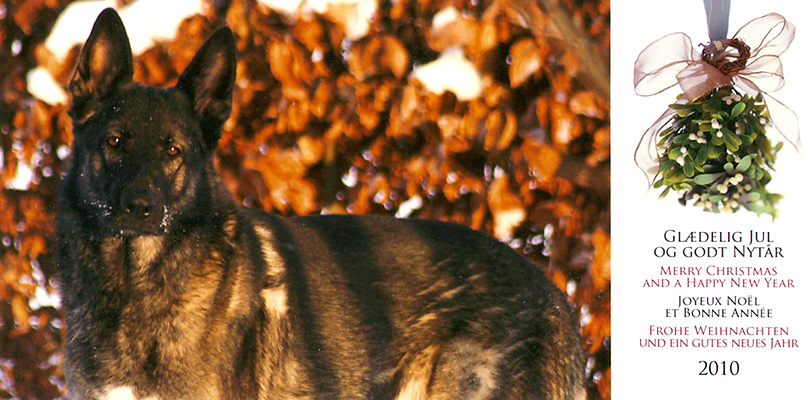 © Photos may not be used without permission