NEWS

**2014** **2013** **2012-2011** **2010-2009** **2008-2007**

2015
Latest news in 2015:
June: Diva almost ready to be mated with a wonderful multi champion. May - New Outdoor Puppy Yard. March - New tricolour Smooth Collie boy imported from Finland. February - great results at the "double" DCK Show. January - A new year has begun
17. JUNE 2015
MILLI MILLER VÕIMAS SAMURAI AAPO x TÖRNSKOGENS BVLGARI FEMME "DIVA"
Diva has just started her "season" and will be mated with Milli Miller Võimas Samurai Aapo - A lovely Smooth Collie from Luxembourg. Aapo is a male I already more than 1½ year ago chose as one of the Sires for Diva's future litters. I have very carefully, after a lot of research (like I always did with our Arabian Stud too) chosen the bloodlines that I wish to "combine" with Diva's, in the 2-3 litters we plan to get from her (I generally always have a long-term plan regarding breeding, which means "thinking" several generations ahead☺) I of course very much hope to breed a litter with Ace (our own import from Finland), but would like to get 1-2 litters from other foreign males, before using Ace - with the intention to keep a bitch puppy, which later will "fit" with both Ace and some of the other lines I have in mind to use in our future breeding. Aapo's pedigree includes some of the bloodlines I always wanted as "foundation" for our breeding, and he is also related to two of our lovely girls, who we sadly never got to have puppies from - Aapo's mother is a halfsister to Lolly, and further "behind" on his pedigree he also have some of same lines as Queenie.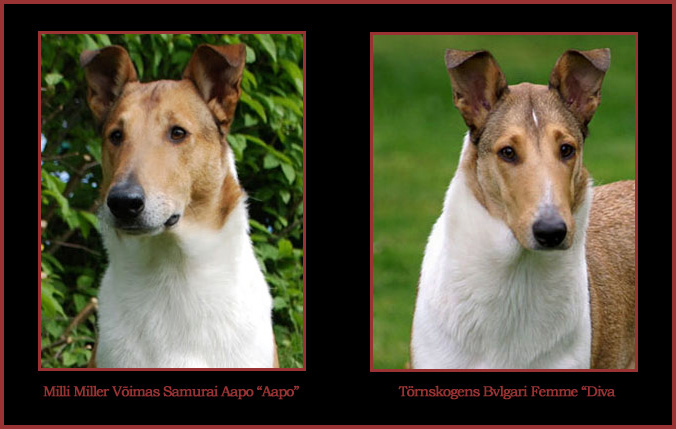 Milli Miller Võimas Samurai Aapo is bred by Kennel Milli Miller (EST) and owned by Jaanika Topkin, Luxembourg. Besides the pedigree, Aapo also fulfill all the other criteria we have, when it comes to choosing a male for our breeding. He is a very handsome, well-build and "correct" dog with a wonderful temperament. Aapo has a beautiful head with the "sweet" expression we personally wish our Smoothie to have - without in any way to loose the "masculine" appearance.. His health status is also great with the best possible results both regarding hips, elbows and eyes. Aapo is a Multi Champion with superb Show results (International Champion, World Winner res.2011, Champion in 6 countries etc) - and last not least he has also done extremely well as a "Sport Dog" and is Trained /Tested in: Agility, Obedience, Rescue & Search on both water and land, Herding of Sheep's etc. We cross our fingers for this mating to be successful,  apart from our own huge wish to keep a girl from Aapo and Diva, we also have so many puppy buyers who have waited a long time to get a puppy from Diva - and in addition Jaanika who owns Aapo, would love to later get a puppy from us, with her beloved "Aps" as the grandsire.
MAY 2015
NEW OUTDOOR PUPPY YARD

For a long time we have wished to make an outdoor "Puppy Yard" for our future litters, so in April and May we began the work, adding some extra soil so the "ground base" was in total flat level, placing the pillars as well as the fence, and when it got warmer we could finally finish our work with the rolled turf. We placed the "Puppy Yard" so we can watch the puppies from the windows, if they are outside alone with their mother for a while - but also so the house provides a little protection from the wind, together with the trees and bushes. The "Puppy Yard" is placed inside the garden, which is also fenced for the dogs (with a "shared" fence between the garden and one of our horse paddocks). We plan to add a small "Dog House" as an additional shelter for the wind, but especially also as a place for the puppies if the sun is too hot. There will also be added lots of "activity items" and toys - so that puppies (besides of course playing), get used to different kind of surfaces,  different "noises" & texture, get to improve their "balance" etc. - everything will be changed/replaced during their "growing up", so it fit their age and development. An outdoor "Puppy Yard" also give them a great opportunity to look at the chickens and horses ☺ I am so happy about how it turned out, Lars especially worked very hard - I am so grateful for having such a talented "handyman", who is always able to carry out my (or his own) ideas ☺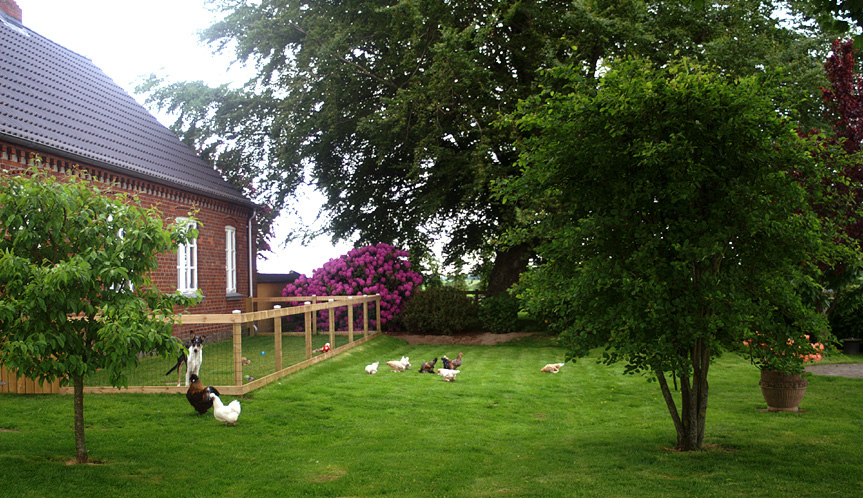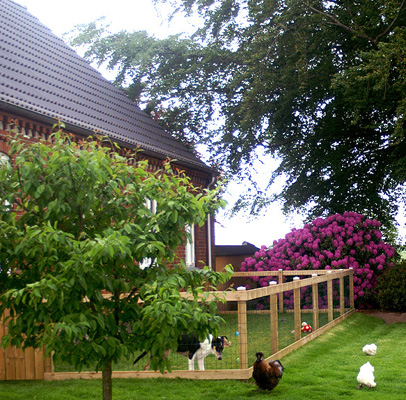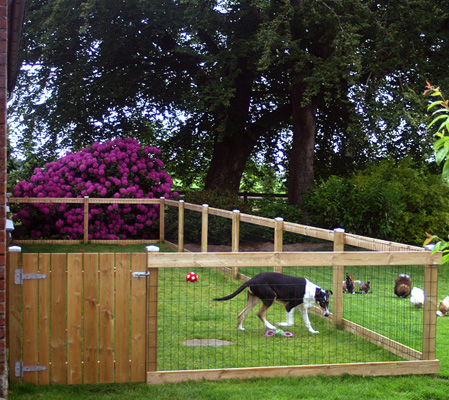 MARCH 2015
New Import from Finland - Clingstone's Ace Of Spades "ACE"
We finally (after searching for a looong time☺) found the "right" Smooth Collie male to import for our future breeding and on the 6. of March the most charming little Tricolour boy arrived in Denmark. Ace has such a "cool" temperament, he is so "outgoing" and so fearless - was totally unaffected by the flight, all the people, noises etc. in the airport and by the following drive to Silkeborg. Same second Ace arrived in his new home, he was off to "explore" the garden, the house etc. all by himself - and towards the other dogs he acted like he had always known them. I still can't believe our luck - not only did we succeed in getting a boy from the male I have wished to get an offspring from for such a long time, we also manage to get one out of an exceptional bitch and bred by one of the most successful breeders in Europe - Kennel Clingstone in Finland. We are so grateful to Satu and Jari for fulfilling our dream regarding a Darsy son, for letting us choose the boy we preferred in the litter and not least a huge thanks to Jari for accompanying Ace all the way to Denmark. Ace's father Natalain River Dance "Darsy" is a World Winner, Russian Champion, Hungary Champion, International Champion etc. A truly wonderful male that I fell in love with several years ago, but I almost had given up regarding getting a boy from him. Darsy live in Russia and it's only very limited breeders who have had a chance to use him - and at the same time I was not willing to "compromise" regarding the "bitch line" on our future Smooth boy. So it's still a bit unreal that we got a Darsy son out of a fantastic bitch too. Ace's mother Clingstone's Forecasted is one of bitches in Europe, who has gained the highest numbers of Champion titles in different countries, she is International Champion etc. But besides being a very beautiful and "correct" bitch, she has also been trained/tested in Obedience, Herding, Russian Behavior test etc. - she is truly a super all-round Smooth. Ace's maternal grandsire Clingstone's No Doubt is one of the most successful males in Europe, 2 x World Winner, Europe Winner, International Champion, Champion in numerous countries etc. and he has won the "Best Of Breed" title more than 100 times. Ace's paternal grandmother Grazel Aquarelle For Natalain is also a Multi Champion in the Showring and she too has been trained/tested in Obedience, Herding, gone through Russian Mental Test etc. She is also an incredible beautiful Blue Merle girl, something that was very important for me too, as we (beside Sable and Tricolour) also wish to breed Blue Merle puppies in future. This was just to name a few of the great Smooth Collies in Ace's pedigree, it contains so many more - and generally the pedigree is based on a superb "mix" of the best lines from Finland and UK,  with a "touch" of Russian through his father (from the successful Kennel Natalian).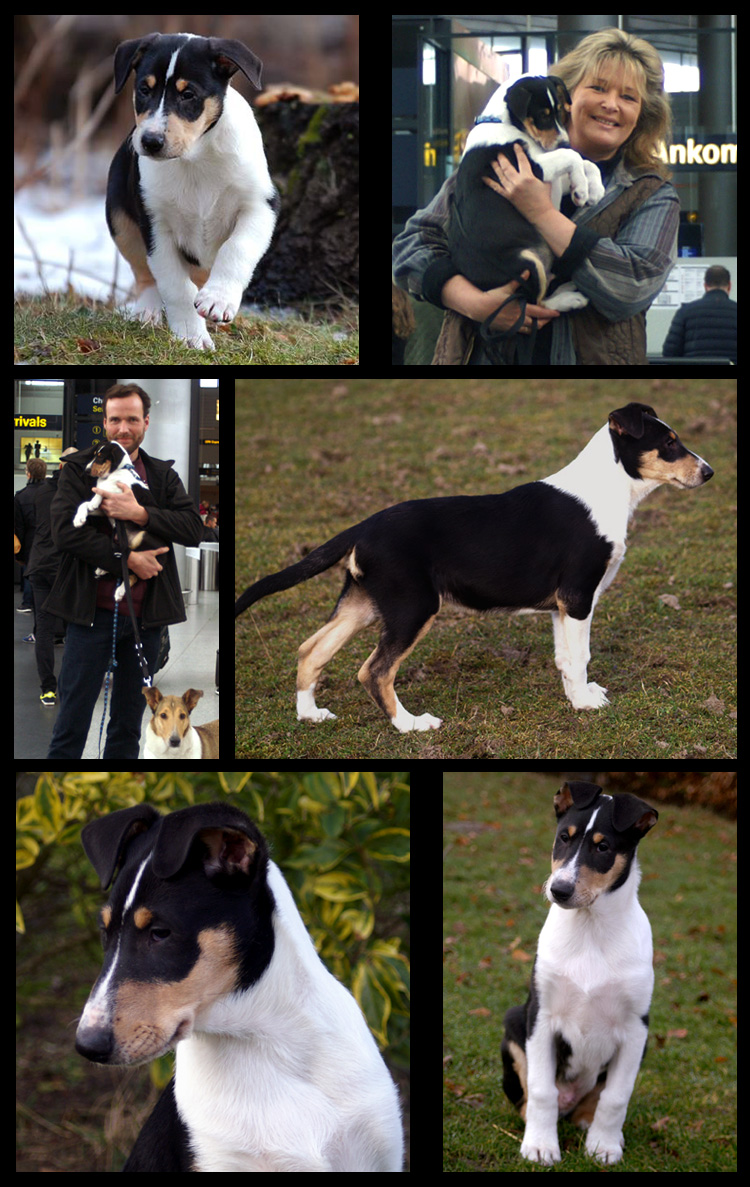 FEBRUARY 2015
Danish Collie Club - 2 Shows with great results
The 2015 Show season started very well for us, when we entered both Diva and Lolly at the Danish Collie Club's 2 Shows in Voldum on the 8. of February 2015. Our beloved old girl Lolly had a comeback in the Showring (which we never expected) after being seriously sick last year - so it was a very special day for us. Both Diva and Lolly once again had super results (Best of Breed, Club Certificates etc) and we had such a good day in nice company - some of our future puppy buyers was there to meet our "girls" and to see the Show. This Show was also a debut for Clingstone's Lord Lancelot "Enzo", a lovely sable boy, which I last year helped Nadia and Kenneth to buy in Finland (when our litter failed). Enzo did so well at his first Show and achieved Excellent with a nice critique from the judge.
Show results from the day:

Törnskogens Bvlgari Femme "DIVA" (Clingstone's Guinness Draught x Dandinas Quite A Girl)
1. Show - Judge: Eva Eriksson, Sweden. Excellent, CC, Best Bitch 1, Club Certificate, BOB (Best of Breed) BIS2.
2. Show - Judge: Tomas Rohlin, DK. Excellent, CC, Best Bitch 3, Club Certificate

Pinehillside's Lovely Blues "LOLLY" (Innkeeper's All Blues x Pinehillside's Black'N Beauty)
1. Show - Judge: Eva Eriksson, Sweden. Excellent, CC, Best Bitch 3, Club Veteran Certificate, Best Veteran.
2. Show - Judge: Tomas Rohlin, DK. Excellent, CC, Best Bitch 2, Club Veteran Certificate, Best Veteran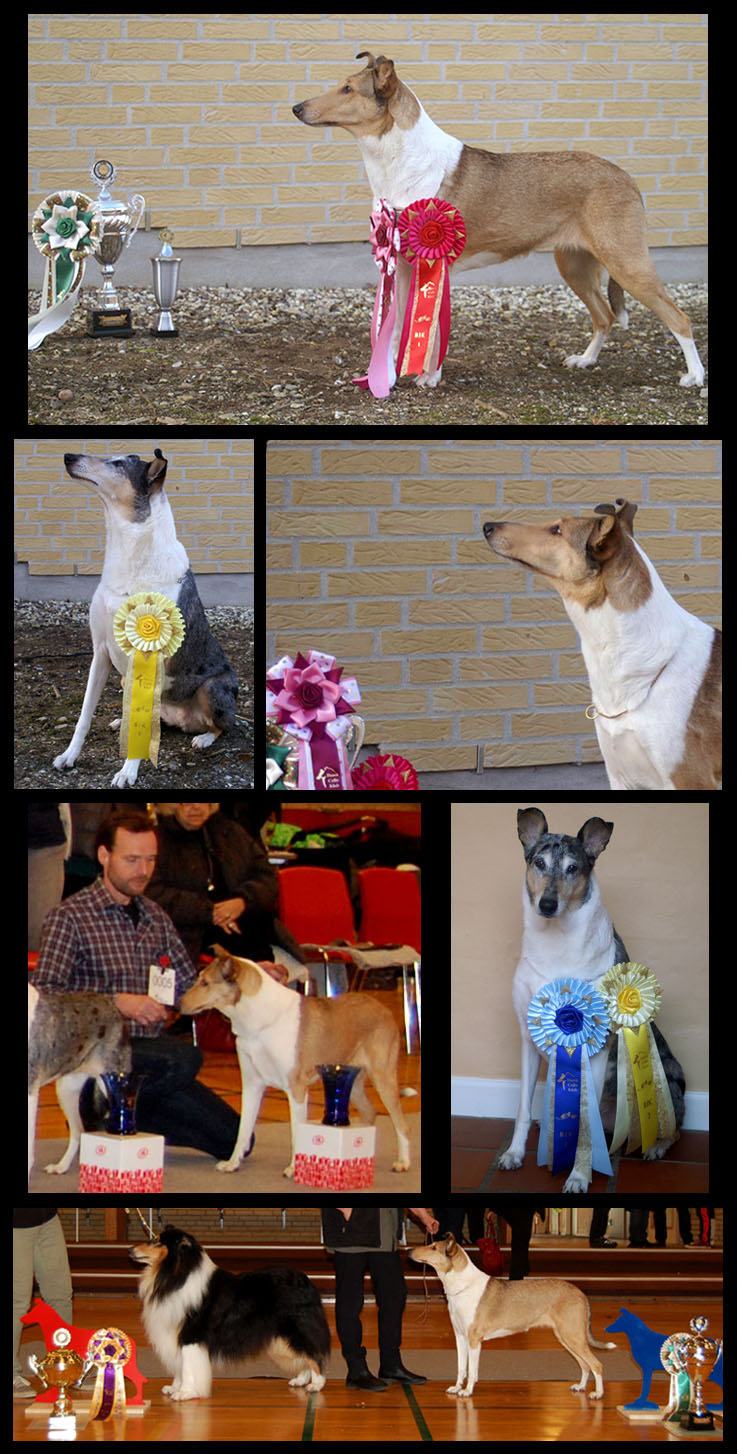 JANUARY 2015
A new year has begun and wow this winter has so far been incredible "mild" - I can't remember that we ever (in the more than 23 years with horses) have been able to let them stay outside for so many hours every day. The horses have really enjoyed that the winter has been so dry and rather "warm", and almost every day they have been able to stay out until late evening, plus it was "record" late Autumn before we even began to take them in for the night (in summer month they are always out in their pasture both day and night)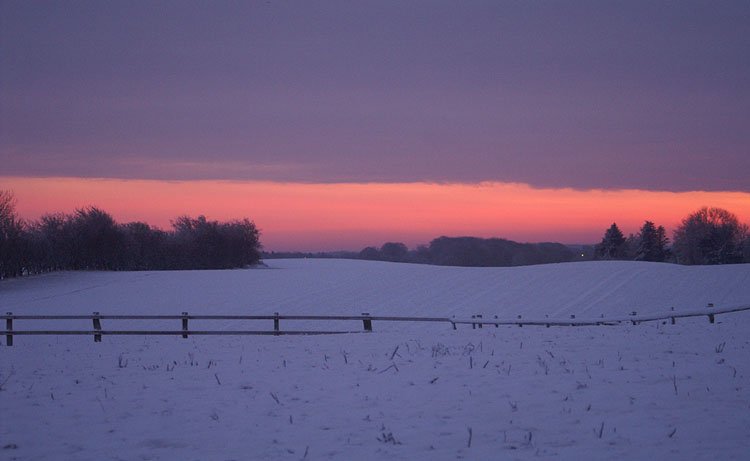 We have several plans regarding the dogs in 2015. First of all we have planned several Shows, both a "double" Show in February, 1 Show in August, 1 in October and then we "end the season" with the big International DKK Herning Show in November. We are taking a break from Shows in the middle of the summer, as we in this period have planned a litter from Diva - you can read much more about our litter plans (male, info for puppy buyers etc) on the new page I made under the menu "Puppies". Besides from the above, I am also trying to "follow" closely all litters born in Europe, as we are still searching for the "right" boy to import, for our further breeding program and for Show. But as I am just as "careful" and "demanding" regarding quality, as I always was with our Stud, plus have certain lines in mind, one has to be very patient - especially as I have one particularly male that I would love to get a boy from, but almost no breeder has an opportunity to use him (because of the country he is living in).