UNIQUE QUESI COLLIES & ML ARAB

ML ARAB is a small country farm located in Silkeborg, Denmark and owned by Majbritt Ørnstedt Pedersen and Lars Bragen Pedersen. We bought our first Purebred Arabian 25 years ago and they have mainly been out of Russian bloodlines, both "Straight Russian" and "Russian Related" - the  related lines mostly "mixed" with Polish or Polish/English blood. Unfortunately we in 2011, due to health reasons, had to decide to more or less close our Stud and in future only have 3-4 horses in the stable, which in future will be Welsh Mountain ponies instead and we already purchased the first gorgeous little filly. Besides the Arabians our "family" also includes some lovely Smooth Collies - a breed we have had since 1997 and both of us has passed the Danish Kennel Club's "Breeders Education". Our "Kennel Unique Quesi" is approved by both DKK and FCI. At the moment we have Lolly - a blue merle girl imported from Finland, Diva - a sable/white girl imported from Sweden and Ace - a tricolour boy imported from Finland. Our Smooth Collies is out of excellent lines and has done very well in the Showring (Danish Champions, Club Champions, Smooth Collies of the Year nr. 2 and 3, Danish Winner 2013 etc. )We also have a few gorgeous Persian and Sacred Birman cats and last, but defiantly not least, there are also a group of beautiful small bantam chickens on our property (mainly Sabelpoot chickens, in 4 different colours).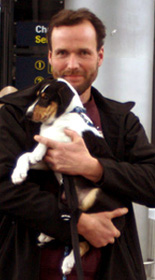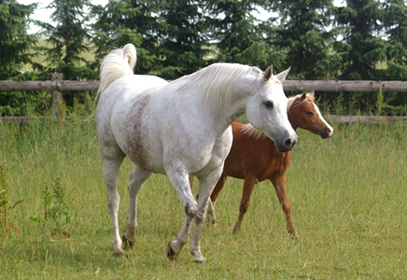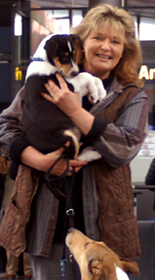 The Russian and Polish lines have been our favourites from the beginning, as these lines often contain successfully performance horse, which also have done extremely well in the Showring. Both Russia and Poland "test" most of their horses (mainly on the racetrack), before they are used for breeding. The horses we have had in our breeding the last couple of years, was bred by Cedar Oak Arabians in France, Russian State Stud Tersk, The Kossack Stud Holland, Dorian Farm USA and Shah Arabians in France - to name a few.
ML ARAB's goal is to breed Arabians with a beautiful typey "look", who at the same time are excellent performance prospects. It's very important for us that their lines are as well proven as possible - all our horses are out of well known bloodlines, with great results. It's also important that their pedigree, besides spectacular Stallions, contains a large number of exceptional and "strong" broodmares. We never had an ambition to be a "big" stud - on contrary it has been our wish to only keep a small number of horses, but out of as high quality as possible. The relative small number also means that we have a very close "personal" relationship with every single horse.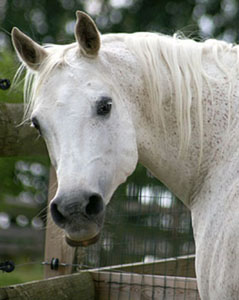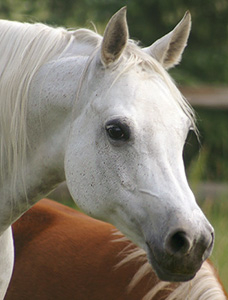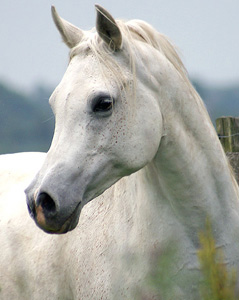 The pedigrees on the horses we have used in our breeding program, contains magnificent stallions like:
Padishah - Aswan - Menes - Piligrim - Gips - Abakan - Nadir I - Balaton - Monitor
Karnaval - Drug - Gwizd - Moment - Komplekt - Mamluk - Nabeg - Morafic - Ibn Hafiza
And not least out outstanding broodmares like:
Brigantina - Molva - Amunitia - Monogramma - Karinka - Monopolia - Karta
Postrup - Neschi - Purga - Kapella -Gho Gha - Panagia - Mammona - Kisra - Omnia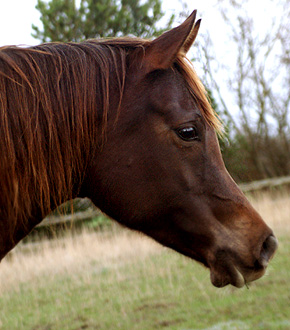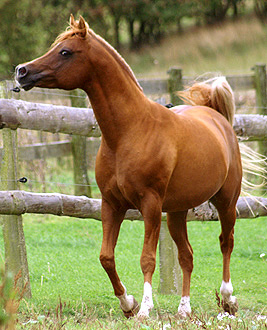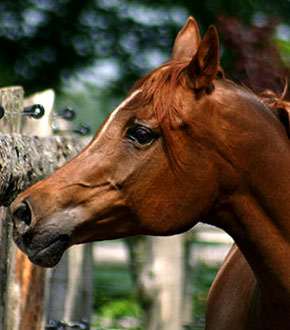 All our horses live as natural as they possible can. If the weather is good, they spend most of their day outside in the pasture. The stallions are, both in the paddocks and in the stable, standing next to either mares or young horses. This kind of life has made some very happy and balanced stallions. Our fields are divided into such sufficiently numbers of pastures, that the horses can go either in small herds, or be alone with their foals - which gives minimal risk for injuries.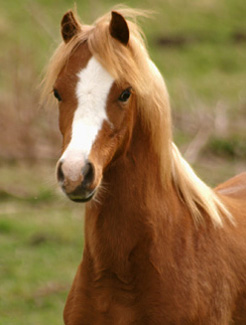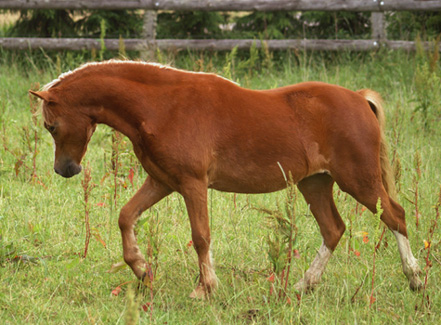 Gallers Lady Marion (Sire: Rhydyfelin Saracen/Blackhill Picalo - Mat.GrandSire: Brierdene Napoleon) Welsh Mountain Filly
A SMALL COLLECTION OF PICTURES FROM OUR PROPERTY