NEWS
**2012-2011** **2010-2009** **2008-2007** **2006-2005** **2004-2001**


2013
Latest Updates:
November - fantastic show results for our smooth collies. October - Diva a new Danish Champion. October - goodbye to the kittens. August - Once again great Show results for Diva. July - In Loving Memory of Primonia. ML Pristinia & Primonia's pages is updated with new photos. July - adorable Persian x Birman kittens. May - Padishah in loving memory. May - News regarding Updates on the website (among others more horses included on the Sales page)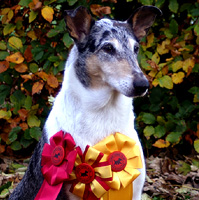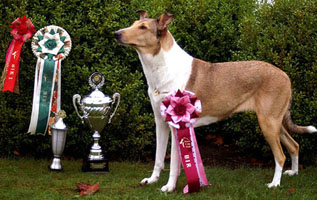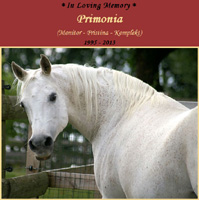 3. of November 2013
International DKK Show - What a show and what a surprise - Lolly "Best of Breed"
On the 3. of November our two Smooth Collie girls Lolly (Pinehillside's Lovely Blues) and Diva (Törnskogens Bvlgari Femme) was shown at the big International DKK Show in Herning and what a fantastic Show it turned out to be. To begin with we showed Diva and it was her first time to enter the "Champion Bitch Class". Once again she achieved "Excellent" with CK (CC) and a very nice critique from the judge Mrs. A.M Beenen-Sluyters, Holland. Diva was as always sweet both to show and in front of the judge, but she almost slipped a few times in first round and was afterwards not so comfortable about the floor, so I feel that we could have "runned" a bit better. Diva ended up being 3. in the class behind two well-known Multi Champions (champions in different countries, Most winning Smooth of the Year Norway etc). Then it was Lolly's time to be shown in the "Veteran Bitch Class" and she too again achieved the highest grade in quality "Excellent" with CK (CC) and a really great critique. Lolly won the class and therefore went on to the competition in the "Best Bitch Class". To our huge surprise she won this class too - in front of all the bitches (including the earlier mention multi champions) and got the "Certificate". Lolly is for sure a Smooth of splendid quality who we imported from Finland, the surprise was more due to the fact that she has not been shown the last 1½ year and with her almost 9½ years of age she was much older than the other bitches - but on the other hand we always were very proud of her looking exactly the same in conformation, movements etc. as she did as a young bitch (just a bit more "grey" in the face - smile). Then Lolly went on and won the "Best Veteran" title of the Breed and in the end she had to compete against the winner of all the Male-Classes (he was also a well-known multi champion) and she won over him as well!!. I have to admit that for the first time I had tears in my eyes when receiving the title "Best of Breed", we are just over the moon about the fact that our old girl ended up winning everything at an International Show with almost only "foreign dogs" in the classes. As the Sunday in Herning is also a competition for the title "Danish Winner" (which is given to the best dog with CC within every breed), Lolly also gained the titles "Danish Veteran Winner 2013" and "Danish Winner 2013". So all in all a truly fantastic show for us with really great results for both of our girls - a funny note to the story is that we originally did not plan to show Lolly in Herning and then she ends up winning "Best of Breed".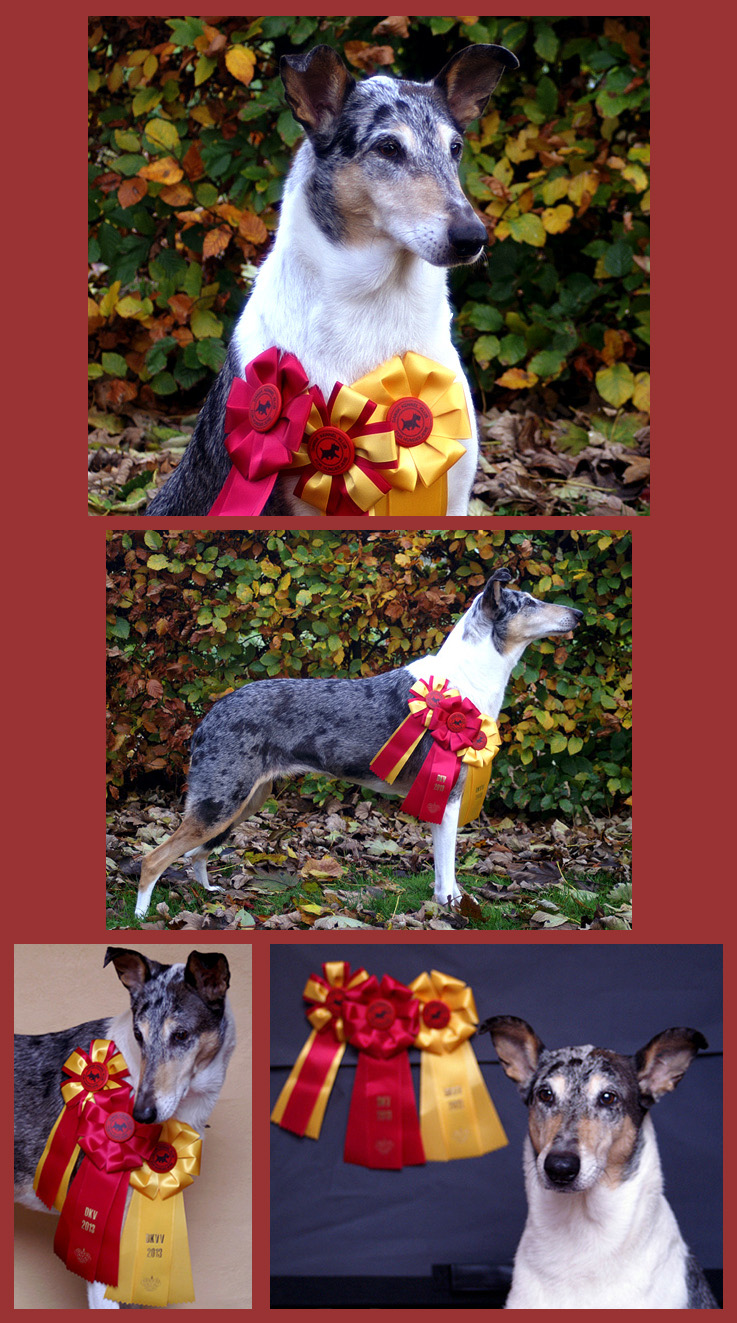 13. of October 2013
Lars and I are so proud and happy - our precious Smooth Collie girl Diva (Törnskogens Bvlgari Femme) is now a Danish Champion. She was shown at the "Danish Collie Club Show" in Aars with great result and was once again awarded  the highest grade possible in quality, as she achieved "Excellent" with CC (champion quality), got the CAC (the last CAC/certificate she needed to become Champion), she became "Best Bitch" and in the end she was named "Best of Breed" (BOB) plus "BIS2". Diva was also given a really great critique - our judge this time was International FCI judge Jasna Kovacevic, Croatia. She was extremely careful when looking at the dogs and I must say they were really "examined" regarding their conformation, bone structure etc. And we got a bit worried when a male in the Champion Class (who is a Champion in both Denmark and Poland, many times BOB winner etc), did not even get an CC. But Jasna liked our Diva a lot and we could after this show therefor add the title "Danish Champion" to the list of Diva's nice achievements in the Show ring. We have one more show for Diva in November and then the "next step" is to find a gorgeous tricolor "boy" so we can breed her in early spring 2014.
Last but not least - A huge congratulation to Kennel Törnskogen who is the breeder of Diva, we are so grateful that you allowed us to buy this gorgeous girl despite of your original plan to keep her in your own breeding.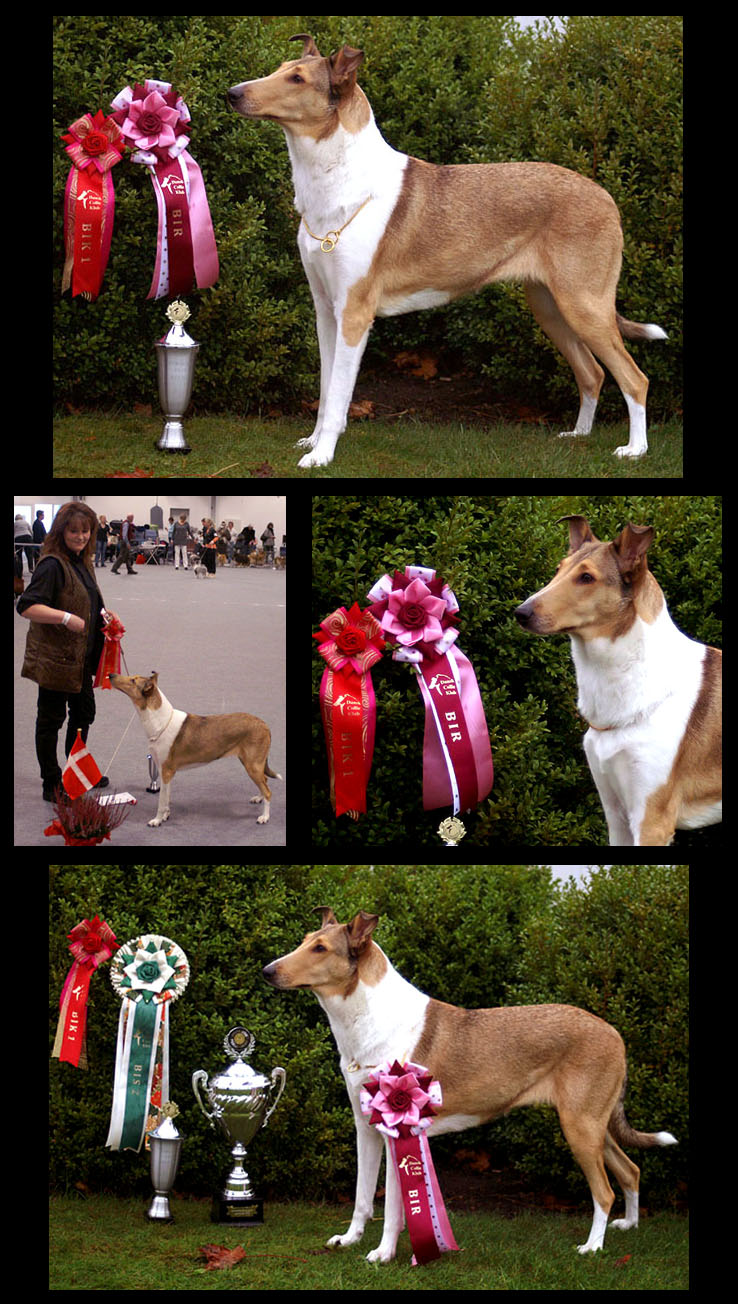 9. of October 2013
Now almost all of our Persian/Birman kittens has left to their new homes and it starts to feel very empty after more than 4 month with cute and funny babies in the house. All the kittens in both litters was "reserved" before they even got to the age where we normally begin to advertise - and once again we succeeded to find 5 star homes for them. It has been such a pleasure to have them and I can't tell how many hours we have spend just sitting and looking at them play. All 6 kittens is so beautiful and adorable with the sweetest temperament one could wish for. The oldest litter from Momo and Bella left us late August and two of them even ended up in the same home - the family reserved a boy even before the litter was born, but fell in love with one of the girls too.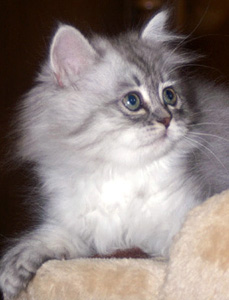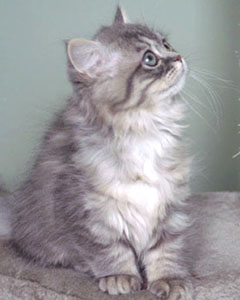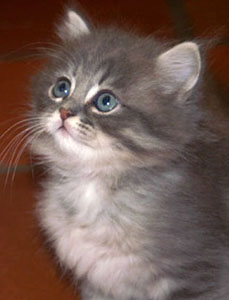 The youngest litter from Gollum and Tiffie began to leave this weekend. The black silver tabby boy will have a new home where he will get another Persian/Birman girl to play with. The blue shaded girl and the blue point boy (Anthon) was originally sold to the same home - a family who has bought from us before and wanted two babies at the same time - but unfortunately he was badly injured with his leg just before they should leave. Now the little girl has found a great home with people who used to breed Persian cats for many years and we decided to keep Anthon, who after treatment is doing very well.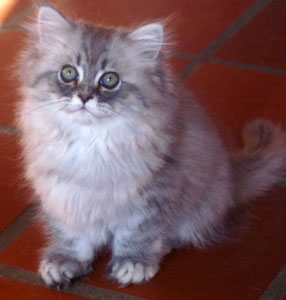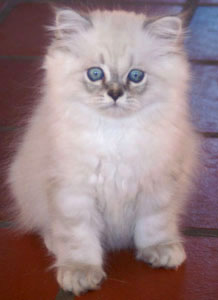 24. of August 2013
On the 24. of August we showed Diva (Törnskogens Bvlgari Femme) at a National Show held by Danish Kennel Club (DKK) and once again with splendid results and a great critique. Diva was again awarded the highest grade in quality as achieved "Excellent", as well as CK (cc/champion quality) and she got one more "Certificate" for her hopefully upcoming Danish Champion title. Diva got a really great critique: Feminine bitch of excellent size. Good well-shaped head. Correct bite. Sufficiently "stop". Well placed ears. Good neck and topline. Well angulated and nice proportion. Wonderful coat. Moves with great drive, free and "functional". This time our judge was Birgitte Schjødt, which is why we are even more grateful for the superb result, as she is a very experienced international judge, breeder for more than 40 years, a Veterinarian (Canicold International) and not least she gives lectures and is one of the teachers on DKK's seminars about breeding etc. It's always an extra nice to achieve a great "judgment" and critique when it's from a very competent judge (and veterinarian).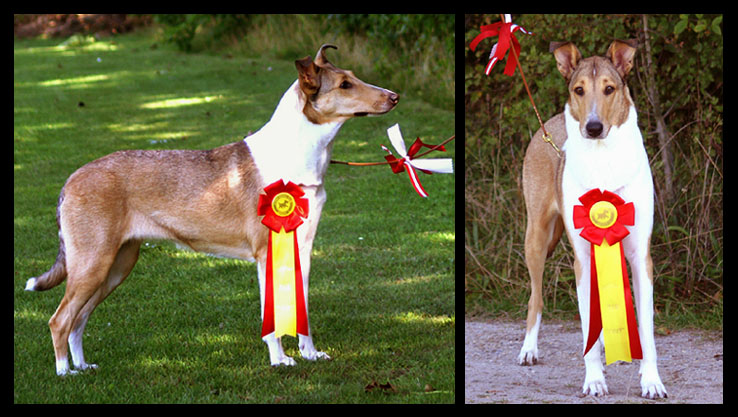 31. of July 2013
In Loving Memory of our wonderful Primonia
On the 31. of July we took the tough decision to put our precious mare Moni to sleep. After suffering with arthritis & lameness for more than a year (which got worse the last couple of month) one should have thought that we were more or less prepared in our minds, but it just never gets any easier to say the "final goodbye" to our horses - and especially not to a mare who has been very close to our hearts for 9 years. I can't even explain how sad we are at the moment, how "empty" the paddock feels and how hard it's to know that we are never going to see our beloved "Moni-Moni" again. Primonia had a very special place in our hearts, and she really showed us every single day how much she appreciated us and how much she loved living at our place. As a "producer" Moni fulfilled our huge dream to once again have Moment and Monogramma's lines in our breeding program and she gave us 5 magnificent offspring - ML Pristinia is kept as a future broodmare, 3 was sold and ML Piramida is currently for sale. All our offspring from Primonia can be found on their own pages through "Mares" and "Stallions" - and Piramida is also on "Sales List".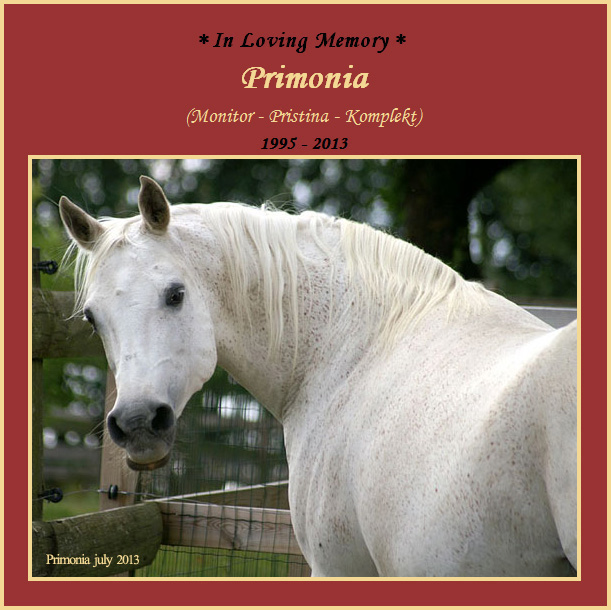 Primonia was a beautiful and extremely charismatic girl with tremendous "Russian" movements. She had the most gorgeous "look at me" attitude and was such a "strong" powerful mare - visitors always got very impressed when she began to "show off". Primonia was out of Straight Russian lines with a pedigree that contains a large number of World, European and International Show Champions - as well as horses with great results on the racetrack (and performance in general). Her sire Monitor among others gained the titles World & European Champion and was later sold to Saudi Arabia - his father Nimroz was a also a Multi Champion in the Showring and a well-proven racehorse. Primonia's maternal grandsire Komplekt became World res. Champion and was "known" for his spectacular movements. Moni was born in Belgium and as a 3 year old she came to Cedar Oak Arabians in France, where she produced 5 superb offspring before she in 2004 travelled to our place. Primonia's offspring in France has excellent results in performance (several of them was used for endurance on high level, as well as for dressage) and in addition they are typey Show prospects. Moni herself was only used as a Broodmare, however she did achieved to become International Class Winner in the Showring. Despite that it was an incredible sad day, we luckily manage to say goodbye to Primonia in the nicest and most calm way.  A few hours before the vet. came I had washed and groomed her, so she could look beautiful on her "final journey" and just before she "left" she was eating her favorite food "irish mash". May you rest in peace our sweet "Moni-Moni".
You can read much more about Primonia on her own page here - and there are lots of pictures too,  as I just added the new ones taken in July, together with more of the "older" ones from her life here with us at ML ARAB.
23. of July 2013
Like mention earlier we were expecting another Persian x Sacred Birman litter from Momo and Bella, but shortly after we learned that after trying for more than 2½ year,  we also succeeded in getting our adorable Persian girl Tiffie pregnant with Gollum (a Silver Persian x Birman boy from last years litter ). Now both litters are here and all the kittens are doing very well - and they are just gorgeous. Bella gave birth to 3 kittens, 1 boy + 2 girls - all of them are "reserved" at this point, and Tiffie also had 3 babies, 1 girl + 2 boys - 1 of them is also already "reserved". We have babies in Silver, Blue shaded, Tabby and even Blue-point (Birman colours) - the first litter is 50% Silver Persian x 50% Sacred Birman and the last one is 75% Persian and 25% Birman. All the kittens from both litters are such beautiful babies with the sweetest character. They love spending time with us as well as play with the other cats (and the dogs). I can't tell you how nice it is to have the house full of life and we spend hours just looking at all the cute "fluffy" kittens when they play.
9. of May 2013
In Loving Memory of Padishah

The magnificent "trotting machine" Padishah (Drug x Purga x Gwizd) died on the 9. of May at our dear friends Stud "Cedar Oak Arabians" in France. It's just so sad that we are not going to see "Chou Chou" again - a stallion we have known for more than 11 years (from a dark dapple grey boy to a beautiful flea-bitten older stallion). Even though Padishah was not owned by us, he still truly deserve a nice "final farewell" on our website as he had a great impact on our breeding and not least was a major part of our "horse-life". Padishah was because of his Russian bloodlines, his quality and the offspring he produced the perfect Sire for us. He was born at State Stud Tersk in Russia and like many of their horses he was tested at the racetrack. Afterwards Padishah became a Sire at Gestüt Osterhof in Germany for a few years where he also began to enter the Showring, and only 3 years old he gained the titles Supreme Champion & Gold Ribbon at the Aachen Stallion Show - 2 years later he was named Senior Champion in Holland. I autumn 2001 Padishah was purchased by Sabine and Dominique Akel who owned him up until his death. After being sold to Cedar Oak Arabians Padishah continued his "career" in the Showring and he among others gained titles like: European res. Champion, World Top Ten Stallion and French National Champion. For us Padishah's pedigree is truly unique, first and most important  it's based on exceptional horses, but it's also very interesting as it does not contain lines similar to Kubinec, Balaton, Nadir I, Neman etc. and because of this he has been a great stallion to use on the large amount of Russian related mares who contains these lines. As a Sire Padishah has produced excellent offspring who has done very well in both the Showring and as performance horses. Today there are Padishah offspring (either born there or exported) in numerous countries, among others: France, Germany, Switzerland, Spain, Denmark, Norway, China, Israel and Oman. Padishah as a Sire is luckily not a "closed chapter" yet, as Sabine and Dominique has frozen semen stored from him and he might therefore still for a while be available for a few suitable mares. Padishah will still have his own page here on our website, both because he is one of our "Foundation Sires" but also because Danish mare-owners are still welcome to contact me for further information about breedings.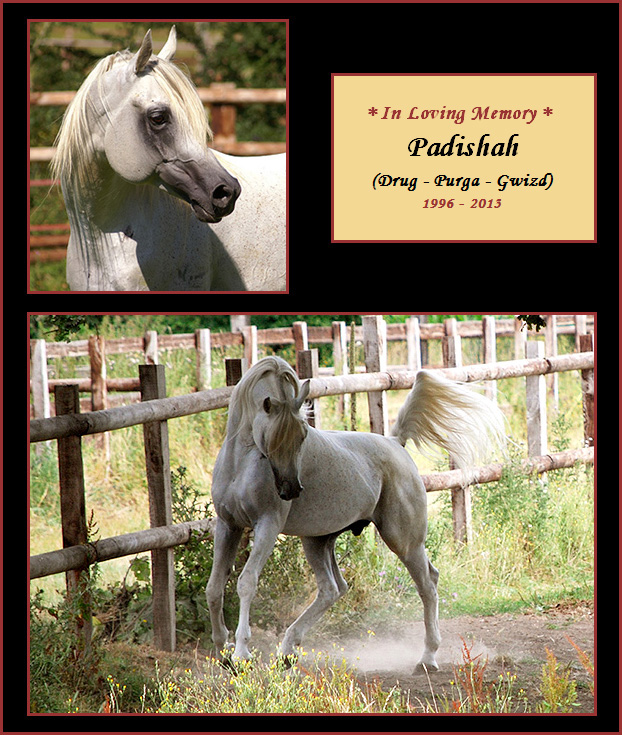 For us personally Padishah has had a great impact on our breeding and already 11 years ago we decided that he should "play" a big part in the new plans we had made for our future breeding. At that time we began to import new broodmares and we had first one mare and later a second one which was bred to Padishah - we hoped to get a colt from a mare of superb quality and also to have him in our breeding through some dam lines. Our "project" succeeded and we had ML Pashmir and ML Parisa and later through Pashmir 5 excellent grandchildren - 2 of them was kept as future broodmares. At the same time we introduced Padishah to the "group" of Arabian friends we have had "around" us for many years, we also had frozen semen shipped to Denmark to be stored here etc. - and today there are several Padishah offspring and grandchildren to continue his lines in different breeding programs. Our close friend Kate from Kres Arabians decided already years ago to include Padishah in her breeding. To begin with she used him a few times on the mares she had back then - and last year I made contact between her and Cedar Oak Arabians so she also was allowed to purchase one of their nicest Padishah offspring (Palmyra out of Pobeda/Balaton) as well as two of their gorgeous broodmares - which was bred to Padishah before going to Denmark (one of them has just given her a superb filly). The "Photo-Collage" below show our own Padishah offspring and grandchildren - from left to right it's: ML Pashmir (Padishah x Mitra Aasa/Abakan) and ML Parisa (Padishah x Primonia/Monitor - picture by Poul Høgh). 2.row . ML Pristinia and ML Pashkin, 3.row: ML Pashinka and ML Piramida (all 4 is by ML Pashmir out of Primonia) and last row: ML Galia (ML Pashmir x Galaktika/Aswan). Pashmir, Pristinia, Piramida and Galia is still owned by us - but Piramida is available for purchase and Pashmir is also either for sale or lease if we find the "right" home, as we like mention earlier on "News" are more or less closing our Stud due to health reasons.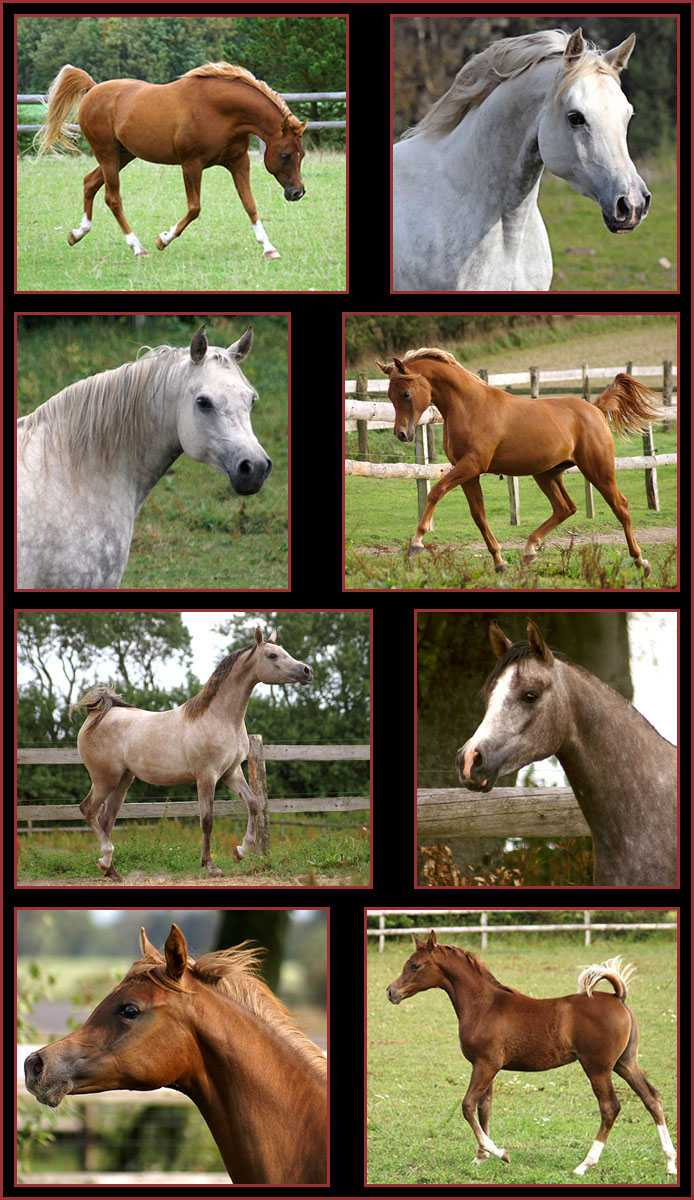 May 2013
I have gradually started a larger update on the website. Here early in the summer it will especially be the Sales page I am going to work on - due to certain circumstances we did not get to do a great deal regarding sales horses in 2012 (despite that it was our plan). But hopefully the horses will soon get their beautiful "summer-look", so we can take new pictures - and until then I at least could begin working on the "text" so it's "up to date", and some of the Arabians we can refer to is also updated (with an Arabian mare and a Gelding in Denmark etc.). At our friends Stud "Cedar Oak Arabians" in France, there are right now several Show, Breeding - & Riding prospect for sale - among them a very interesting young Stallion (by World Champion Gazal Al Shaqab out of a unique Tersk broodmare). The pedigrees of some of the other sales horses include Stallions like: European res. Champion Padishah, World & European Champion Hlayyil Ramadan, Multi Champion Da Vinci FM og the legendary Sire Versace - just to name a few.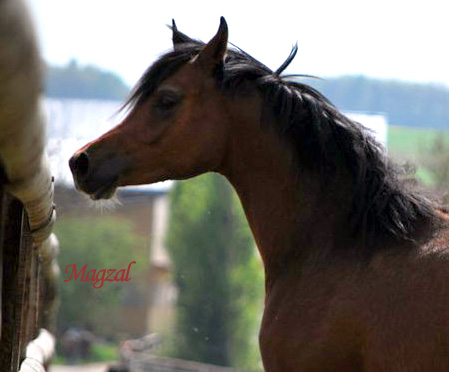 Besides the Sales page, I hope that we during the summer get a few new pictures of our horses (also of those who are not available for purchase) - so their own "personal" pages can be updated with more photos and not least I have to check their pages regarding the text, what might be outdated etc. We also have updates regarding some of the Purebred Arabians we have bred and sold, which I would like to include on the News page, the Link page was never finished etc. All in All I have many things I can do if I run into boring days (smile)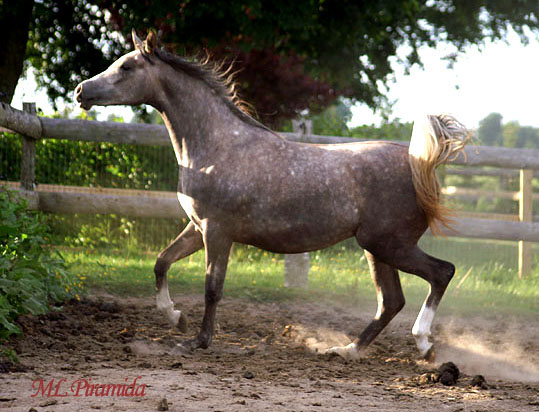 April 2013
Hurray !! we  are soon going to have another litter of Silver Persian x Sacred Birman in the house (we are so looking forward to small fluffy kittens running around). Bella is pregnant with Momo and if everything goes as planned they will be born around the 26-28. of May. The kittens will for sure have a gorgeous "look" with beautiful long coat and the most lovely temperament, but it will be very interesting to see if they will get the same kind of smoke colours like our last litter and also how many babies Bella is going to have this time (especially as we have already had the first inquiries). On the pictures from left it's Momo, Bella, Gollum (who we kept from the last litter) and finally  Flora sold to the Ranum family - the last two photos was to show full-siblings to this litter and how they look as adults.

February 2013
Our frontpage had a slight change in "look" plus we updated quite a bit on the two menu "Cats" and "Collies" with several new pictures - we actually just bought the web domain www.smooth-collie.dk so our Smooth Collies will hopefully soon have their own website. But at this point I plan to work mainly on this website to begin with. The salespage are going to be updated soon with hopefully new photos, but there will also be included horses that some of our friends have for sale in Denmark and at Cedar Oak Arabians in France. Several of the individual horses "personal" pages also needs an update regarding the text and not least it would be nice to get a few new pictures of them too.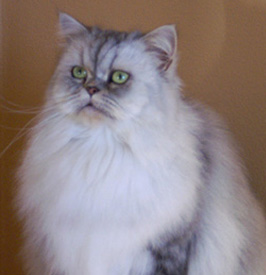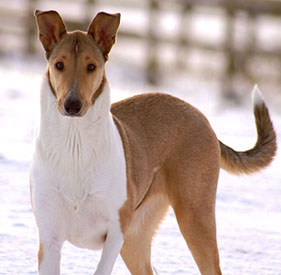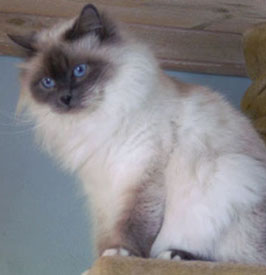 © Photos may not be used without permission