NEWS
**2013** **2012-2011** **2010-2009** **2008-2007** **2006-2005**
2014
Latest updates:
December - Happy New Year. September - 2 lovely Persian & Sacred Birman litters. July - Lolly celebrated her 10 year old birthday. June - we now have a FCI Kennel name and have passed the "Danish Kennel Clubs Breeders Education". June - "Dog Day" at Tivoli Friheden Amusement Park. May - Lolly new Danish Champion. May - Danish Kennel Club Show Hedensted. February - In loving memory of our sweet and gorgeous stallion ML Pashmir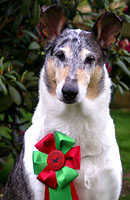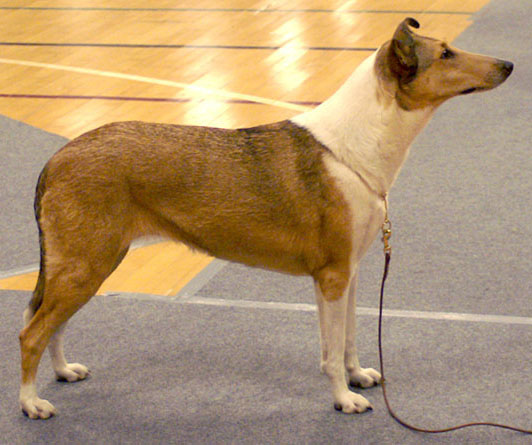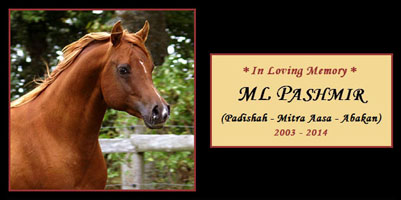 December 2014

A Merry Christmas and a Happy New Year to All of You - we hope 2015 will bring you lots of happiness

I did not update the website as much as expected these last months of 2015. Originally we had planned to enter at least 2 Dog Shows, but Lolly suddenly got seriously sick (seemed tired, threw up etc) and further examination showed that her liver "numbers/level" was extremely high. So we used all of our time to nurse and spoil her as much as possible, made sure that one of us was always home with her etc. and we cancelled all the Shows. Luckily with the help from our great Vet. Dorte, we manage to get Lolly back on top again, and after a long period with special liver diet, medicine etc. she (against all odds) now has normal liver level, so we truly hope that Lolly will be able to stay with us for many more years to come.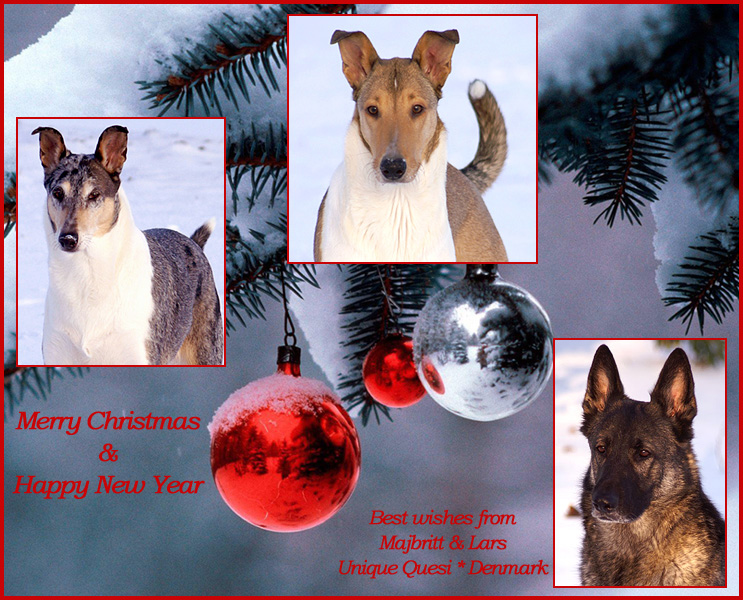 Hopefully there will be much more to write about on "News" in 2015, as we for sure have lots of things planned. In February we hope to enter the Danish Collie Club's double Show (2 shows and 2 different judges on the same day). We are also still looking for the perfect "boy" to import for our future breeding - but as it's out of some specific lines and especially out of a specific male we would like to get a boy from, one has to really patient. However we hope that after more than 1½ years of search, we might succeed in early 2015, because the idea was to use him on Diva in late 2016 - and before used in breeding we want to show him several times, plus he needs to be x-rayed for HD and be CEA checked before approved by the Danish Kennel Club. In summer 2015 we also hope to get the first litter from Diva - it was originally planned for this year, but we ran into bad "timing" with her "season" and the male we had chosen as a Sire, so it got postponed to 2015. Due to our puppy plans we are going to take a long break from Shows in the middle of the year, but plan to show 2-3 times again in August to December.
September 2014
We were lucky to get a litter from both Tiffie and Bella this year - all kittens with Momo as their daddy. They were born within 18 days and all of them was ready to leave for their new homes in September. Unfortunately it ended up being two very small litters with 2 and 3 kittens, but like the other times they were so beautiful and with such sweet temperaments. We are especially very grateful for Tiffie's litter, as we earlier have tried for 2 years to get her pregnant with Momo and ended up with trying successfully with his son Gollum last year. But now we finally manage to get kittens from her and Momo, which is why we have kept a little Silver Shaded girl who looks a lot like her daddy. As always their new owners has been chosen very carefully and all the kittens now have the most lovely homes, where they have settled down perfectly. On the "Photo-Collage" it's the 2 Persian kittens from Momo and Tiffie (the very light Silver Shaded is Mini-Mo, who we will stay with us). Below is the 3 lovely Persian x Sacred Birman kittens from Bella and Momo.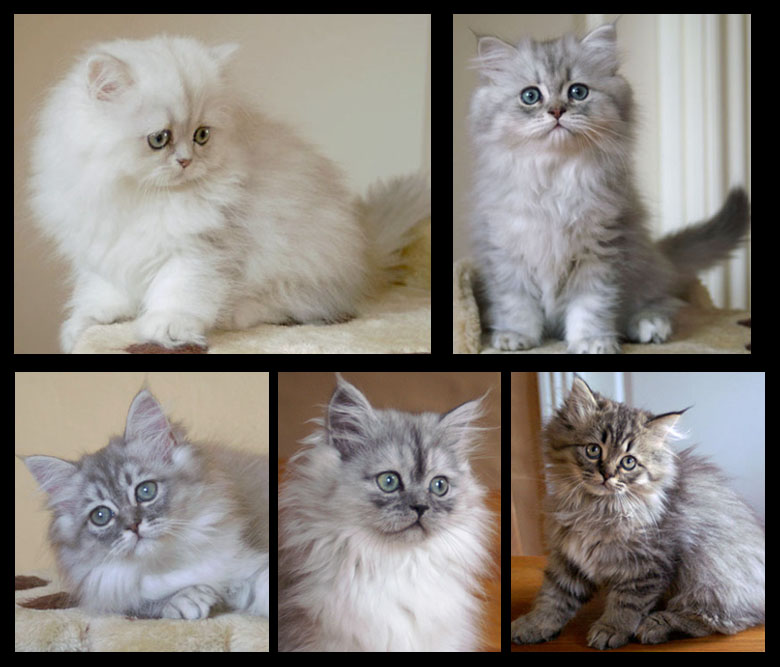 July 2014
HAPPY 10 YEAR OLD BIRTHDAY TO OUR SWEET LOLLY
On the 12. of July our precious girl Lolly (Pinehillside's Lovely Blues) could celebrate her 10 year old birthday - and of course she had both cake and gifts. Lolly is just as sweet, funny and playful as when she was a young girl - and not least in top condition and still able to compete with the "younger models" in the showring, which she loves. Apart for her head looking more "grey", we really can't see any difference in her conformation and movements compared to when she was shown as a 3 year old - which she for sure proved by winning "Best of Breed" and "Danish Winner 2013" at the International Show in Herning as a 9½ year old girl, in front of several much younger foreign multi champions. Lolly has truly been such a fantastic dog, both in quality and not least in health, apart from her yearly healthcheck and vaccinations, she has almost never had to "visit" the Vets.. But even more important - Lolly has been the most wonderful "family member" we could wish for, always so sweet and gentle towards all people, other animals etc. Thank you so much Elina for breeding such an amazing dog and for letting us purchase Lolly, despite of the original plan about keeping her on "breeding terms" in Finland. We really can't believe that 10 years have already passed, it feels like yesterday that we picked up a gorgeous little blue girl in the airport.

June 2014
KENNEL UNIQUE QUESI - OUR NEW DKK/FCI REGISTERED KENNEL NAME
So happy to announce that the name we chose for our future Smooth Collie kennel has been approved by FCI. After 17 years with the Smooth Collie (and more than 40 years in total with dogs), we last year felt that we finally had the time to start a small Kennel with our beloved breed (now we have more or less closed our Stud). In Denmark you are allowed to breed a few litters every year without "education" and "kennel name", but despite that we actually only want to breed 1 litter per year, we wanted to do "more". So since late 2013 both Lars and I have gone through and "passed" Danish Kennel Club's "Breeders Education" (education and seminars that include: Genetics. Health, Reproduction, Dog Behavior, the law, obligations towards puppy buyers etc). After we passed all the seminars we then  applied FCI for the name "Kennel Unique Quesi" and within a very short while they reported back that the name got approved - which we are so happy about, as the name is very "special" to us. We wanted a name which "sounded" nice plus also "looked" nice graphic and in writing (especially for our puppies pedigrees, shows etc). But most important we wanted to dedicate the name to our first Smooth girls, who meant so much to us and who are still deeply missed - Quesi is therefore the first letters put together from Queenie and Sille names.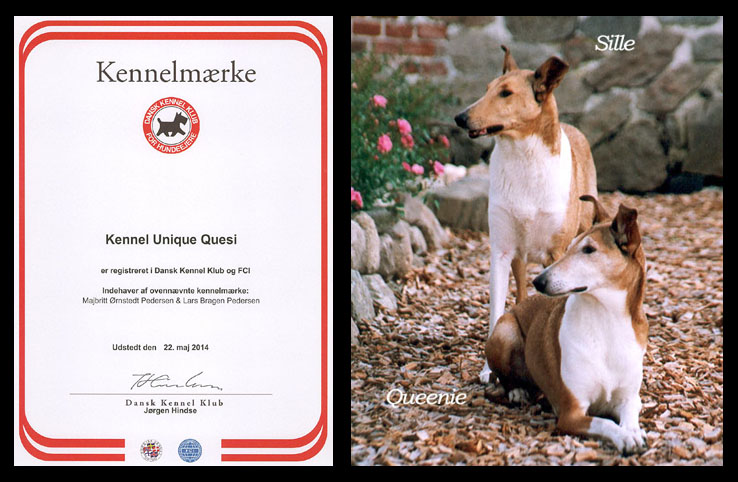 June 2014
On the 14. of June the Danish Kennel Club once again hosted a "Dog Day" in Tivoli Friheden (Amusement Park) and this year we were the Official Representative for Smooth Collies. On this day DKK arrange a walk through Tivoli in a long parade with the dogs, each breed walking together and all of them divided into the 10 FCI Groups (Herding Dogs, Sight Dogs, Terriers etc) - so Tivoli's visitors have a chance to look at a lot of different nice dog. The parade ended on Tivoli's Concert Stage where 1 representative for each breed was on the Stage and FCI Judge Annette Bystrup explained a bit about the Breeds - their difference both in "look" and "use" (what they originally was bred to do), and there was also "Dog Dancing" as well as Agility. We had a very nice day in lovely weather and as always our 2 girls was so calm, totally unaffected by the big crowd of people and so sweet towards to all the other dogs.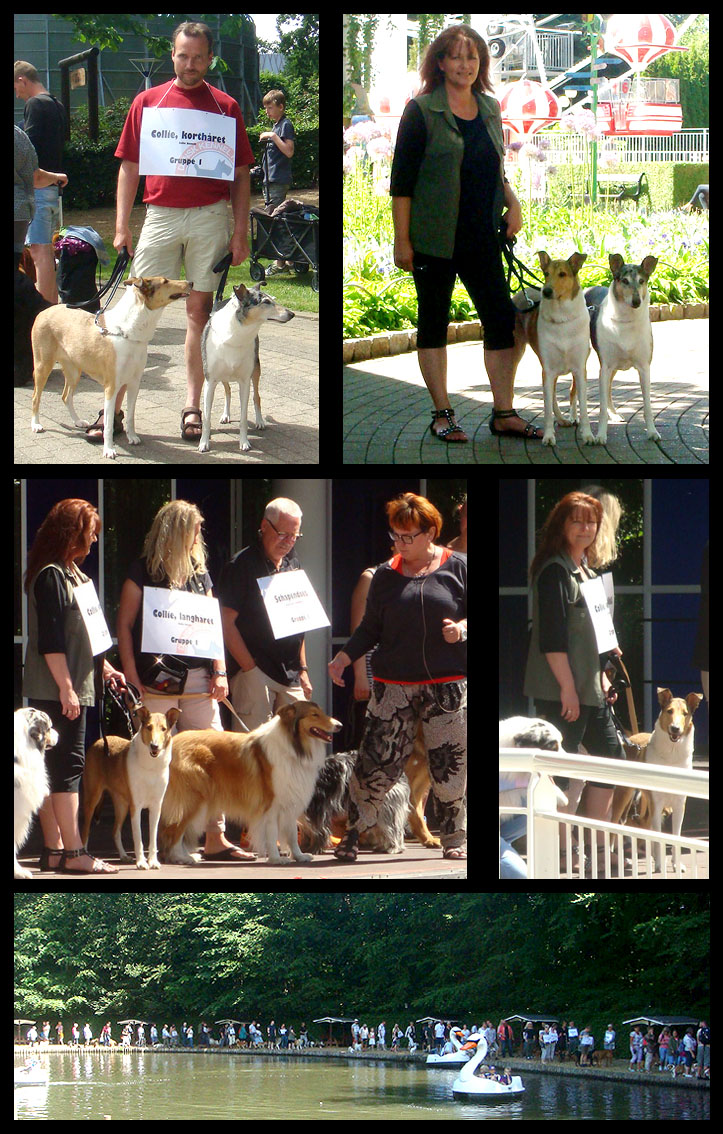 May 2014
Lolly new Danish Champion
Lolly (Pinehillside's Lovely Blues) is after her results in Hedensted, now a Danish Champion - gained just before her 10 year old birthday. And NO - it did not take her almost 10 years and lots of Shows to get the Champion title ☺. Lolly has only been Shown 5 times in her life, as she has been unfortunate to have a "mummy" who was too busy with their Arabian Stud, in the years that she should have had her "best time" in the Showring. We are so proud of Lolly's overall results, she has never achieved less than the highest quality grade "Excellent" and every time with CC (Champion Certificate Quality). And we will never forget her victory at the International DKK Show in Herning 2013, where she gained the "Best of Breed" BOB title and in front of several well known foreign Multi Champions, 2 winners of "Best Smooth in Norway", Best Bitch from Cruft (the World largest Dog Show) etc. It was such a huge surprise as she was 9½ years old and most of the other dogs only half her age.
Lolly's Overall results (so far) : Shown 5 times = 5 x Excellent with CC, 3 x CAC/Certificate, 1 x res. CAC, 1 x CACIB (International Certificate), Danish Champion, Best of Breed, Best Bitch, Best Veteran, Danish Winner 2013, Danish Veteran Winner 2013, Danish Kennel Club "Breed of the Year" 2013 nr.2.  Also a huge congratulation to Lolly's breeder Elina (Kennel Pinehillside Finland) for breeding our gorgeous girl and not least thank you for letting us purchase her, despite of the original plan to keep her in Finland on "Breeding Terms".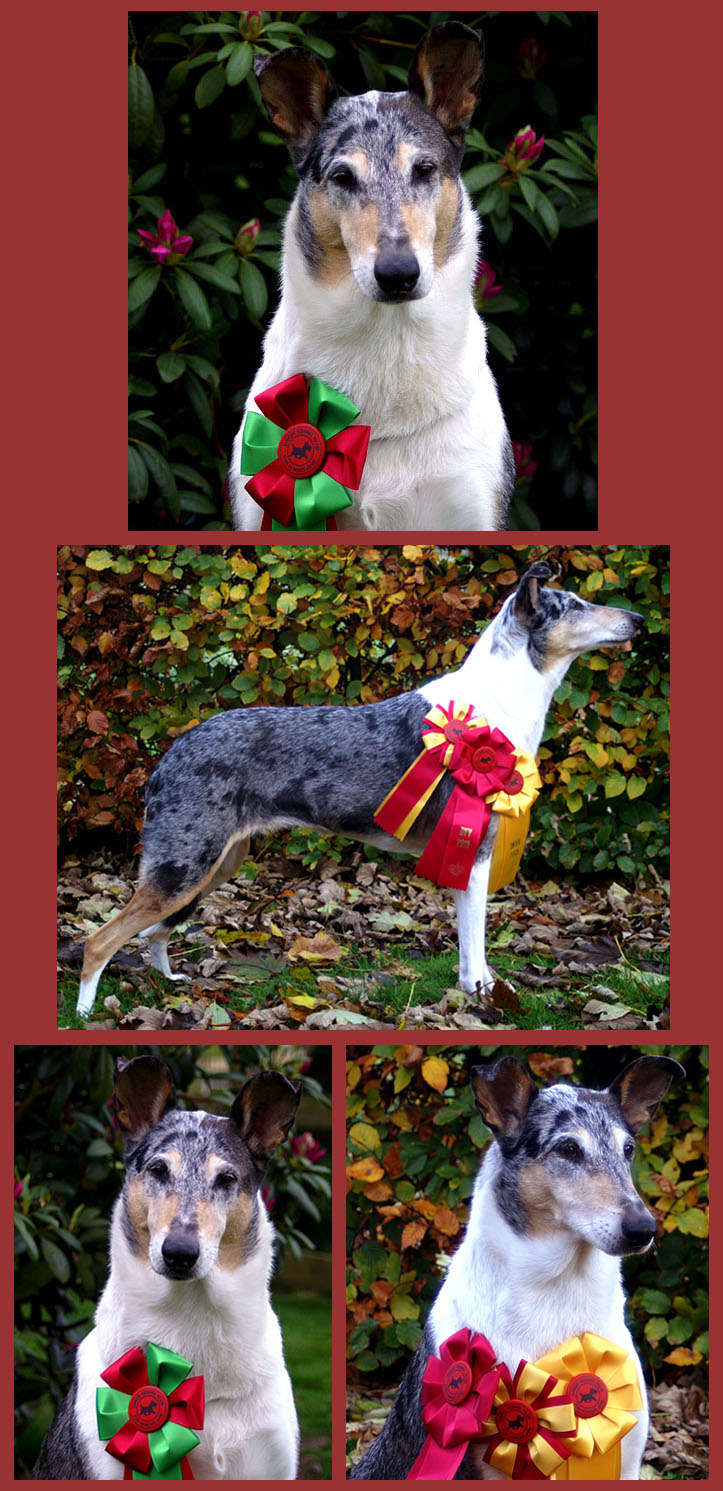 May 2014
On the 17.of May we Showed Diva (Törnskogens Bvlgari Femme) in the Champion Class and Lolly (Pinehillside's Lovely Blues) at the National Danish Kennel Club Show in Hedensted. Both girls had very nice results with great critique - judge this time was: Hans Bierwolf from Austria. Diva once again achieved "Excellent" with CK (CC), she became "Best Bitch" and "Best of Breed" (BOB). Lolly also achieved "Excellent" with CC, Best Bitch 2, and she gained the CAC/Certificate (as Diva is already a Danish Champion the CAC went to Lolly). - the judge was so impressed by Lolly soon  turning 10 years of age and wrote such a sweet personal critique (that you can't see her age, he was happy to have judged her and wished us many nice years with this wonderful dog). Actually Bierwolf thought that both girls was equally in quality for the BOB title and as both of them was owned by us, he chose to give the BOB title to Diva so she could go further to the "Group 1- BOB" competition, as Lolly already qualified to compete in the "Group 1 - Best Veteran" (then both girls would enter the "Big Ring" later in separate classes). This time my sister Trine was with us at the Show, so I had one of the rare opportunities to get pictures from the Showground (as normally both Lars and I are busy with "switching" dogs, entering the ring together in the end etc).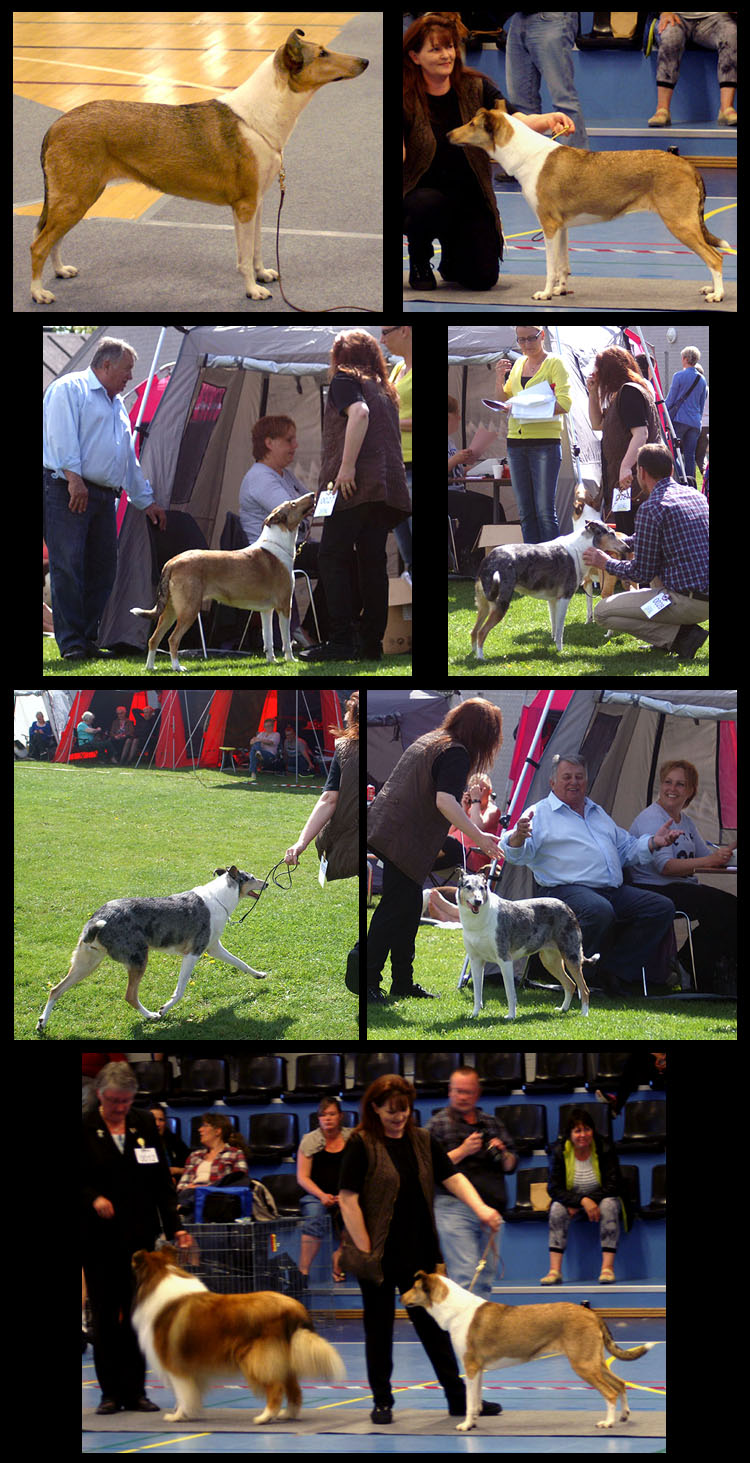 February 2014
In loving memory of our sweet ML Pashmir

The 20. of February became the most terrible days we have ever had in our "Horse-life", when we suddenly had to euthanize our beloved Pashmir - a horse that meant so much to us and who we bred ourselves 11 years ago. When Lars went to the stable early morning to feed the horses he was met by a terrible sight, Pashmir was standing very quietly in the box with serious injuries all over his beautiful head - and there were blood everywhere in his box (on the walls, all over his "bedding" etc). Pashmir himself was in a totally "passive" and almost "sedated" state of mind. Due to the extend of the injuries, his behavior and the "look" of the box - and after having spoken with several other breeders, Vets etc. we are almost sure that he has suddenly suffered from a bleeding in his brain and lost control over his body - which also caused him to "hit" his head against the brick wall multiple times (different places every time). I can't even begin to explain what a traumatic experience it has been and how often we have had the terrible "images" of Pashmir's injured head in our minds - and in general it's just so hard that he is among us any more. Pashmir was truly "one of a kind" and the most uncomplicated sweet stallion one can imagine, he has always been the most calm and easiest of all our horses. We have never seen him upset or in "bad mood" one single day in his 11 year life, always easy to handle and you could "crawl" under his stomach when his "bed" had to be done one final time before the night. I had a very special relationship with Pashmir and we had our own playing games out in the paddock, which he really loved. Last but not least he was such a beautiful and charismatic horse, who everybody fell in love with - no matter if they were "horse-people" or not. Rest in Peace our beloved Pashmir.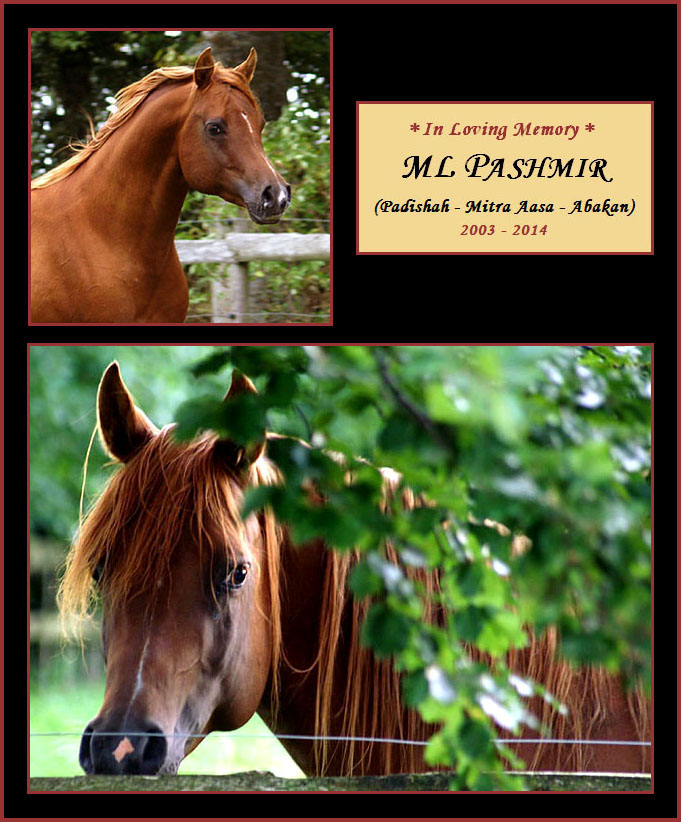 As most people already know, we sadly some years ago (due to health reasons) had to decide to more or less close our Stud and reduce the numbers of horses - but luckily the few horses we have left are all related to Pashmir - so despite that it's such a huge lost and he is so deeply missed, we feel that we still have a part of him. His mother Mitra has been with us for 12 years and she is "the love of our life's" when it comes to our horses. Besides from her, we several years ago chose the 2 young mares of our own breeding which we personally thought was the best offspring we had bred, and kept them as future broodmares - luckily both of them are daughters of Pashmir. One of them is ML Pristinia and the other one is ML Galia - and besides from having Pashmir as a Sire, Pristinia is out of Primonia and Galia is out of Galaktika, and therefore they also represent the 3 best Broodmares we have had in our breeding (as they through Pashmir has Mitra as a grandmother). So especially now when we have lost Pashmir, we are truly grateful that it's those 3 mares we still have in our stable.


ML Galia  -  Mitra Aasa  - ML Pristinia