PADISHAH
Straight Russian Stallion - Born 1996 - Breeder: State Stud Tersk, Russia
Owner: Cedar Oak Arabians, France - available with frozen semen
SCID free - CA clear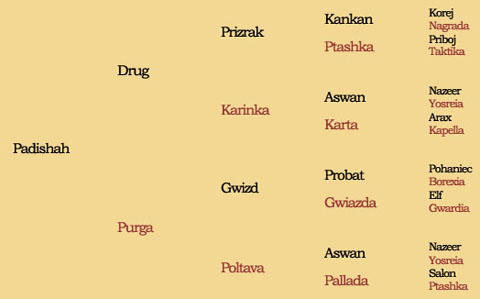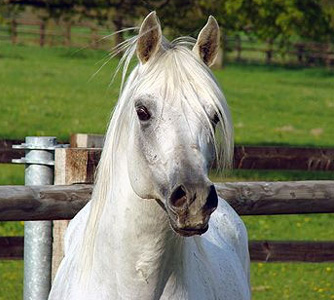 Bred by Tersk Stud. Available worldwide via natural breeding and semen from his owner Cedar Oak Arabians in France. For Danish breeders Padishah is available with frozen semen via ML ARAB. Here at our stud we have bred two offspring by Padishah, the gorgeous mare ML Parisa and our beautiful Stallion ML Pashmir, they both has fantastic type, great conformation and lovely movements. The first grandchildren by Padishah are also really superb.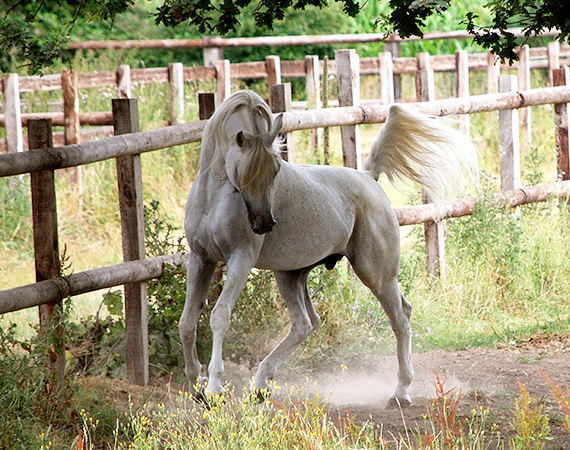 Padishah is a magnificent stallion - beautiful and typey, with nice eyes, and extremely large forehead. His movements are exceptional (4 x 20 points to the European Championships !!). The body and topline is very good, and his legs very correct. Padishah is performance tested on the racetrack, before his exportation to Europe. The last couple of years, he has also been in the Showring with great success, and among his Results is:
French National Champion 2003
European res. Senior Stallion 2001
World Championships Top Ten Stallion 2001
Senior Champion Stallion - Tilburg Holland 2001
Supreme Champion & Gold Ribbon - Stallions Show Aachen 1999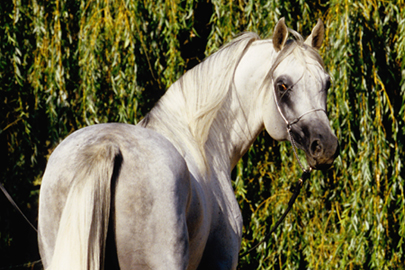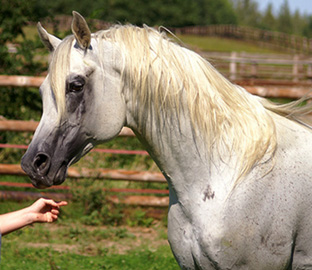 Padishah is by Drug - one of the best examples of that type and performance can be united. Drug gained the titles Derby Winner 1988, European Racehorse - and European Champion in the Showring 1990. Last not least, he is a first-class Breeding Stallion - of both Show and Performance Arabians. Besides Show Champions like Morjak and Abhat, he has also sired Adres 3/24 (3-7-3), the two Derby Winners Madiar and Matador, as well as the new "star" on European Racetracks Nokdaun.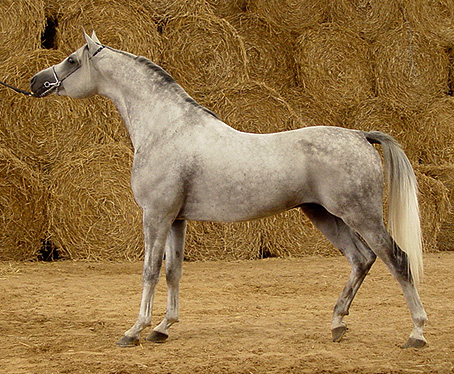 Padishah's dam Purga is a successful mare with good results at the racetrack. She is beside Padishah also the dam of the two beautiful mares Prisiage and Podborka, both exported to Europe from Tersk. Purga is by Gwizd - a stallion who was bred by Michalów, leased by Tersk for 2 years - later exported to USA, and used there as a sire for several years, before his re-exportation to Belgium, where he until his death, was owned by Jadem Arabians. Gwizd is the sire of Champion & Tersk Stallion Negasimyi, European Champion & World res. Champion Mare Karaganda, Show Champions Emrich, Moonligt and Magdalina, as well as racehorse Pogojii 3/16 (4-3-1) just to name a few.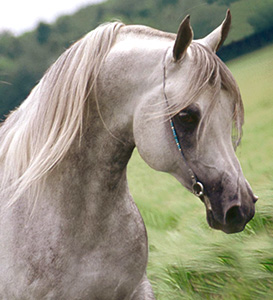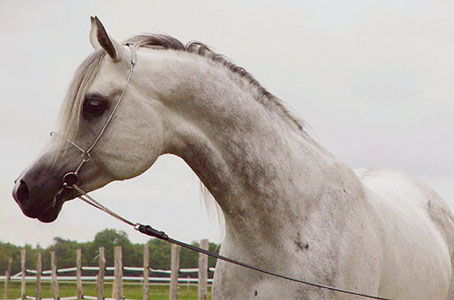 Padishah is a strong producer, his offspring is very similar in their "look" and quality. He passes on a beautiful type with short head, lovely dish and big cheeks. They are correct in conformation and moves with the well-know big elastic "Russian trot", last but not least his offspring has the most sweet character. At ML ARAB we have used Padishah several times and now also had four grandchildren of superb quality. Padishah's bloodlines fits splendid with mares by Balaton & Kubinec etc, plus we successfully used him on mares out of Moment, Nadir I lines.
For Further information about the saleshorses, stockhorses, breedingterms etc. - please contact Sabine & Dominique Akel, www.cedaroak.com. People are always welcome to contact us as well, as we know the horses (and the family) very well. Several of our own horses has relation to their stud.