ML PASHMIR
Russian Related Stallion - Born 2003 - Breeder: ML ARAB, Denmark
SCID Free + CA Clear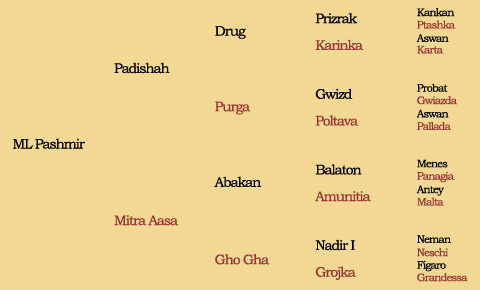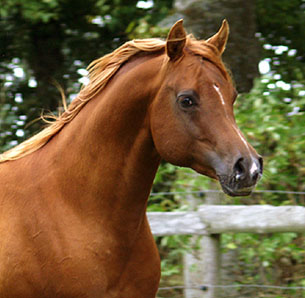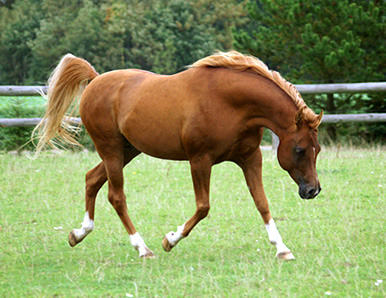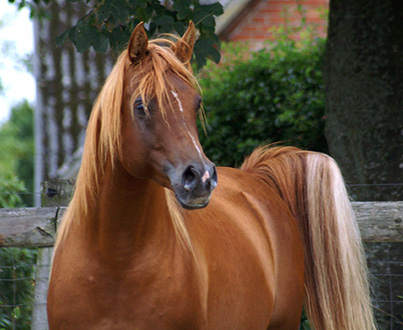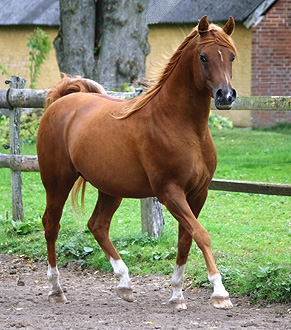 ML Pashmir is an excellent stallion - a real "eye catcher", who has fullfilled all our big expectation for him as a sire in our breeding program. He has exceptional type with short head, big "jaws" and a beautiful "dish". Pashmir is a handsome horse with nice correct body, who already from beginning was very masculine in conformation. He is an incredible sweet gentle stallion - and very "Showy" with lovely movements. Pashmir's pedigree represents a great combination of Show & Performance lines. When one look at his first 4 generations, it includes 4 European Champions, 9 International & National Champions, World Top Ten Champions etc, and 18 horses which has been tested on the racetrack before used for breeding. Pashmir measure 154 cm.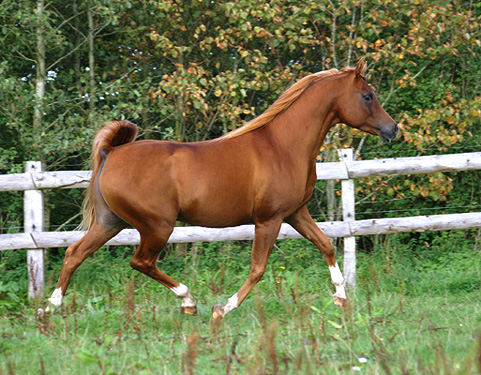 ML Pashmir's sire is the typey "trotting machine" Padishah - a straight Russian Stallion, who has done very well in the Showring. Among his results is: European res. Champion, World Top Ten Stallion, Champion Stallion Holland and Supreme Champion/Gold Ribbon Aachen. Padishah was bred by State Stud Tersk in Russia, and is now owned by Sabine & Dominique Akel, Cedar Oak Arabians, France. He is also a very nice performance horse, and has been tested on the racetrack. And most important he has proved himself as an outstanding sire - his offspring has magnificent type, body and movements. Padishah is by Drug - one of the best examples of that type and performance can be united. Drug gained the titles Derby Winner 1988, European Racehorse - and European Champion in the Showring 1990. Last not least, he is a first-class Breeding Stallion - of both Show and Performance Arabians. Besides Show Champions like Morjak and Abhat, he has also sired Adres 3/24 (3-7-3), the two Derby Winners Madiar and Matador, as well as racehorse Nokdaun. Drug has been a sire at Tersk, Kossack Stud and was later exported to United Arab Emirates. Padishah's dam Purga is a precious broodmare also with good results on the racetrack. She is by Gwizd, who was bred by Michalów Poland, and Breeding Stallion in Russia, USA & Belgium. Gwizd left some excellent offspring - among them European & World res. Champion Karaganda, Champion Mare Magdalina, Racehorse Pogojii, and Tersk Stallion Negasimyi. You can find more about Padishah (photos, pedigree etc) on his own page.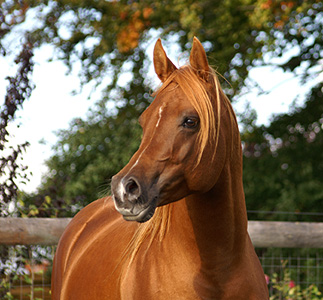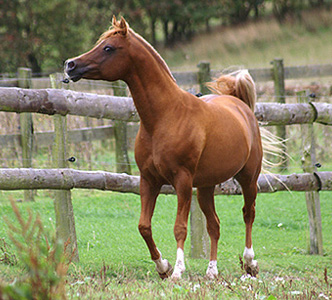 ML Pashmir's dam is Mitra Aasa - a gorgeous mare, with a lot of type and movements. She has been imported from Cedar Oak Arabians, France, and among her Show results is: Junior Champion, Junior res. Champion and Top Five National Filly France. Mitra's sire is Abakan - National Champion Holland & Top Ten World Champion. He is one of the most successful sons of European & National Champion Balaton, and the brother of Champions like Kubinec, Kaberdinka, Absent, Pobeditel, BB Balenca as well as Derby Winner Sambist and Racehorse Tibet. Both Abakan, his dam Amunitia and the maternal grandsire Antey has, besides their Champion titles in the Showring, very good results in racing too. Amunitia is also the mother of Derby Winner Amunion, and racestar Arc Kossack. Mitra's dam Gho Gha is a lovely Show & Broodmare, who in 2001 was sold to Jordan. She is by Nadir I - European Champion & World res. Champion. Nadir is by Neman, out of "Elite Nominated Mare" & "Best in Show Mare" Neschi - a daughter of Champion Stallion Kilimandscharo. Nadir is full brother to Negresco - European Champion, Neschnij - Top Ten Scottsdale, and Breeding Stallion in USA & Brazil, Nagadir - Sire at Gut Alemich in Germany. Gho Gha is out of the pretty mare Grojka - dam of Goleh Gola - Jordan Nation res. Champion, Aasa Ibn Abakan - excellent Breeding Stallion at Cedar Oak Arabians, Shahinn - Stallion exported to UAE. Gho Gha's maternal grandsire is the beautiful Figaro - a polish race legend, and later Sire in Sweden, USA and Canada. See further information's about Mitra on her own page.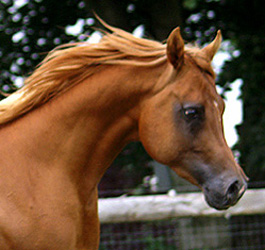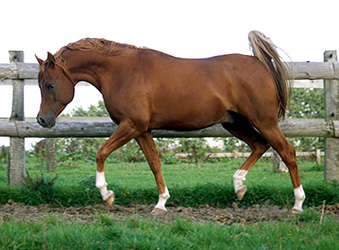 ML Pashmir has not been available for "outside mares" - but we would like to thank people for their interest, it's always so nice to hear other people like our horses too. But for our breeding program he produced some of the best offspring we have bred so far - two of them has been kept as future broodmares. Below you can see the offspring ML Pashmir has Sired here at ML ARAB. With Primonia (Monitor x Komplekt) we had the filly ML Pristinia in 2006, the colt ML Pashkin in 2007, the filly ML Pashinka in 2009 and the filly ML Piramida in 2010. All four of them has lovely type, with excellent conformation and they have spectacular elastic "Russian" movements. Galaktika (Aswan x Mak) unfortunately aborted with his foal in 2007, but in 2008 she gave us ML Galia, a gorgeous filly, who are going to replace her mother in our future breeding.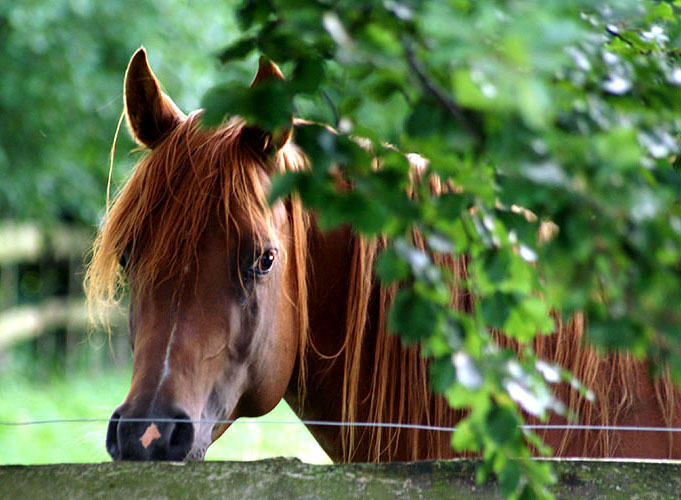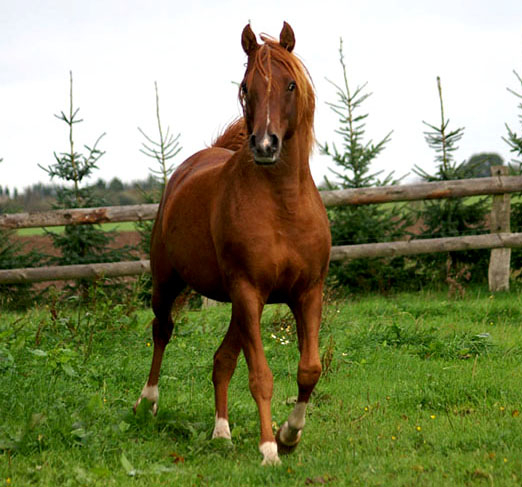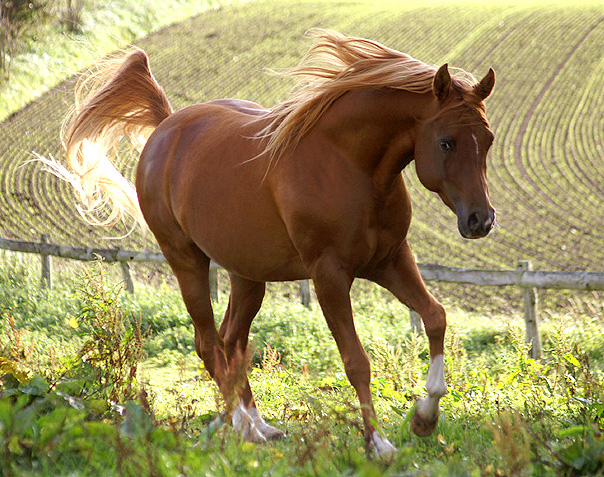 ML PASHMIR
(a collection of pictures from his daily life)
ML PASHMIR
(a small collection of pictures from the first 2 years in his life)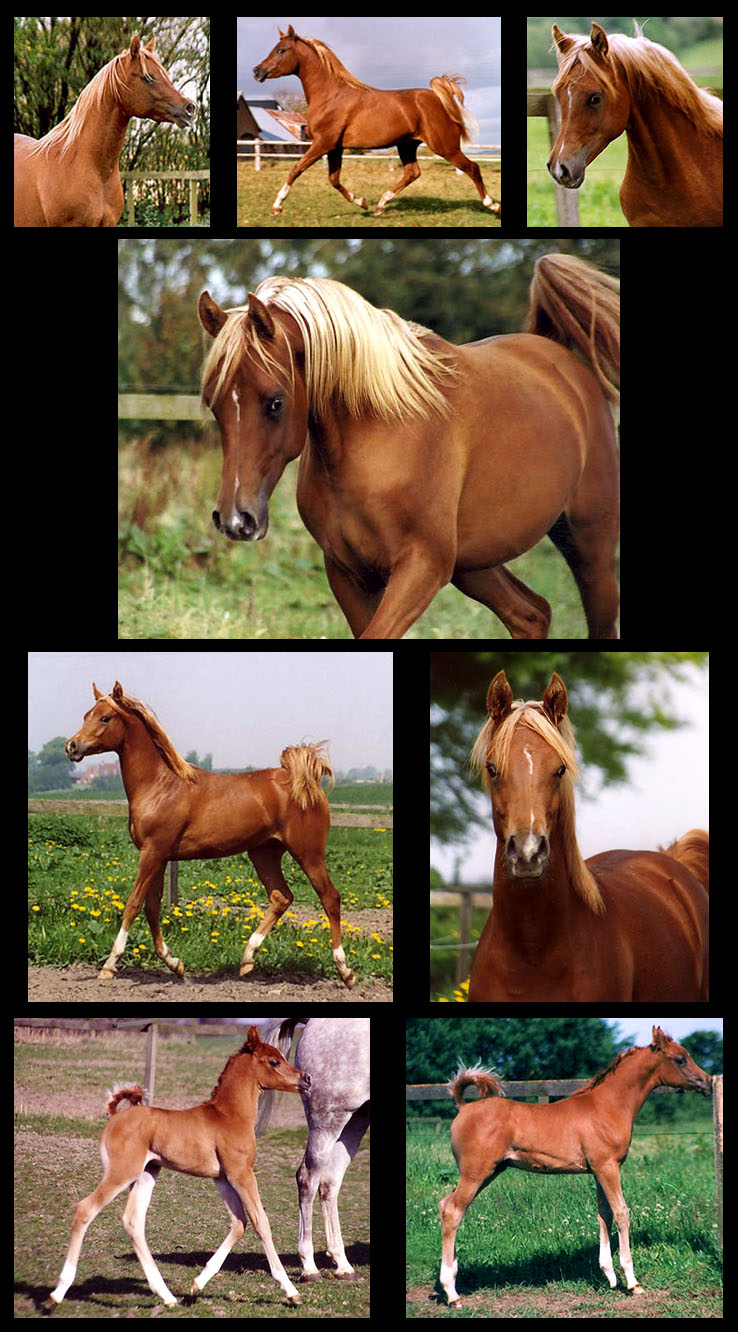 ML PASHMIR OFFSPRING BRED BY ML ARAB


ML PRISTINIA
(ML Pashmir x Primonia x Monitor)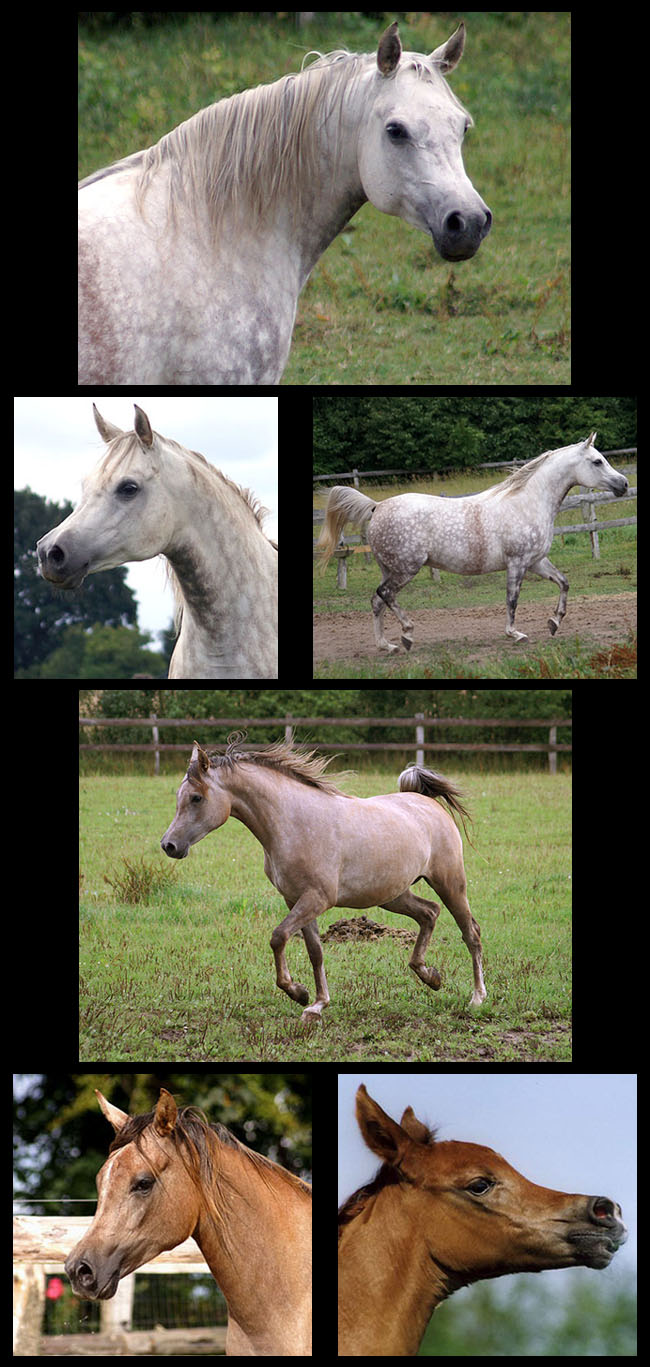 ML PASHKIN
(ML Pashmir x Primonia x Monitor)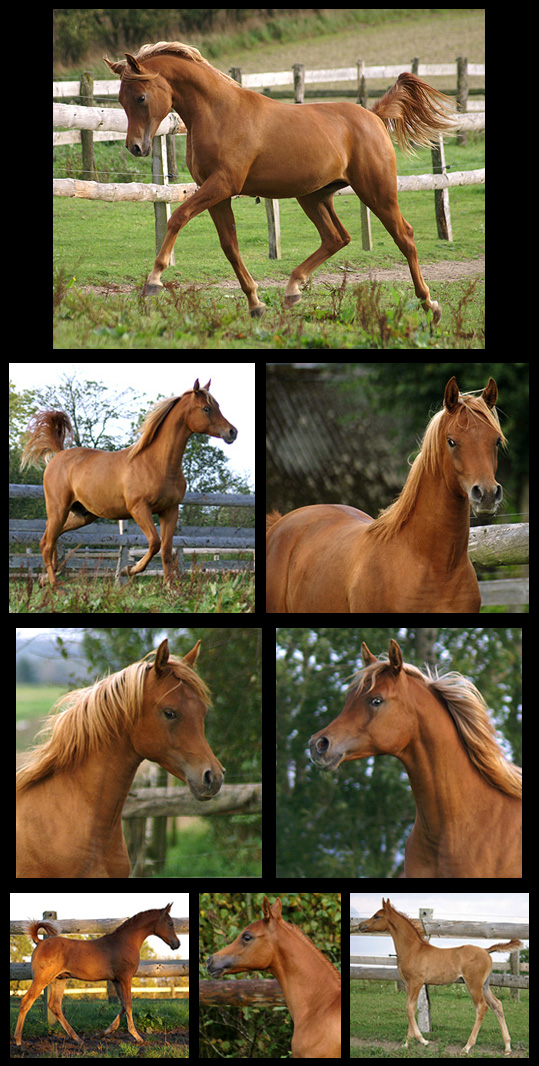 ML GALIA
(ML Pashmir x Galaktika x Aswan)

ML PASHINKA
(ML Pashmir x Primonia x Monitor)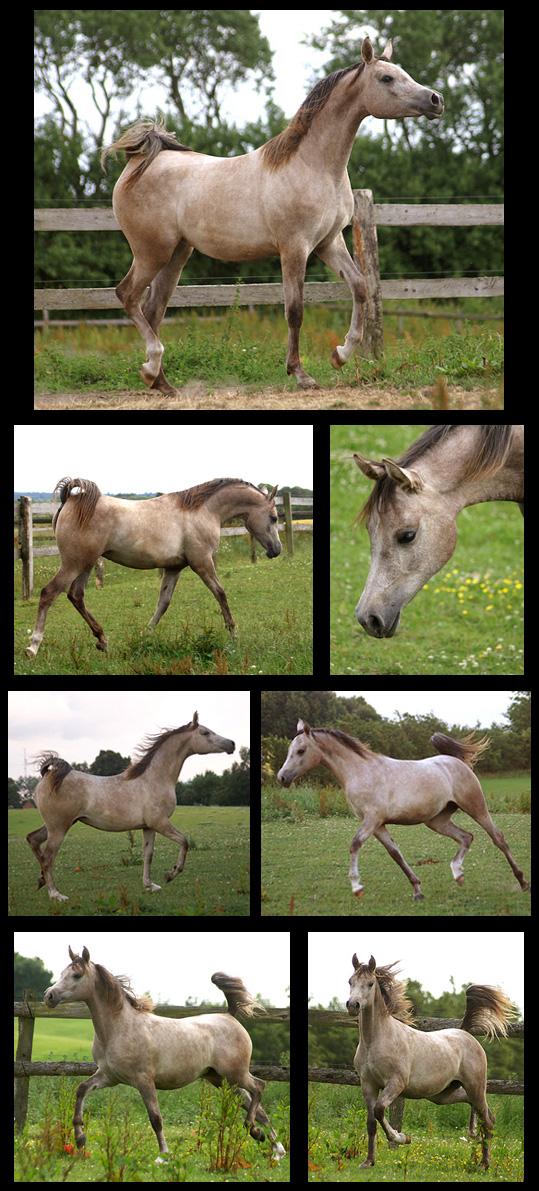 ML PIRAMIDA
(ML Pashmir x Primonia x Monitor)