ML PASHINKA
Russian Related Mare - Born 2009 - Breeder: ML ARAB, Denmark
SCID Free + CA Clear (through parents)
Sold in 2010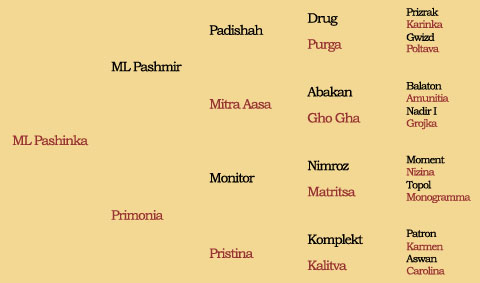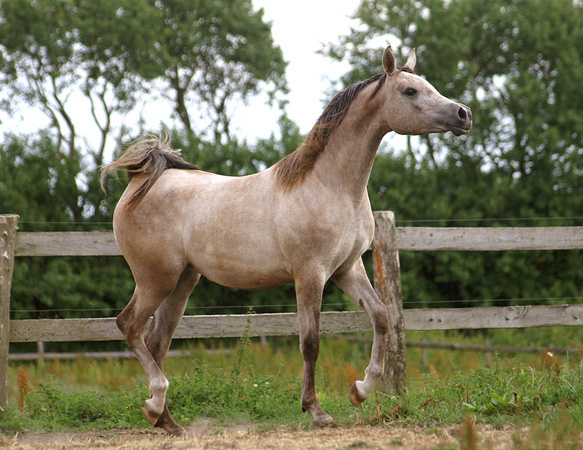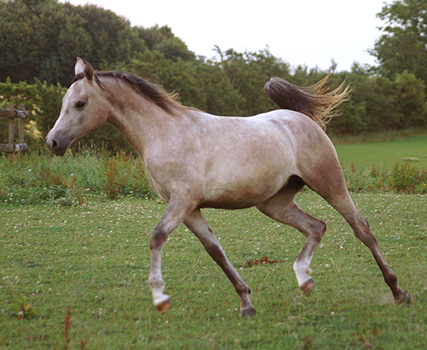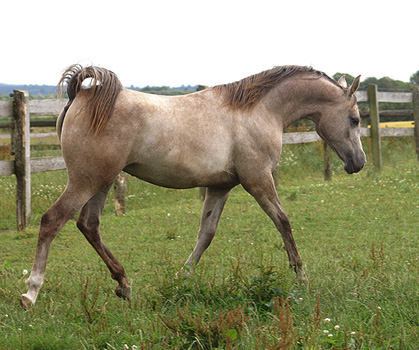 ML Pashinka is a lovely filly and one of the best horses we ever bred regarding movements and conformation. She has an incredible  body with an excellent long well-set neck, great legs and like her siblings, parents etc. Pashinka is a very "strong" muscular  horse. Her movements are exceptional, with lots of action and a big elastic trot - she is really a true "Russian" in overall appearance. Pashinka's "look" and type is almost an exact copy of her dam, with the wide forehead, big jaws and nice eyes - she even has the same "power" and "showy" attitude as Primonia.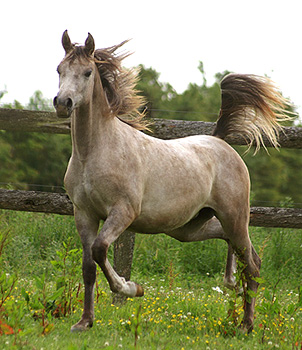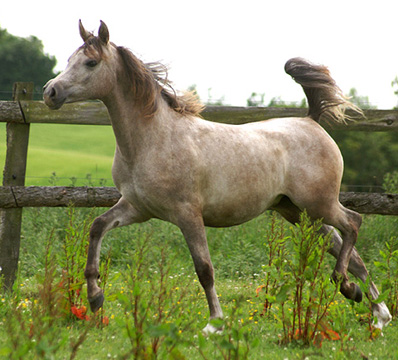 ML Pashinka has numerous of European, World & International Show Champions in her pedigree, but it also contains lots of top performance horses. Just looking at the first 4 generations, 18 horses is tested in racing and her siblings are also used for endurance, dressage etc. Based on both her quality and the pedigree, Pashinka is a first-class prospect for breeding, who should produce excellent both for the Showring as well as for riding. But she is also a superb performance prospect - and not least we expect her to get nice results in the Showring as well. ML Pashinka is a full-sister to ML Pristinia and ML Pashkin, plus to our new adorable little 2010 filly. She is a half-sister to ML Parisa (through their dam) and to ML Galia (through their Sire).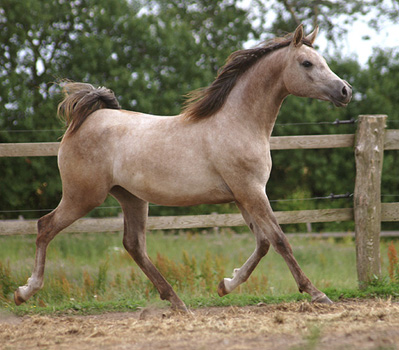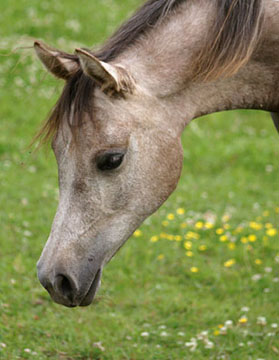 ML Pashinka's Sire ML Pashmir is a very typey stallion with strong conformation and lovely movements, who has produced some of the best offspring we have bred. ML Pashmir is by Padishah - a superb Sire and successful Show horse, gaining titles like: European res. Champion, French National Champion, World Top Ten Stallion, Supreme Stallion & Gold Ribbon Aachen etc. (tested in racing too). Padishah is owned by Cedar Oak Arabians in France, he was bred by State Stud Tersk in Russia, and has also been a Sire at Gestut Osterhof in Germany for a few years. Padishah is by Drug, who before sold to "The Royal Stables" Abu Dhabi UAE, won titles like: European Show Champion, "European Racehorse of The Year", Derby Winner etc.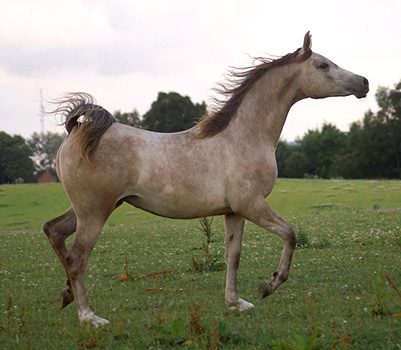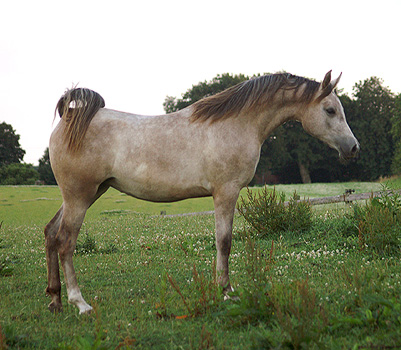 ML Pashmir's dam Mitra Aasa is an unique mare with gorgeous type and spectacular movements, imported from France. Mitra gained Champion titles in the Showring several times, but most important, she is an exceptional broodmare. Mitra is by Champion Stallion Abakan (a very successful producer bred by Tersk). Her paternal grandsire Balaton and maternal grandsire Nadir I also achieved the European Champion title. Mitra's pedigree contains, besides well-known stallions, some wonderful mares as well. Her dam Gho Gha is owned by Princess Alia Al Hussein "The Royal Stud of Jordan", and Mitra's granddam Grojka has been a broodmare at Shah Arabians in France for many years. There is more information about ML Pashmir, Mitra Aasa and Padishah on their own pages.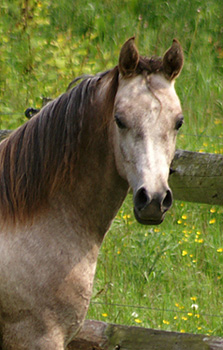 ML Pashinka's dam is our beautiful and very charismatic broodmare Primonia. She is a "strong" powerful girl, who really knows how to present herself with tremendous movements. Primonia was bred in Belgium, but came to Cedar Oak Arabians in France as a 3 year old and produced 5 excellent foals for the stud before we imported her to Denmark. Primonia's offspring is lovely typey Show prospects, but they are also splendid performance horses, 3 of the ones born in France are doing very well in endurance, dressage etc. At ML ARAB she until now has produced 5 superb foals, all of them with great type and lots of "look at me" attitude. They are well-build and very muscular with the famous big elastic "Russian movements". Primonia is an International Show Class winner herself and some of her offspring also had nice results in Shows. Primonia has her own page on the menu "Mares".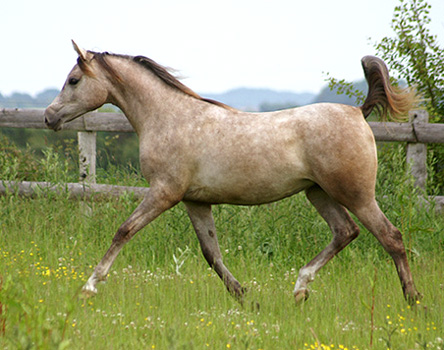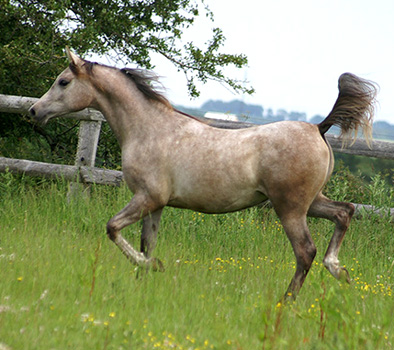 Primonia's Sire is Monitor - World & European Champion, bred by Tersk and Sire in several countries. Today he is owned by King Abdulaziz Arabian Horse Center in Saudi Arabia. Monitor is by Nimroz - Multi Show Champion with good racing results. Nimroz's Sire is Moment - a legendary producer at Tersk and later in USA. Moment is National Champion in Holland and a full brother to Muscat. Monitor's dam Matritsa also achieved excellent results in racing. She is out of the tremendous broodmare Monogramma and through her sister to the Stallions Monogramm, Mamluk and Murmansk.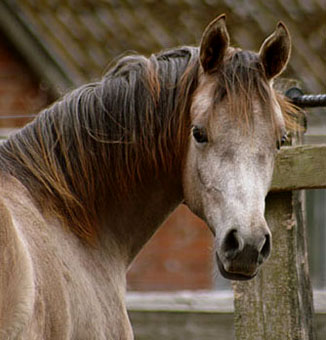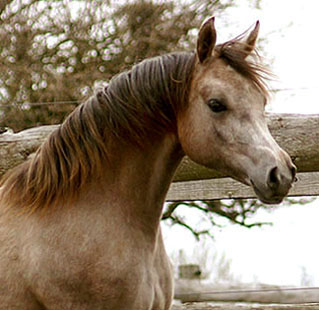 Primonia's dam Pristina has been a broodmare in Holland, Belgium and France, she is among others the dam of Prismen - Sire in Holland. Pristina is by Komplekt - World res. Champion, National Champion and Stallion res. Champion Aachen. Komplekt was considered to have some of the best movements, people ever saw in the European Show scene. He is the Sire of Anthal - Multi Show Champion, Kajgala - World Top Ten Mare, Naik - Sire in Holland and Khamil - Sire in England. Pristina's dam is the Aswan daughter Kalitva - broodmare in Holland and England (her offspring was among others exported to UAE and Italy).