ML GALIA
Russian Related Mare - Born 2008 - Breeder: ML ARAB, Denmark
Scid Free + CA Clear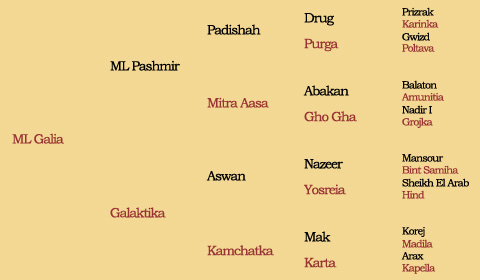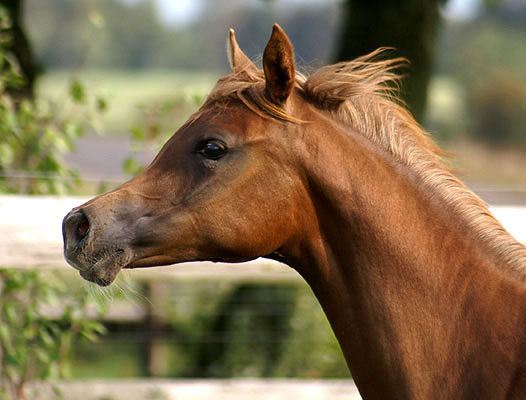 ML Galia is an exquisite young mare with superb type and lots of "Showy" attitude. Her head is short with beautiful dish, big jaws and the most gorgeous eyes. She has the powerful elastic movements and "strong" conformation, like the "Russian" are known for. We are deeply grateful to Galaktika, who "finished" a long life as a broodmare, with giving us a filly to replace her in our breeding, and grateful that she together with ML Pashmir produced one of the best offspring we have bred so far.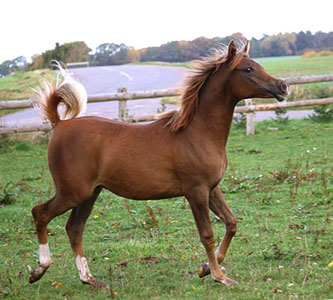 ML Galia's pedigree is based on some of the last decades best and most successful Russian Arabians. It contains a large number of European, International & National Show Champions, well-known "producers", and not least top performance horses. Just looking at the first 4 generations, 17 horses have been tested at the racetrack, and a lot of great endurance horse also comes from these lines. Galia's dam Galaktika has (through Karta) the same dam-line as Kilimandscharo, Karnaval, Drug and Kubinec etc.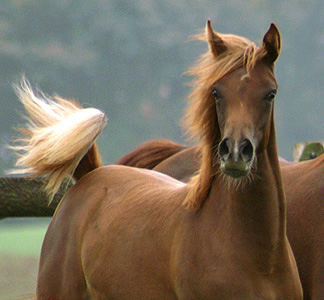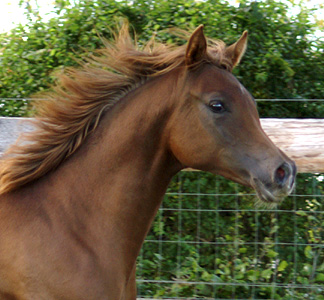 ML Galia's Sire ML Pashmir is a very typey stallion with strong conformation and lovely movements, who has produced some of the best offspring we have bred. ML Pashmir is by Padishah, a superb Sire and successful Show horse, gaining titles like: European res. Champion, French National Champion, World Top Ten Stallion, Supreme Stallion & Gold Ribbon Aachen etc. (tested in racing too). Padishah is owned by Cedar Oak Arabians in France, he was bred by the Russian State Stud Tersk, and has also been a Sire at Gestut Osterhof in Germany for several years. Padishah is by Drug, who before sold to "The Royal Stables" Abu Dhabi UAE, won titles like: European Show Champion, "European Racehorse of The Year", Derby Winner etc.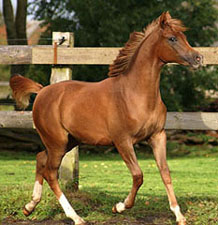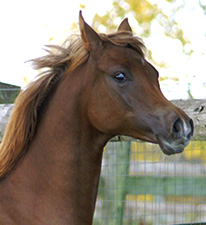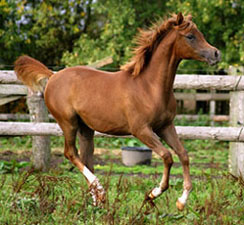 ML Pashmir's dam Mitra Aasa is an unique mare with gorgeous type and spectacular movements, imported from France. Mitra gained Champion titles in the Showring several times, but most important, she is an exceptional broodmare. Mitra is by Champion Stallion Abakan (bred by Tersk). Her paternal grandsire Balaton and maternal grandsire Nadir I also achieved the European Champion title. Mitra's pedigree contains, besides well-known stallions, some wonderful mares as well. Her dam Gho Gha is owned by Princess Alia Al Hussein "The Royal Stud of Jordan", and Mitra's grand dam Grojka has been a broodmare at Shah Arabians in France for many years. There is more information about ML Pashmir, Mitra Aasa and Padishah on their own pages.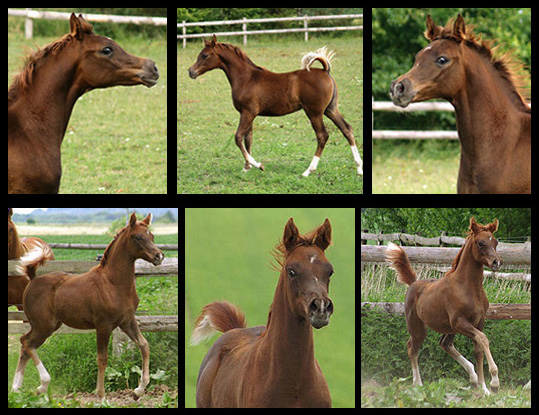 ML Galia's dam Galaktika is a very charismatic and beautiful typey mare with wonderful movements. She is bred by State Stud Tersk, was tested on the racetrack in Russia for 2 seasons, and is a Champion in both racing as well as in the Showring. Before Galaktika came to ML ARAB, she was a broodmare for 15 years at Gestut Mashallah. Galaktika is through her Sire Aswan sister to: Marsianin - US National Champion, Palas - famous Sire in Poland, Patron - Champion Stallion (Sire of Padron & Abdullahh), Nariadnia - US & Canadian Top Ten Mare (dam of Nariadni), Panagia - dam of Balaton, Pakistan & Princip etc, Plakat - World res. Champion, Katun - European Champion Mare. In the years where we bred ML Galia and ML Kazakhstan, Galaktika was actually one of the last daughters in the world by the legendary Aswan.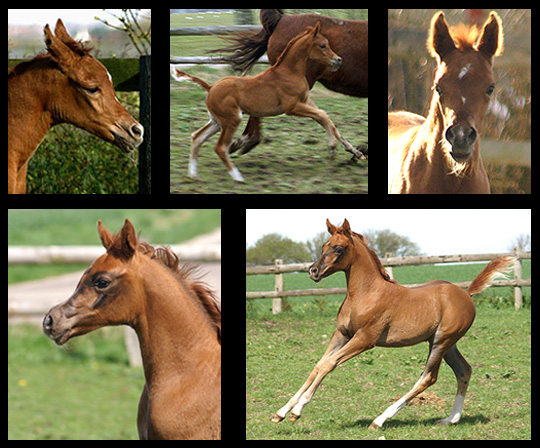 Galaktika's dam Kamchatka was a great racehorse and broodmare. She is by Mak who had excellent results on the racetrack and also won the USSR Military Championships. Kamchatka's dam the Arax daughter Karta, is one of the most successful broodmares Tersk ever had. Among her many spectacular offspring is: Kosmetika - dam of Kubinec & Veresk etc, Carolina - dam of Karavan & Kapron, Kasatka - dam of Kaluga. The following Karta offspring is all by Aswan and ¾ siblings to Galaktika: Kilimandscharo - Champion Stallion and superb Sire, Karinka - dam of Drug, Kosmonaut & Karnaval etc, Klarnet - Sire in Italy & England, Kariatida - dam of Kupol, Kromka - broodmare at Gut Alemich Stud, Kastanieta - broodmare in Germany & USA. Galaktika's lovely fullsister Kura was exported to Brazil in 1990, she is the dam of the successful Show horse and Sire Kulak. There are more information about Galaktika on her own page.
ML Galia
photographed all "natural" in the paddock