MITRA AASA
Russian/Polish Mare - Born 1996 - Breeder: Shah Arabians, France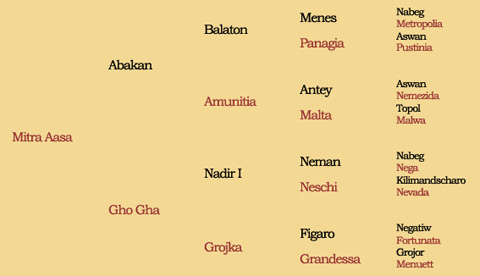 Thank You dear Sabine & Dominique, for letting us have your precious "Titi"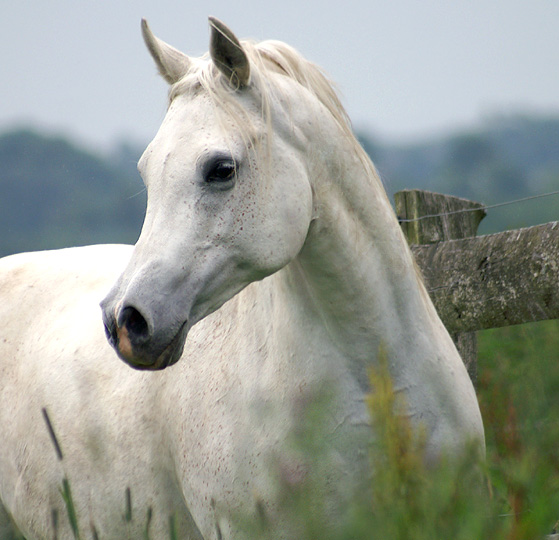 Mitra Aasa is a beautiful feminine mare, who we fell in love with when we were at Cedar Oak Arabians in France, to buy the stallion DSA Bali - we are deeply grateful to Sabine and Dominique for letting us purchase her, despite she was not among their sales-horses. Mitra has a very typey short head with lovely eyes, are well-build with a nice long well-set neck and has excellent "Russian" movements. The pedigree contains some of the last decade's best Russian horses with innumerable Show Champions and successful Performance horses. Mitra's siblings also had superb results, both in the Showring and as performance horses - plus last but not least, they are great producers.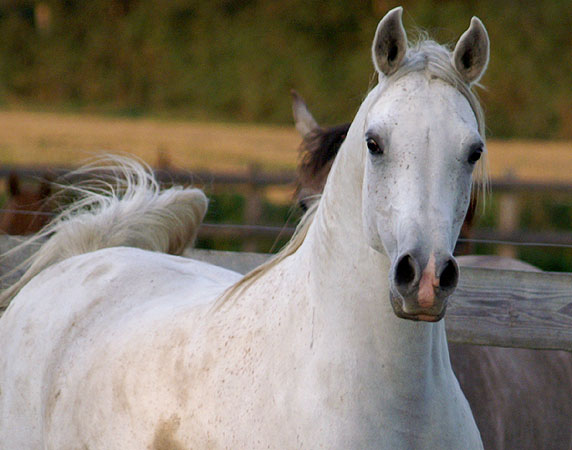 Mitra loves being the focus of attention in the stable - she is such a charming girl with lots of personality and very quickly became our all time favorite horse. Mitra is a mare who really enjoyed being in the Showring, but most important she is a first-class broodmare. Here at ML ARAB her son ML Pashmir is one of our Sires - and her daughter ML Shams Shakira was also been kept for our future breeding program. Mitra is a mare who really stamps her offspring - we have changed from a "modern" straight russian stallion to a straight egyptian stallion of the "old classic" type, and in both cases she produced almost identical type on the babies, even the grandchildren often inherited her "look". Before Mitra became a broodmare she, among others, gained the following results in the Showring:
Junior Champion Filly 1997 (Pompadour, France)
Top Five Junior Filly – class winner - National Championships of France 1997
Junior res. Champion Filly - class winner 1998 (Avignon, France)
Junior res. Champion Filly - class winner 1998 (Vichy, France)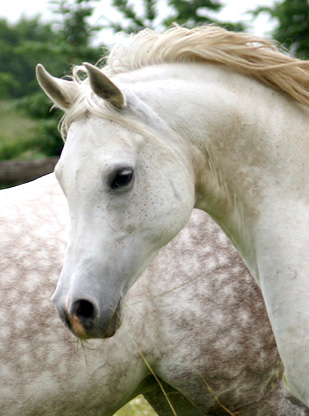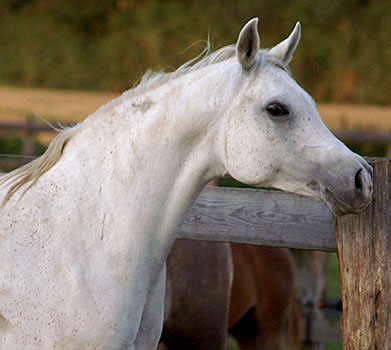 Mitra's sire Abakan is National Champion of Holland & Top Ten World Champion Stallion. He is one of the most successful sons of European & National Champion Balaton, and is the sire of many International and National Champions. Abakan is a brother to Kubinec - European & World Champion, Kaberdinka - National Champion Mare, Naborscik - Champion Stallion, Absent - Multi Show Champion, BB Balenca - National Champion Mare UK, Sambist - Derby Winner (later exported to Qatar). Abakan's dam - the Champion Mare Amunitia, belongs to one of the best broodmares at the well-known Kossack Stud in Holland. She is by National Champion Antey (full brother to Numizmat & Anilin). Antey is the sire of stallions like Baron of Tersk and Andoy, as well as the mare Buhta - dam of the excellent racehorse Balzam 5/32 (13-5-7). Amunita's dam Malta, did very well at the racetrack, with the results 2/25 (1-9-6), she is a full sister to Minutka - broodmare in Holland for many years. Besides Abakan, Amunitia is also the dam of Derby Winner Amunion, and the Tersk Broodmare Assol.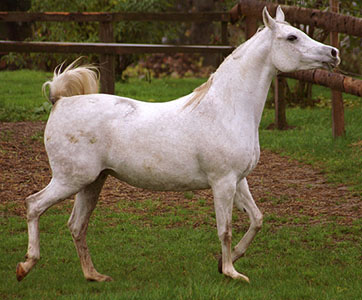 Mitra's dam Gho Gha was sold in 2001 to Jordan, and is now owned by HRH Princess Alia Al Hussein "The Royal Stud of Jordan". She is by Nadir I - European Champion & World res.Champion. Nadir is by Neman out of "Elite nominated Mare" & "Best in Show Mare" Neschi - a daughter of Champion Stallion Kilimandscharo. Nadir is full brother to: Negresco - European Champion, Neschnij - Top Ten Scottsdale, and Breeding Stallion in USA and Brazil, Nagadir - Sire at Gut Alemich in Germany, as well as Nenija & Nascha - Champion Mares, and very successful broodmares.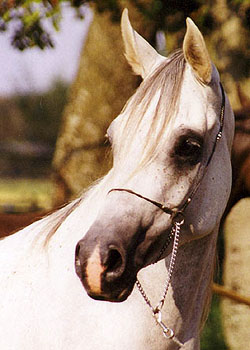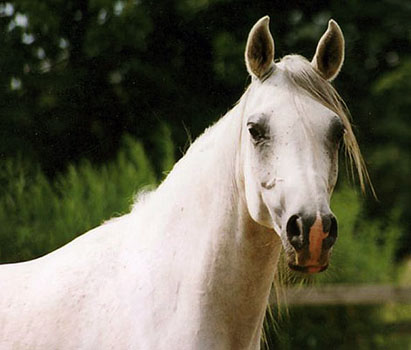 Gho Gha's dam Grojka has been a broodmare for many years at Shah Arabians, France and is also the mother of Goleh Gola - Jordan National res. Champion, Shahinn - Stallion exported to UAE, and Aasa Ibn Abakan – excellent breeding stallion at Cedar Oak Arabians. Gho Gha's maternal grandsire is the beautiful polish race legend Figaro - one of the best polish racehorses ever, and later Sire in Sweden, USA and Canada. His full sister Forsa (winner of the Oaks) was sold to USA, and used as a broodmare first at Ventura Farm, and later by Dunromin Arabians. Figaro's sire is Negatiw, and his maternal grandsire is Derby Winner Branibor, bred by Michalów.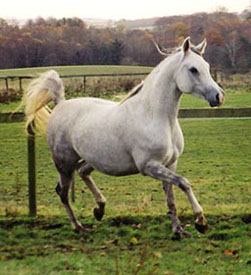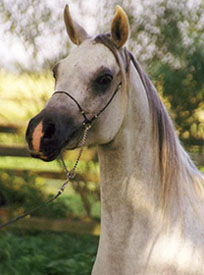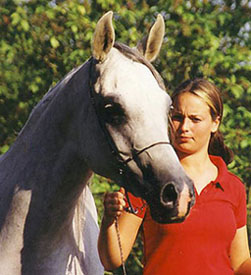 Pictures taken shortly after her arrivel in Denmark (together with Majbritt's sister Trine)
Mitra has due to different circumstances these last couple of years not been in foal, we tried for some seasons without any luck to inseminate with Monogramm. We might try again within the next couple of years - perhaps with Padishah, as she earlier has produced fantastic with him, and it's a combination we for a long time have wished to try again. Padishah's frozen semen is also of better quality, which gives us an opportunity to learn if Mitra is not so great with insemination anymore, and if she in future should only be covered natural.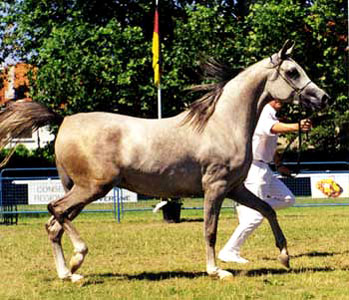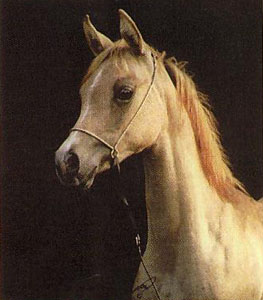 Mitra as a young filly in France