MAKAO
Straight Russian Stallion - Born 1995 - Breeder: The Kossack Stud, Holland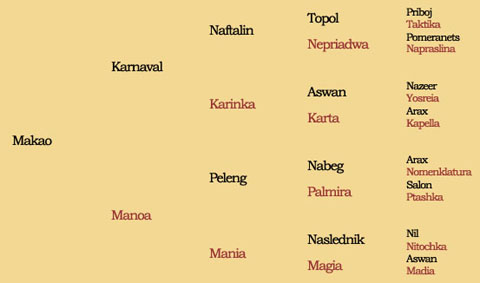 Breeding Stallion ML ARAB 1996 - 2003
Makao was bought by ML ARAB in autumn 1996. He is a stallion with big and elastic "Russian" movements, who has a harmonic and good body/topline - as well as beauty and type. Beside this, one of Makao's most outstanding qualities is his exceptional nice and calm temperament, which he shows in the daily work and when he has been used for riding. Makao's offspring has good movements, excellent bodies and type. Some has been bought/bred by customers with interest for riding - others as future show and breeding prospects.
Makao's sire Karnaval was bred by Tersk-Russia, out of a successful performance and raceline. He was on lease to The Kossack Stud in 1992 & 1993 and was the leading breeding stallion in Holland these years. Karnaval is National Res. Champion Holland, Champion Res. Stallion Germany - later on he was sold to Mrs. Marion de Jacobert, Italy. The full brother Kosmonaut has after his racing career gone into breeding and is also used by the Trakhenian breed Germany. The half brother Drug is European Champion Show, National Champion and European Race Horse. Karnaval's dam Karinka is a full sister to the well-known stallion Kilimandscharo. Karnaval's offspring has been very successful in Russia and Europe - both on the racetrack and in the showring.
Makao's dam Manoa is Champion Res. Mare Holland, her offspring has been sold to Italy, Germany and Denmark. After she had been used in breeding at Kossack Stud she was sold to Mr. Jean Marsot, and today she is owned by Mrs. Elfriede Ranz, Germany. Three of Manoa's brothers/sisters has been exported to USA. Manoa's dam Mania was exported from Tersk to Holland, where she was National Champion Mare - later she was sold to England, where she has bred six fillies.
Makao's maternal grandsire Peleng is also National Champion, he was once sold for the large sum of 3,2 mio dollars. He is the sire of Vakansia - Russian Derby Winner, Gomel - European Champion & dressage horse on Prix.St.Georges level, Div - who after a very successful racing career, now is the sire of many good racehorses in England. Peleng is a brother to British Nat. Champion Manich, British Nat. Champion Prononce - US & Canadian Top Ten Stallion Pesniar, as well as the two US & Canadian Top Ten Mares Pristan and Poznan (the last one being a full sister to Peleng). Peleng was owned the last couple of years by Rine Arabians, Norway - he died in 2002.
Makao was sold in 2003 to Kate R. Knudsen, but is today owned by Ann Pia Aasted.........