GALAKTIKA
Straight Russian Mare - Born 1984 - Breeder: State Stud Tersk, Russia
Not tested for SCID + CA (due to age!!)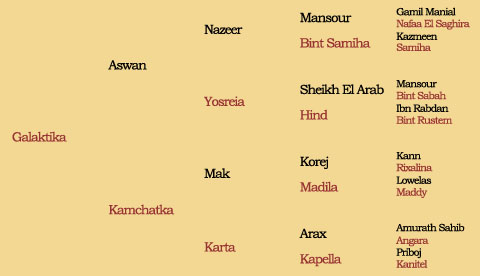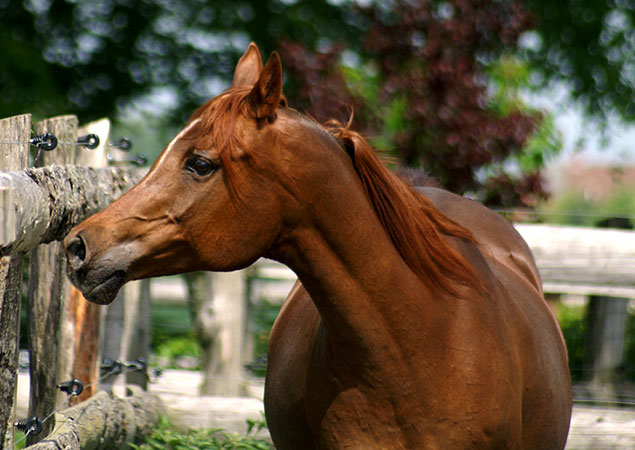 Right from beginning we dreamt about owning an Aswan daughter, and what we thought was unreachable (as there are only few left in the world), suddenly happened with the buy of Galaktika in 2004. She was bred by the famous State Stud Tersk in Russia, and the last 15 years she has been a broodmare at Gestut Mashallah in Germany. Galaktika is Champion both in Show and in Racing. She is a wonderful mare with great type, beautiful "dish" and the most gorgeous eyes. Galaktika has good conformation, and despite her age, still moves with the well-known big "Russian movements.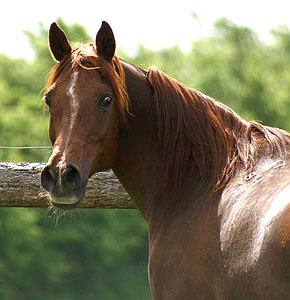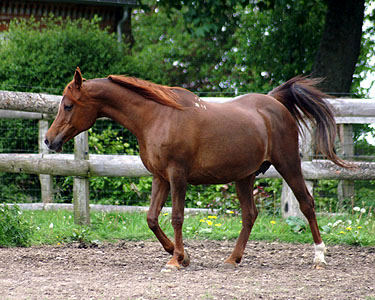 We are extremely proud, with the buy of Galaktika, to include one more horse in our breeding program, which unite top performance quality with successful Show results. Her pedigree is truly unique - besides being a daughter of legendary Aswan, she is out of the Karta - Kapella line, one of the best dam lines from Tersk. In 2006 Galaktika produced an outstanding colt - ML Kazakhstan by DSA Bali (Piligrim x Brigantina x Menes). He has been sold as a 2 year old, but we still expect to use him in our breeding program later on. In 2008 Galaktika gave us the most precious gift of all - an exceptional filly ML Galia by ML Pashmir (Padishah x Mitra Aasa x Abakan/Balaton), she will be one of our future broodmares.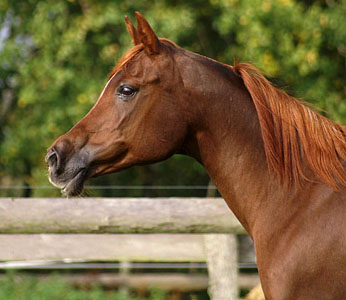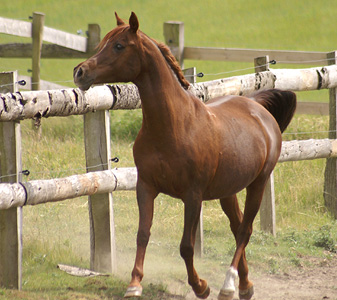 Galaktika's Sire Aswan was born in Egypt in 1958; he is by Nazeer - one of the world's best producing Egyptian Stallions. In 1963 Aswan was given as a present from Egypt to Russia, as a thanks for their support in building the Aswan High Dam. Aswan was one of the most used Sires in the history of Tersk, and he is the stallion, who had the biggest influence in giving type to their breeding program. Besides the exotic and expressive heads, Aswan's offspring is known for their charismatic "look at me" attitude, high tail carriage and a lovely sweet character.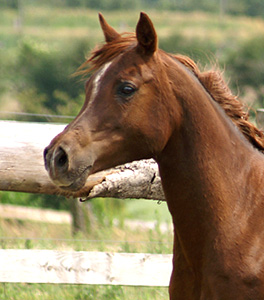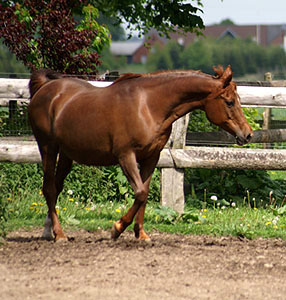 The "List" of successful siblings to Galaktika, through Aswan is long - among those are: Marsianin - US Nat. Champion Stallion, Patron - Champion Stallion (Sire of Padron & Abdullahh) Palas - superb Sire in Poland, Nariadnia - US & Canadian Top Ten Mare (dam of Nariadni), Panagia - dam of Balaton, Plakat - World res. Champion, Katun - European Champion Mare, Nevesta - Champion res. Mare (dam of Vatican & Grand), Kaluga - dam of Karat, Pristan - US & Canadian Top Ten Mare, Mamluk - great Sire (last at SAX), Mashuk - Sire of Gips, Pamir, Vodolej etc, Mascat - Sire of Normativ, Angelika & Astronomia. Galaktika is through the combination Aswan x Karta, 3/4 sibling to a great number of well-known mares and stallions, some is mention below.
Galaktika's dam Kamchatka was not only a good broodmare; she was a tremendous racehorse as well. Besides Galaktika, she (among others) also had the following offspring, with Aswan as the sire: Kura - Broodmare in Sweden, Denmark & Brazil, and Kay - Sire with excellent race results, exported to Holland. Kamchatka's Sire Mak has, besides two good race seasons, won the All USSR Military Championships. He sired some nice Tersk Broodmares, but also Kumir, who are out the mare Kapella - and therefore close related to Galaktika. Kumir was a superb Sire, especially known for siring top performance horses. Among his offspring is: Takema, Vatican, Mukomol, Nikel and Pakistan.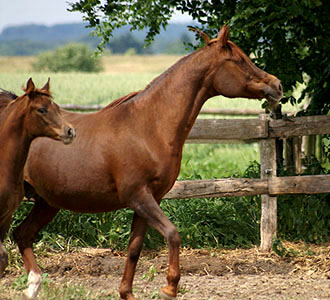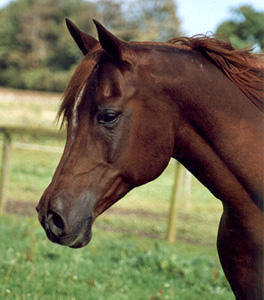 Kamchatka's dam Karta was one of the best broodmares Tersk ever had. At the age of 19 she was exported to USA, but sadly died already the year after. Some of her outstanding offspring is: Kosmetika - dam of Kubinec & Veresk, Carolina - dam of Karavan & Kapron, Kasatka - dam of Kaluga. The following Karta offspring is all by Aswan (3/4 siblings to Galaktika): Kariatida - dam of Kupol, Karinka - dam of Drug, Karnaval & Kingsize, Kromka - Broodmare at Gut Alemich in Germany (dam of the stallion Viking), Kastanieta - Broodmare Germany & USA, Kilimandscharo - Champion Stallion & one of the best producing Russian Stallions in Europe, Klarnet - Sire in Italy & England (known as an excellent sire of racehorses). Karta is by Arax - another legendary Russian Stallion. He is (among others) the Sire of Nabeg, Tamerlan, Nashmeshnik, Nemezida, Naturshitsa and Magnolia - just to name a few. Karta is through her dam Kapella sister to Kumir - superb Tersk Sire, Kazarka - Broodmare in Sweden, Denmark, Holland & last in Italy, Katun - European Champion Mare.
ML GALIA
(ML Pashmir/Padishah x Galaktika x Aswan)
Russian Related Mare - Born 2008 - kept as a future broodmare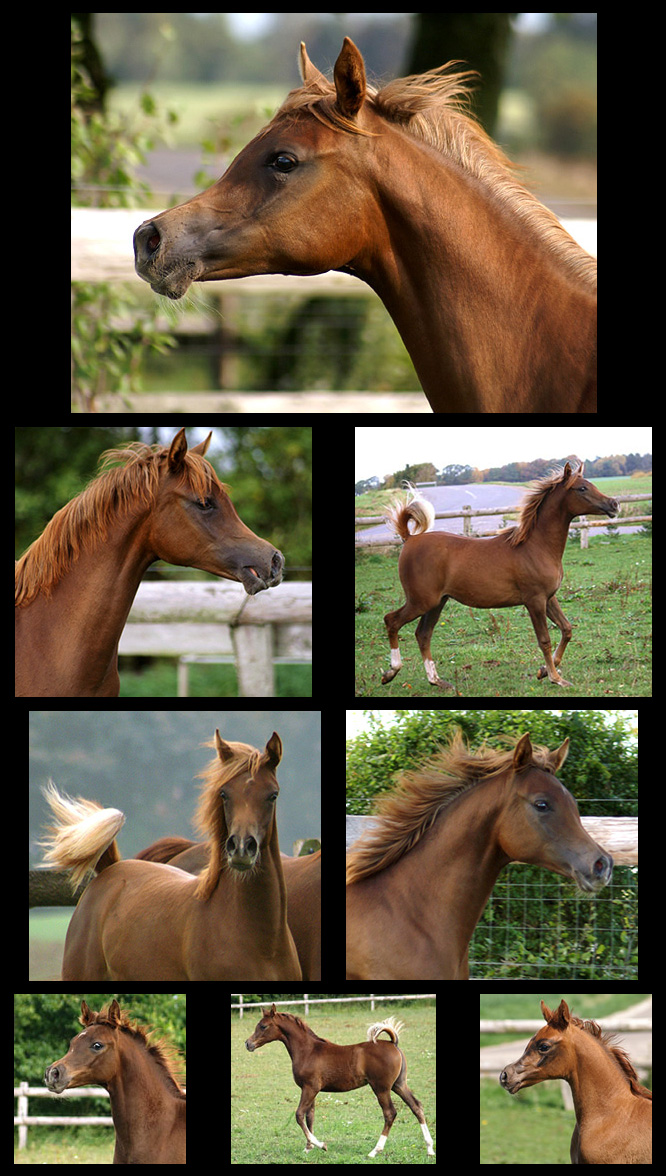 ML KAZAKHSTAN
(DSA Bali/Piligrim x Galaktika x Aswan)
Straight Russian Stallion - Born 2006 - Sold as a future breeding stallion and endurance horse