ML ARAB MARES FROM 1994 - 2002
KISAMA
Polish/English Mare - Born 1978 - Breeder: H. Bødker, Denmark
Broodmare at ML ARAB 1994- 2002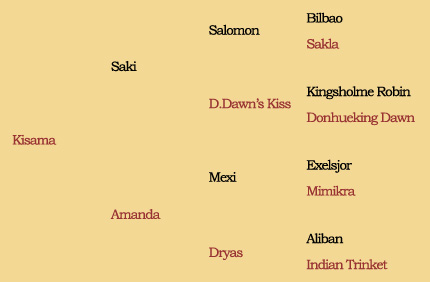 Kisama was the first broodmare that we bought for our Stud, she was put to sleep in 2002 (because of her age). Besides from having produced some really nice offspring at ML ARAB, she meant a lot to us personally, because of her extremely sweet and gentle character. Kisama's sire Saki is out of old English lines through his dam Donhueking Dawn's Kiss - who was imported from UK, bred by M.P. Donoghue. Dawn's Kiss´s lines go back to Kingsholme Robin and Manasseh. Saki's sire Salomon was out of Straight Polish lines, bred by dr. Aaby Ericsson, Sweden out of two Janów Podlaski imports - Bilbao by Comet and the mare Sakla by Amurath Sahib. Salomon was one of the most used sires in Denmark in the 70'. Kisama's dam Amanda (bred by Baroness Bille Brahe Selby) is out of the successful combination Mexi x Dryas. Amanda's full sister Myra is the dam of Morning Star - Arabian Racehorse of the Year 1996, Mistral - racehorse & Best Danish Bred Arabian Show Horse 1994, as well as Myreen - Best Danish Bred Arabian Show horse 1996 & 2001. Their other full sister Daisy is the dam of Silver Shah - Arabian Racehorse of The Year 1994. Beside these horses Mexi also sired Tam-Tam - Champion Stallion 1993, and the two mares Matilda and Merle - who also gained the title Best Danish Bred Arabian Show Horse. So Mexi really had a huge influence on the Danish Arabian breeding, before his exportation to Australia -especially as a producer of broodmares. Mexi himself is Champion Stallion and Best in Show - his parents Exelsjor and Mimikra was bred by Janów Podlaski and both became National Champion of Sweden, before they were sold to USA.
MAMMA-GAZEL
Straight Russian Mare - Born 1988 - Breeder: Flemming Nørgaard, Denmark
(Imported in utero from Liberty Arabians, Holland)
Broodmare at ML ARAB 1995 - 2003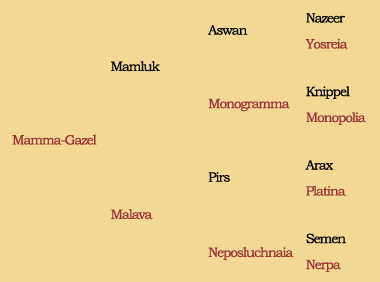 Mamma-Gazel was one of ML ARAB's first broodmares, but unfortunately she was put to sleep in 2003, because of sickness. She was out of Straight Russian lines, imported in utero from Holland. A powerful mare with exceptional movements and conformation. She was beautiful mare with lots of "style" and charisma, her type was the more old "classic" type (looked like a true original Tersk mare) with big "cheeks" and very nice eyes, but without an extreme "dish". And most important Gazel was a splendid producer, her offspring has a lovely type with excellent body/topline and wonderful movements. Gazel's sire is the Aswan son Mamluk - bred by State Stud Tersk in Russia, and later Sire in Holland, Sweden, Poland, England, he spend the last years of his life at SAX in Germany. Mamluk was National Champion and many times gold medal winner. Among his offspring is Show Champions like Casino, Wolga, Kraschan, Refky, Mansoor and Nemara. Mamluk also sired the successful Racehorse & Breeding Stallion Vadeer (26 start -10 wins - 11 places), as well as the excellent racehorses Baheer, Sinan, Nimul and Tahbal. Mamluk's dam Monogramma was one of the most influential broodmares Tersk ever had - she is the dam of outstanding mares like Amplituda (owned by Cedar Oak Arabians, France), Matritsa (dam of Monitor and Mat), Martinika (dam of derby winner Madiar), Malutka (dam of Mashuk & Mascat) and Makovka. Monogramma also produced superb stallions like the legenday Monogramm (one of the best Sires in the world, within Russian and Polish lines), Murmansk, Mamluk and Monopolii. Gazel's dam Malava is out of two Tersk imported horses, bred by Liberty Arabians, Holland. Her sire - the Arax son Pirs, was a successful racehorse. Pirs's full sister Panama of Tersk was first a broodmare at Tersk, then she was producing in Holland and finally in USA - where she through her offspring (and grandchildren) belongs to one of the best Russian broodmares. Pirs's other sister Panorama was also exported to USA - her daughter Pesenka gained the title US National Res. Champion Mare. Malava's dam Neposluchnaia has offspring in Holland, Denmark and France, as well as in England where her son the Champion Stallion Spoetnik is a Sire. Neposluchnaia is by Semen - a stallion who did very well at the racetrack, being a Derby Winner and with the race results 2/15 (11-3-1). Semen was born in Poland at Albiwago, in 1962 he was exported to Russia.
LISRA
Straight Spanish Mare - Born 1994 - Breeder: Dan Arab Stud, Denmark
Sold to Raghnaid (Rhoni) MacDonald & Mr. Mark Dillon, Bonshaw Farm, Scotland
Broodmare at ML ARAB 1999 - 2004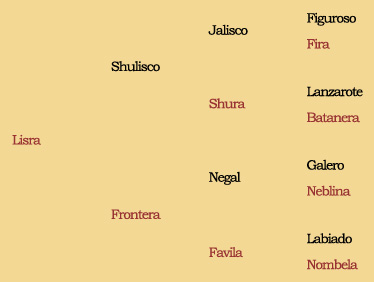 Lisra is out of straight Spanish bloodlines. She is a beautiful typey mare, who can really Show-off with lots of "look at me" attitude and has always impressed visitors. Her movements are exceptional and the legs very correct. Last but not least Lisra has the sweetest character - something especially the Spanish Arabians are known for. As she produced best with the Egyptian lines and we did not have Dorian Shah El Shams anymore, we sold Lisra to Scotland in 2004. We had lots of interested buyers from all over Europe, but instead of selling her to some of the big "well-known" Studs, we decided to sell her to a small serious stud where we knew she would be spoiled every day for the rest of her life. Lisra's sire Shulisco unfortunately was never shown, but he produced some very nice mares with great type and fantastic movements. He is by Jalisco - Res. Champion Stallion, Breeding Stallion at the famous Melissa Stud in Holland and among others the sire of Champion Stallion Mel Fahkar. Jalisco is by Spanish National Champion Figuroso, who also sired Champions like Latino and Jano. Shulisco's dam is the gold medal mare Shura - bred by Kristian Fenaux, Spain and exported to Holland, she was later re-exported to Denmark. Lisra's dam Frontera has gained the title Res. Champion Mare, she was bred by Sitting Rock, Spain - exported to Holland, and like Shura she was imported to Denmark by the stud Dan Arab, where she was one of their best broodmares. Her son Fronlisco (3/4 brother to Lisra) was first used as a Sire in Denmark for several years and today he is a breeding stallion in France. Frontera is by Negal, who is the sire of Galaxia - Canadian National Champion Arabian Working Hunter. Negal is by legendary Galero, bred by Yeguada Military - and one of the most importan Spanish Stallions. Unfortunately Galero was stolen in 1982 and never found again.
We will later include a few pictures of the mares, when we are finished with the rest of the new version of our website.