DORIAN SHAH EL SHAMS
Straight Egyptian Stallion - Born 1980 - Breeder: Gleannloch/Dorian Farm, USA
Not tested for SCID + CA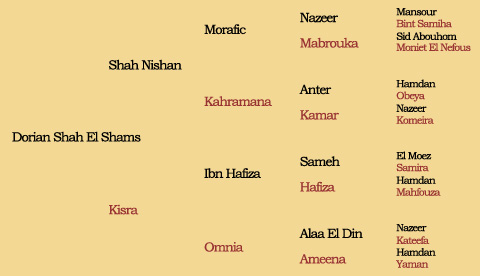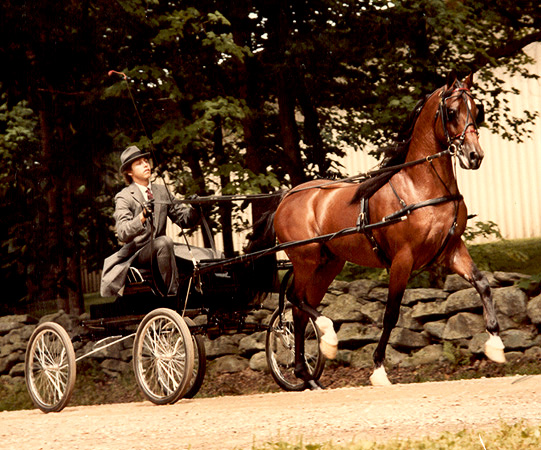 Breeding Stallion at ML ARAB from 1999 until his death at the age of 24 in 2004.
Thank you Brit for the opportunity with Dorian Shah El Shams - he became such a big part of the family and one of the horses we have loved the most, we still miss him after all these years. Last but not least we are very grateful that though him we now have a very close friendship with you, which means a lot to us.
Dorian Shah El Shams arrived in september 1999, so he could enjoy his "old age" at ML ARAB. We have him in collaboration with Brit Jakobsen and  Rolfson Arabians, Norway. Because of his age he was only available for a few mares. Here at ML ARAB we among others bred ML Shams Shamilah, a lovely egyptian/spanish filly who was sold as a future broodmare and riding horse. In 2004 we got ML Shams Shakira, a gorgeous filly out of our Champion mare Mitra Aasa - she was his last foal and one of the nicest offspring he bred. Dorian lived his first 10 years in USA, including a breeding season at Ansata Stud. Dorian Shah El Shams is Multi Champion in Halter & Performance, among his wins in USA is:
Res. Grand Champion Stallion 1982, Erie
Res. Senior Champion Stallion 1983, Hudson Valley
Grand Champion Stallion 1984, Connecticut
Most Classic 1984, Connecticut
Grand Champion Stallion 1984, New Hampshire
Most Classic 1984, New Hampshire
Champion Pleasure Driving Stake 1984
East Coast Res. Champion Stallion 1984, Devon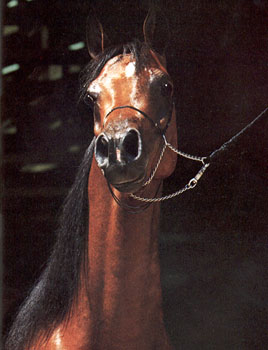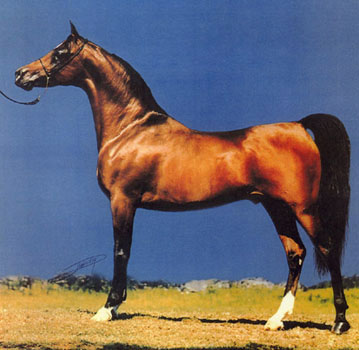 Dorian´s sire Shah Nishan is US Top Five Futurity Stallion, East Coast Champion, Grand Champion Stallion etc. When he died in 1990 he had sired more than 20 Performance & Halter Champions. Shah Nishan is by one of the world´s greatest sires - Morafic. Shah Nishan's fullbrother Ibn Morafic is US National Colt, Canadian National Top Ten Stallion, US National Top Ten English Pleasure. Shah Nishan's dam Kahramana has 11 registered foals, among them 5 has become Champions - that places her as one of the "all time leading Egyptian dams in USA". 4 of her offspring are Champion producers.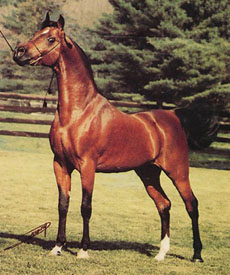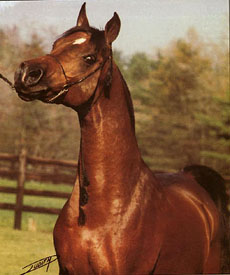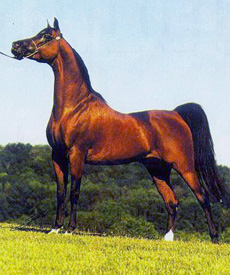 Dorian's Dam Kisra has produced 3 Halter & Performance Champions with Shah Nishan. In the late 80' she was one of only 4 living straight Egyptian mares, to have produced 4 or more champions, and in American articles she was called "a living treasure". Her fullbrother Abenhetep (Reg. Top Five Stallion) has sired many Reg. Winners in Halter & Performance, among them the well-known Tammen. Dorian's maternal grandsire Ibn Hafiza is the sire of 3 National Winners, and is noted as an excellent sire of performance horses. Among his get is El Dayim - US Top Five Futurity Stallion, Canadian Top Ten Western Pleasure, Gamal El Arab - Top Ten Futurity Stallion, Shamruk - Scottsdale Top Ten Halter, Almileegy - US National Res. Champion Western Pleasure. Ibn Hafiza's is a halfbrother to Serenity Sonbolah - US National Champion Mare, and Sultann - who has sired 3 National Champions in Performance.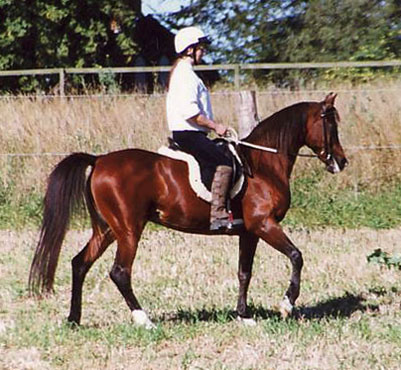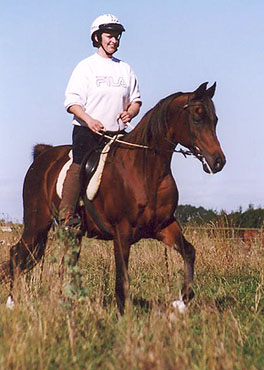 Dorian at the age of 22 with Birthe Hoegh Rosvig - a close friend of ours who loved him dearly
Dorian Shah El Shams's offspring is noted for their classic type & charisma, long well-shaped necks, and very strong hindquarters. They are very good prospects for both performance and show (halter). Among his offspring in USA is Dorian Mi Bask - Junior Champion Mid- Hudson Valley & New England Shows. A great number of Dorian's sons and daughters in USA has succesfully attended in both halter and in performance classes such as Hunter Pleasure, Dressage, English Pleasure etc. His offspring has been exported from USA to Canada and England as well as Egypt, where his daughter Shakshouka is a breeding mare on Desert Arabian Stud, another daughter Lahlouba is owned by Hamdan Stable, being one of their best broodmares.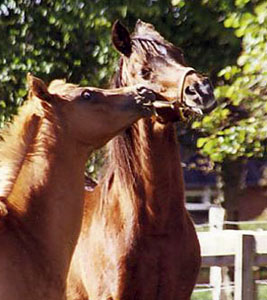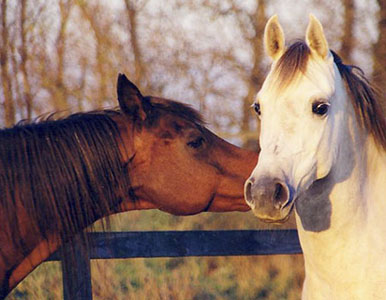 Not the best pictures, but these really show what a sweet gentle stallion Dorian was - at our place he always had a mare with him in the paddock and sometime their babies. Left photo is ML Pashmir teasing him and on the right it's Dorian with Lisra.
His son Ben Ghazi was one of the most successful straight Egyptian racehorses in Germany. In Norway and Denmark Dorian has produced some really good performance horses and promising "breeding" prospects, plus not least several typey offspring for the Showring. In Norway his two sons Sahm Ibn Shams (bred by Isis Arabians) and Harley (bred by Monica Ravndal) passed the breeding approval test, and his daughter Tequila Sunrise (bred by Rolfson Arabians and for many years owned by Majbritt's sister Trine) gained nice results in the Showring . She is a fantastic performance horse too - doing  very well in Show Jumping etc. At our place we kept ML Shams Shakira as one of our future broodmares.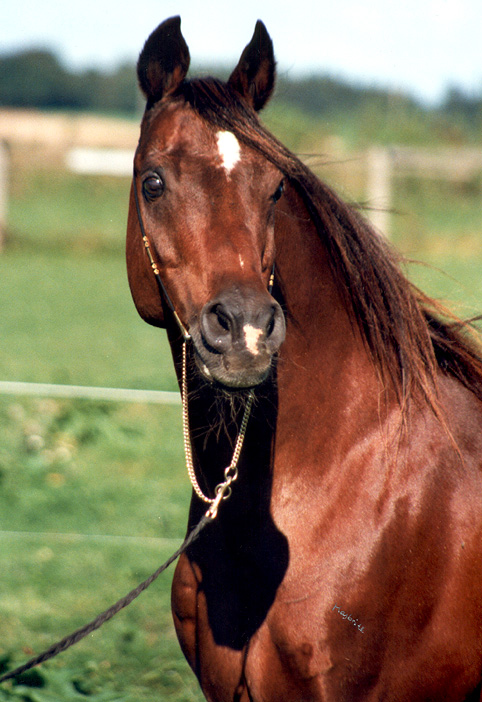 Dorian Shah El Shams - 22 years old at ML ARAB (photo:Majbritt Ørnstedt)
Thank You Mrs. Weil for helping with the Photos. Pictures taken by Judith Wagner, Majbritt Ørnstedt etc.